Diwali is an important day of rituals and ceremonies celebrated by many religions. Check out the following 30 trivia Diwali quiz questions and answers to see how much you know about it.
Diwali Quiz Questions and Answers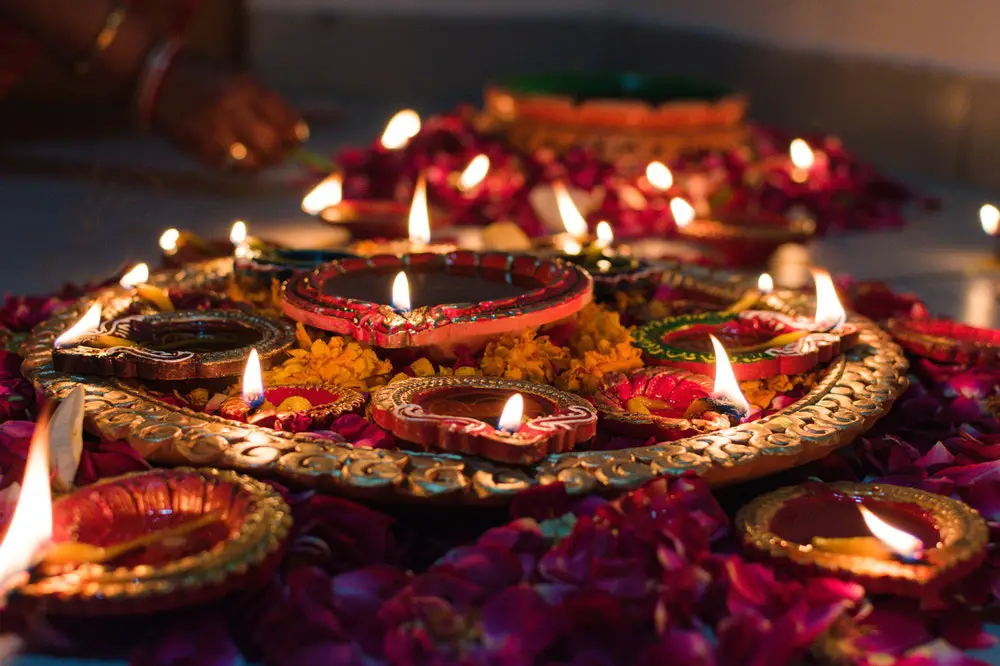 ---
1. Diwali is a popular festival in which country?
A. Saudi Arabia
B. India
C. China
---
2. Diwali is one of the most popular events of which religion?
A. Buddhism
B. Islam
C. Hinduism
---
3. During Diwali, people show their special worship to which Hindu goddess?
A. Lakshmi
B. Shiva
C. Ishtar
---
4. The largest Diwali celebration outside of India takes place in which British city?
A. London
B. Leicester
C. Liverpool
---
5. How many days do people celebrate Diwali?
A. 1
B. 5
C. 7
---
6. The word "Diwali" originated from the term "dipavali" in Sanskrit. What does it literally mean?
A. Row of lights
B. Colourful lights
C. God of lights
---
7. Dewali typically takes place between which two months of the year?
A. January and February
B. June and July
C. October or November
---
8. Which important event in Hinduism is marked by Diwali?
A. Hindu New Year
B. The birth of Shiva
C. The beginning of spring
---
9. Which of the following is the symbolism of Diwali?
A. The victory of heroes over monsters
B. The victory of good over evil
C. The victory of heaven over hell
---
10. During Diwali, people pray to Lord Ganesha to expect what in return?
A. Wealth
B. Happiness
C. Good luck
---
11. What is the traditional food during Diwali?
A. Curry
B. Kebab
C. Sweets
---
12. Which of the following things would people NOT typically do at Diwali?
A. To give presents to others
B. To decorate their houses
C. To light candles
---
13. What do people typically do on the first day of Diwali, known as the Dhanteras?
A. To visit family members
B. To buy small golden items
C. To swim in the Ganges River
---
14. In addition to candles, what do people use to decorate their houses during Diwali?
A. Bells
B. Statues of Hindu gods
C. Flowers
---
15. Which kind of oil is traditionally used to light the lamps at Diwali?
A. Coconut oil
B. Olive oil
C. Mustard oil
---
16. On the fifth day of Diwali, what do people traditionally celebrate?
A. The bond between sisters and brothers
B. The bond between parents and children
C. The bond between husband and wife
---
17. Which of the following activities is encouraged at Diwali as a way of bringing good luck in the next year?
A. Giving lucky money
B. Playing cards
C. Buying gold
---
18. Diwali is observed in which month of Hinduism?
A. Shravan
B. Ashwin
C. Kartik
---
19. In addition to Hindus, some other religions also celebrate Diwali, EXCEPT…?
A. Sikhs
B. Buddhists
C. Zoroastrians
---
20. In which Indian state is the festival Diwali also known as Kali Puja?
A. Uttar Pradesh
B. West Bengal
C. Hyderabad
---
21. In addition to India, Diwali is an official holiday in which of the following countries?
A. Bangladesh
B. Ski Lanka
C. Mongolia
---
22. Another meaning of Diwali is to celebrate the event when Lord Krishna killed which evil king?
A. Pootana
B. Hiranyakashipu
C. Narakasura
---
23. Diwali symbolizes which important event from Ramayana, an important text of Hinduism?
A. The return of Sita and Ram to Ayodhya after 14 years
B. The killing of Ravan by Lord Ram
C. The birth of Lord Ram
---
24. In which country do people call Diwali "Swanti" or "Tihar"?
A. Nepal
B. Ski Lanka
C. Pakistan
---
25. What is the meaning of decorating the house with lamps and lights during Diwali?
A. To protect the family from evils
B. To help Lakshmi find her way and bring prosperity to the house
C. To show the way for dead people
---
26. What is Rangoli, a popular tradition during Diwali?
A. A traditional food
B. A traditional art
C. A traditional cloth
---
27. Who was the first U.S. President to attend Diwali personally at the White House?
A. Bill Clinton
B. Barrack Obama
C. Donald Trump
---
28. Which of the following festivals is not linked to Diwali?
A. Narak Chaturdasi
B. Laxmi Puja
C. Mahashivaratri
---
29. In which part of the day do people in India burst crackers to celebrate Diwali?
A. Morning
B. Afternoon
C. Evening
---
30. Which is the most significant day of Diwali when people light thousands of clay lamps and set them adrift on the river, followed by jubilation and fireworks?
A. The second day
B. The third day
C. The last day
---
What do you think about these bowling quiz questions and answers? We hope you learn some interesting facts about this special event. For more challenges on the same topic, check out the following Alternative Christmas quiz.