It is almost impossible to imagine a world without computers. Just in a few decades, codes and software have created sweeping changes and revolutions. While they provide an essential role in our daily lives, how much do you know about chips, programming languages, the Internet, and things alike? Take these IT quiz questions and answers to see whether you are an expert.
IT Quiz Questions and Answers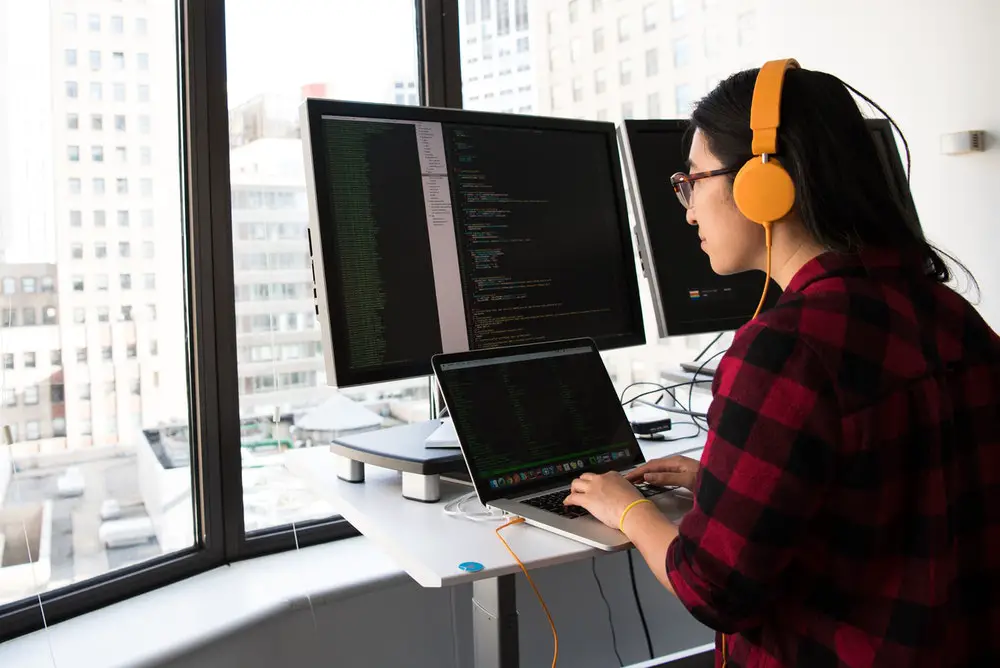 ---
1. How many kilobytes are there in 1 megabyte?
A. 1000
B. 1024
B. 1048
---
2. Amazon is one of the biggest tech companies in the world. Which product did it originally sell online?
A. Clothes
B. Drinks
C. Books
---
3. What does IT stand for?
A. International Technology
B. Information Technology
C. Internet Technology
---
4. Which of the following is the first high level programming language created in the 1950s?
A. FORTRAN
B. C++
C. COBOL
---
5. Which of the following is not an operating system?
A. macOS Catalina
B. Microsoft Office XP
C. Windows Vista
---
6. ".mp4" extension typically refers to which type of computer file?
A. An image file
B. An audio file
C. A movie file
---
7. Which was the first internet search engine in the world?
A. Google
B. Bing
C. Archie
---
8. Which component is known as the heart of a computer?
A. RAM
B. CPU
C. Chip
---
9. Opera and Safari are types of what?
A. Web browser
B. Anti-virus software
C. Operating system
---
10. What is the name of the area in California where many of the world's largest tech companies are headquartered?
A. Hi-Tech Valley
B. Silicon Valley
C. Disruptive Valley
---
11. Who is the father of the first modern computer?
A. Vint Cerf
B. Alan Turing
C. Charles Babbage
---
12. What do we call a network security system, which can help prevent unauthorised access from or to a private network?
A. A firewall
B. A waterwall
C. A metalwall
---
13. Which of the following is not the name of a cryptocurrency?
A. Ethereum
B. Bytecoin
C. Ripple
---
14. Which animal is the official mascot of the Linux operating system?
A. Rabbit
B. Dog
C. Penguin
---
15. Where did the name for the QWERTY keyboard come from?
A. The name of the creator
B. The order of the keys on the keyboard
C. The city where the creator was born
---
16. Which is the first mobile firm to introduce Emoji on their mobile devices?
A. Blackberry
B. Nokia
C. Apple
---
17. Every computer on the Internet can be uniquely identified by which of the following?
A. IP address
B. Virtual address
C. Online address
---
18. RAM is able to perform which of the following operations?
A. Read only
B. Write only
C. Both write and read
---
19. When Twitter was first introduced in 2006, how many characters were originally allowed in each "Tweet"?
A. 40
B. 140
C. 400
---
20. Which kind of network allows people in an organisation or company to communicate with each other?
A. Intranet
B. Extranet
C. Internet
---
21. If a URL ends with .de, you may expect it is based in which country?
A. Denmark
B. Dominican Republic
C. Germany
---
22. You can press the "Ctrl" key plus which alphabet letter for the "Paste" command on the computer?
A. P
B. V
C. C
---
23. Which of the following technologies was named after Harald Blatonn, a Danish-Norwegian king?
A. Wi-Fi
B. Bluetooth
C. 3G
---
24. Which technical term is often used for data centres available over the Internet to many users?
A. Sun computing
B. Sky computing
C. Cloud computing
---
25. The term "robot" originally means forced work or labour in which language?
A. Hungarian
B. Czech
C. Polish
---
26. As of 2020, which was the leading semiconductor companies by sales revenue in the world?
A. Intel (US)
B. TSMC (Taiwan)
C. Samsung (South Korea)
---
27. Which of the following virtual assistants was first introduced?
A. Alexa by Amazon
B. Siri by Apple
C. Google Assistant by Google
---
28. Which organisation owns the Global Positioning System or GPS?
A. The United Nations
B. Google
C. The United States government
---
29. What is actually the gender of the Android mascot robot?
A. Female
B. Male
C. Unisex
---
30. What was the first commercial text message in the world sent in 1992?
A. Merry Christmas
B. Happy Birthday
C. Happy New Year
---
31. What was the first recognizable social media platform in the world?
A. Facebook
B. MySpace
C. Six Degrees
---
32. Which term is used for those people over 50 years old who uses the internet often?
A. Silver surfers
B. Senior surfers
C. White surfers
---
33. What is the main benefit of using CAPTCHA?
A. To improve the speed of the website
B. To block bots and unauthorised users
C. To record flowing data
---
34. What is the name of the first computer virus developed in 1971?
A. Harmless
B. Viral
C. Creeper
---
35. What does the letter B in "USB" stand for?
A. Basis
B. Bus
C. Break
---
These trivia IT quiz questions and answers are not simple. We hope you can learn a few interesting facts and useful knowledge. For more challenges, check out the following data mining quiz.