Cornwall is a great destination for travellers with its tasty foods, breathtaking beaches, and rich history. Take a look at the following 31 trivia Cornwall quiz questions and answers to see how much you know about it.
Cornwall Quiz Questions And Answers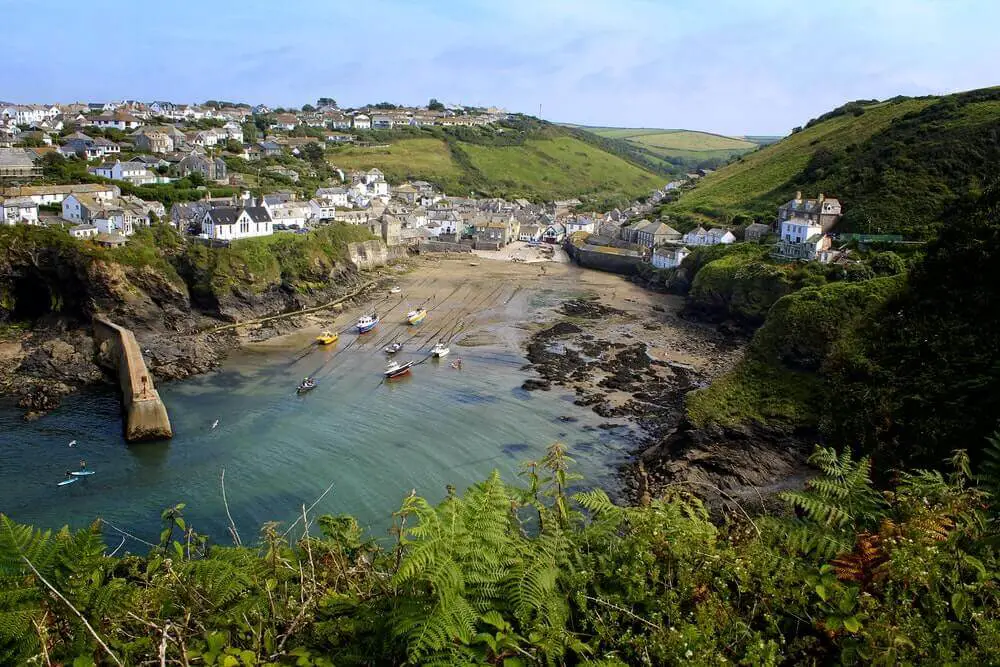 ---
1. Cornwall is located in which region of England?
A. North East
B. West Midlands
C. South West
---
2. Which two colours can be found on the flag of Cornwall?
A. Red and white
B. Green and yellow
C. White and black
---
3. Which of the following is the highest point in Cornwall?
A. Brown Willy
B. St Thomas Hill
C. Brown Willy
---
4. Which of the following phrases mean "Thank you" in the Cornish language?
A. Durdatha whye
B. Merastawhye
C. Comero weeth
---
5. What is the name for Cornwall in Cornish?
A. Kernow
B. Corness
C. Kerness
---
6. Which of the following universities is located in Cornwall?
A. University of Nottingham
B. University of Exeter
C. Lancaster University
---
7. Which Cornish speciality consists of fish heads in the ingredient lists?
A. Ocean pie
B. Hewa cake
C. Stargazy pie
---
8. Which of the following facts is true about Cornwall?
A. It has the longest coastline among the UK counties
B. It has the highest peak in the UK
C. It is the least populous county in the UK
---
9. The economy of Cornwall currently depends heavily on which industry?
A. Mining industry
B. Tourist industry
C. Fishing industry
---
10. Which of the following is the largest tourist attraction in Cornwall by the total number of visitors?
A. Looe Island
B. The Eden Project
C. Saint Michael's Mount
---
11. Which of the following birds is a symbol of Cornwall?
A. House sparrow
B. Dunnock
C. Chough
---
12. Which type of sport is wrasslin, which has been established in Cornwall for several centuries?
A. Boxing
B. Archery
C. Wrestling
---
13. In which month of the year does the Porthleven Food Festival typically take place?
A. January
B. April
C. July
---
14. Which of the following is not an ingredient in Cornish pasties?
A. Beef
B. Potatoes
C. Strawberries
---
15. The British TV series "Doc Martin" is filmed in which Cornish fishing village?
A. Port Issac
B. Portwenn
C. Falmouth
---
16. Which of the following famous fairy tales takes place in Cornwall?
A. Jack and the Giant Killer
B. Hansel and Gretel
C. The Wizard of Oz
---
17. What do people celebrate on the Helston Flora Day, which takes place on 8th May each year?
A. The victory of the Britons against the Romans
B. The end of winter and the beginning of spring
C. The harvesting season
---
18. Which of the following is the longest river in Cornwall?
A. River Tamar
B. River Tweed
C. River Avon
---
19. Who is the patron saint of Cornwall?
A. Saint Paul
B. Saint Lucy
C. Saint Pyran
---
20. Which of the following is the only city and the capital of Cornwall?
A. Padstow
B. Truro
C. St. Ives
---
21. Which of the following famous people was born and raised in Cornwall?
A. Mick Fleetwood
B. Julie Andrews
C. Stephen Hawking
---
22. According to English legends, which British king was born in a small village called Tintagel in Cornwall?
A. King David
B. King Lud
C. King Arthur
---
23. Which of the following is the right Cornish way to serve a scone of clotted cream?
A. Cream first, jam later
B. Jam first, cream later
C. Cream and jam at the same time
---
24. According to the British folklore, which kind of animal is the Beast of Bodmin Moor, which is believed to live in Cornwall?
A. A big cat
B. A giant lion
C. A gigantic fish
---
25. "Giving pepper" is a Cornish tradition in which kind of events?
A. Weddings
B. Birthdays
C. High school graduation
---
26. The beautiful scenery of Cornwall has inspired which of the following books and authors?
A. Peril at End House by Agatha Christie
B. Great Expectations by Charles Dickens
C. Wuthering Heights by Emily Bronte
---
27. Cornish names typically contain which of the following distinctive elements?
A. Tre-
B. Pon-
C. Mc-
---
28. Which peninsula located in the South of Cornwall is home to the most southerly point in Britain?
A. Manhood Peninsula
B. Lizard Peninsula
C. Steart Peninsula
---
29. Which event taking place in 2012 in Land's End, Cornwall, makes it receive worldwide attention?
A. One of the largest earthquakes in the world
B. The beginning of the 2012 Olympics torch relay
C. A huge falling asteroid on a manufacturing plant
---
30. The Lost Gardens of Heligan were first developed in which decades?
A. 1600s
B. 1700s
C. 1800s
---
31. Which of the following is the most popular beach in Newquay, which hosts an international surfing competition?
A. Fistral
B. Marazion
C. Greenaway
---
What do you think about these Cornwall quiz questions and answers? We hope you learn some interesting facts about this historic county. For more challenges on the same topic, check out the following London quiz.