Dart throwing is a simple, yet very interesting activity that everyone can enjoy in a night game or party. But do you know that it is also a competitive sport with a long history and formal set of rules? Whether you want to learn more about it or are a fan of this game, check out the following 32 trivia darts quiz questions and answers.
Darts Quiz Questions And Answers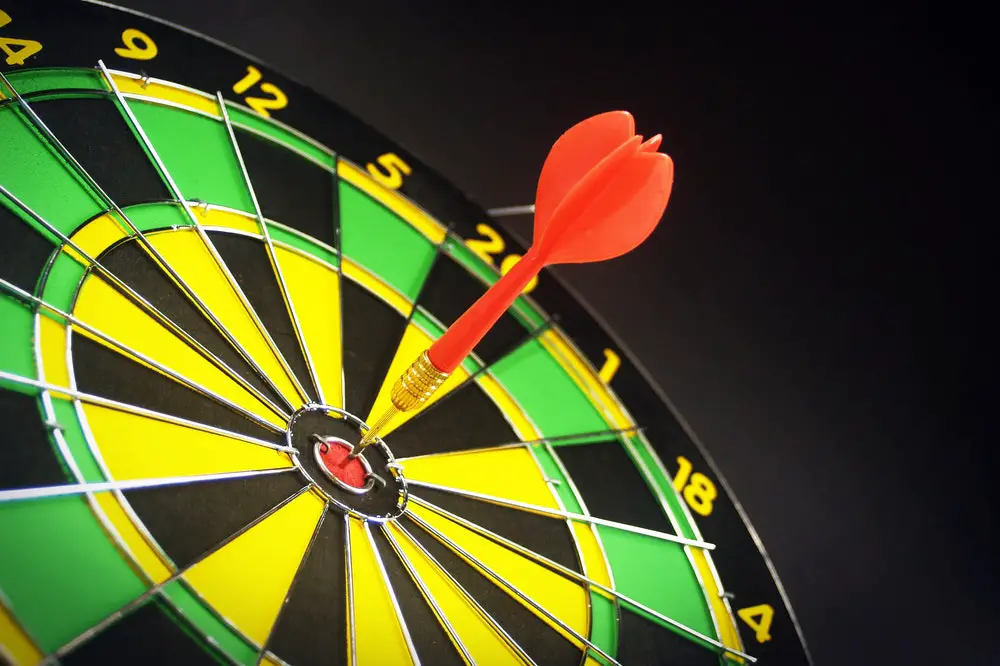 ---
1. What is the range of numbers on a darts board?
A. From 0 to 10
B. From 1 to 20
C. From 1 to 6
---
2. Which part of a dart should we hold when throwing?
A. Shaft
B. Tips
C. Barrel
---
3. When did the first PDC World Darts Championship take place?
A. 1980
B. 1988
C. 1994
---
4. What is the highest score that you can have with a dart throw?
A. 40
B. 50
C. 60
---
5. What is the name of the circle in the centre of a dartboard?
A. Bull
B. Bear
C. Bat
---
6. How many points can we get when throwing a dart at the bull?
A. 40
B. 50
C. 60
---
7. "The Menace" is the nickname of which professional darts player?
A. Dennis Priestley
B. Andy Jenkins
C. Gary Anderson
---
8. Which of the following is the right order of movements in throwing a dart?
A. Release, setup, pull back, follow through
B. Setup, pull back, release, follow through
C. Setup, release, pull back, follow through
---
9. What is the throwing line behind which the thrower must stand in darts called?
A. Winmau
B. Nodor
C. Oche
---
10. According to the WDF standards, what is the exact distance between the darts board and the throwing line?
A. 2.37 metres
B. 3.24 metres
C. 4.12 metres
---
11. Which of the following words is sometimes used to refer to dart players?
A. Dartists
B. Darters
C. Dartians
---
12. Which of the following is an older name for a dartboard?
A. A bott
B. A bett
C. A butt
---
13. The standard numbered point system in darts was devised by Brian Gamlin in 1896, who worked as …
A. An electrician
B. A carpenter
C. A doctor
---
14. According to the Darts Regulation Authority, what is the diameter of a typical dartboard?
A. 251 mm
B. 351 mm
C. 451 mm
---
15. What happens if a player steps over or crosses the line when throwing a dart?
A. The throw may be counted as zero points or a miss
B. He needs to throw the dart again
C. He only gets a haft of the point
---
16. "Fat" is another way to refer to which part of the dartboard?
A. Single areas
B. Double areas
C. Treble areas
---
17. In which country of the world is darts especially popular?
A. The United States
B. The United Kingdom
C. Canada
---
18. Which venue in London has been chosen to host the PDC World Darts Championship since 2008?
A. Alexandra Palace
B. Webley Arena
C. Circus Tavern
---
19. The English darts player Phil Taylor holds a record for the number of titles at the PDC World Championships. How many times did he win in total?
A. 10
B. 14
C. 16
---
20. What is the highest possible checkout that you may get to win a darts game?
A. 150
B. 170
C. 200
---
21. Dartball is a variant of darts that is based on which sport?
A. Volleyball
B. Handball
C. Baseball
---
22. How many scoring zones are there in total on a dartboard?
A. 45
B. 63
C. 82
---
23. Which major city in the United Kingdom banned darts and other pub games in 1939 because they were too dangerous?
A. Belfast
B. Glasgow
C. London
---
24. The flights of the first purpose-made darts were made from the feather of which bird?
A. Duck
B. Chicken
C. Turkey
---
25. Which number is located between number 1 and number 5 on a dartboard?
A. 3
B. 20
C. 15
---
26. Which British darts-themed TV game show hosted by Jim Bowen in which contestants have to play darts games and answer quiz questions to win prizes and cash?
A. Bullseye
B. One Hundred and Eighty
C. Who Throws Better?
---
27. Which nation won the first WDF Darts World Cup in 1977?
A. Scotland
B. Wales
C. England
---
28. What is the lowest possible score to complete a darts game?
A. 1
B. 2
C. 3
---
29. To score 501 points, you need at least 5 darts. How many darts do you need to score 301 points?
A. 3
B. 6
C. 9
---
30. Apart from Raymond van Barneveld, which dart player is the only one to defend the Embassy World Title successfully?
A. Eric Bristow
B. Bobby George
C. Tony David
---
31. Who was the first female player to win a match at the PDC World Darts Finals?
A. Deta Hedman
B. Lisa Ashton
C. Fallon Sherrock
---
32. What is the maximum weight for darts when you play on a bristle dartboard?
A. 30 grams
B. 40 grams
C. 50 grams
---
What do you think about these tree darts questions and answers? We hope you have learned many interesting facts about the game and enjoy great moments with your friends and family. For more challenges, check out the following archery quiz.