China is a one-in-a-lifetime destination that is full of history, culture, cuisine, nature, and … surprises. Whether you are planning your next trip to this country or just want to learn more about the world, let's take a look at the following 33 China quiz questions and answers to see how much you know.
China Quiz Questions And Answers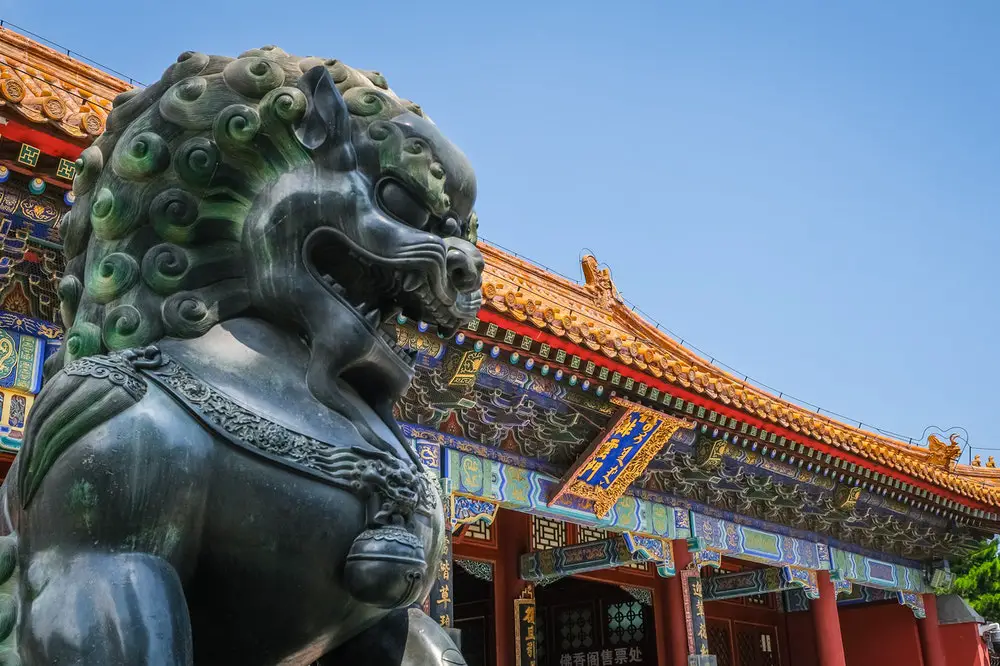 ---
1. Which animal lives in the cold mountain forests of China and has a striking black-and-white coat of fur?
A. Siberian tiger
B. Giant panda
C. Lynx
---
2. Which city is the capital of China?
A. Shanghai
B. Beijing
C. Shenzhen
---
3. What is the official name of China?
A. Federal Republic of China
B. Socialist Republic of China
C. People's Republic of China
---
4. Which ancient trade route connected China with other civilisations in the West?
A. The Silk Road
B. The Golden Road
C. The Spice Road
---
5. How long did it take in total to construct the Great Wall of China?
A. Over 20 years
B. Over 200 years
C. Over 2000 years
---
6. How many stars are there on the national flag of China?
A. 3
B. 5
C. 6
---
7. Yao Ming is a former Chinese professional player in which sport?
A. Basketball
B. Badminton
C. Table tennis
---
8. What was the first dynasty of Imperial China, which lasted between 221 and 206 BC?
A. Han dynasty
B. Xin dynasty
C. Qin dynasty
---
9. What do children typically receive at Chinese New Year?
A. New clothes
B. Fortune cookies
C. Money in red envelopes
---
10. Which of the following numbers is typically considered to be unlucky in Chinese culture?
A. 4
B. 6
C. 8
---
11. Founded by Jack Ma in 1999, which Chinese company is one of the largest e-commerce firms and retailers in the world?
A. Tencent
B. Alibaba
C. Huawei
---
12. Which concept in Chinese philosophy declares that the universe consists of two contrary, yet complementary forces?
A. Yin and Yang
B. Feng Shui
C. Shiatsu
---
13. Which mythical animal is the symbol of the emperor's power in China?
A. Unicorn
B. Dragon
C. Phoenix
---
14. What is the most prominent religion in China?
A. Islam
B. Christianity
C. Buddhism
---
15. Which of the following is NOT a Chinese invention?
A. Paper
B. Compass
C. Fountain pen
---
16. The Terra-Cotta Army in the tomb of Qin Shi Huang, the first Emperor of China, is made from which material?
A. Stone
B. Clay
C. Wood
---
17. What is the main food crop in southern regions of China?
A. Rice
B. Wheat
C. Potatoes
---
18. What has been the official language of China since the 1930s?
A. Mandarin
B. Cantonese
C. Tibetan
---
19. Which of the following animals is NOT in the Chinese zodiac?
A. Rooster
B. Sheep
C. Pig
---
20. In which traditional festival do people in China offer sacrifices to the moon to bring good luck?
A. Dragon Boat Festival
B. Double Seventh Day
C. Mid-Autumn Festival
---
21. Which of the following is a popular Chinese dish?
A. Dim sum
B. Pho
C. Pak Kra Pao
---
22. Which of the following countries does NOT share the border with China?
A. Vietnam
B. South Korea
C. India
---
23. How many time zones are there in China?
A. 1
B. 3
C. 5
---
24. In the Chinese classic novel "Journey to the West", which animal is Sun Wukong?
A. A horse
B. A pig
C. A monkey
---
25. Imagine you are going to have a meeting with some Chinese business partners. What is the proper way to greet them?
A. Nod and bow to everyone, starting from the most senior people
B. Give a hug to everyone, starting from the most senior people
C. Shake hands with everyone, starting from the most senior people
---
26. What is the official currency of China?
A. Renminbi
B. Yen
C. Won
---
27. What is the largest ethnic group in China and also accounts for up to 18 per cent of the world's population?
A. Zhuang
B. Han Chinese
C. Manchu
---
28. What is the most popular family name in China?
A. Lee
B. Wang
C. Chen
---
29. What is the nickname for Macau, a Special Administrative Region of China?
A. Venice of the East
B. Paris of the East
C. Las Vegas of the East
---
30. Zhangjiajie National Forest Park in China is the inspiration for the Pandora planet in which blockbuster?
A. Star Wars
B. Avatar
C. Guardians of the Galaxy
---
31. Hong Kong was under the rule of which country before it was returned to China on July 1, 1997?
A. Britain
B. Portugal
C. France
---
32. Which of the following facts is true about Chinese writing?
A. It is based on sounds rather than signs
B. It has no alphabet
C. It is easy to learn all Chinese characters
---
33. Which practice in traditional Chinese medicine involves the insertion of thin needles through the skin at some points of the body to treat illness or alleviate pain?
A. Cupping therapy
B. Gua sha
C. Acupuncture
---
What do you think about these China quiz questions and answers? We hope you learn some interesting facts about the history and culture of this beautiful country. For more challenges on the same topic, check out the following Asia quiz.