Unique culture, bustling cities, wild wonders, and traditional temples make Japan a popular destination for travelers all over the world. Are you planning to visit Japan soon or just want to know more about the Land of the Rising Sun? Check out the following 45 trivia Japan quiz questions and answers to test your knowledge.
Japan Quiz Questions And Answers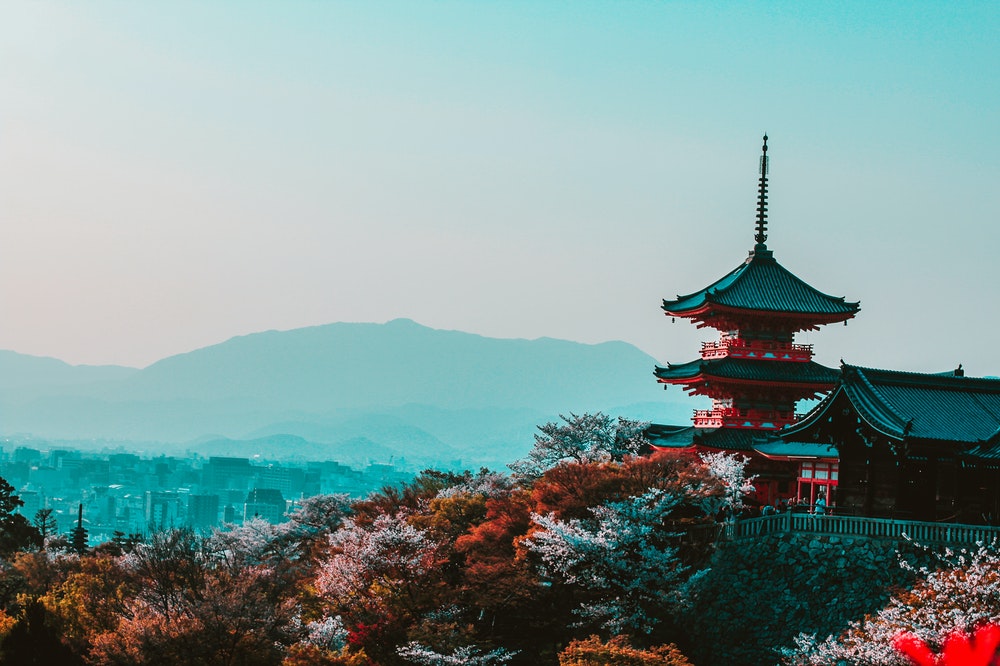 ---
1. What is the current capital of Japan?
A. Osaka
B. Kyoto
C. Tokyo
---
2. What is the snow monkey, also called Japanese macaque, known for?
A. It is the fastest monkey species
B. It is the largest monkey species
C. It is the northernmost primate on Earth
---
3. Which quarter in Tokyo is known for the colorful and vibrant street fashion?
A. Toneri
B. Ichigaya
C. Harajuku
---
4. What is the largest and most populous island in Japan?
A. Hokkaido
B. Honshu
C. Kyushu
---
5. What is the traditional dress of Japan?
A. Hanbok
B. Kimono
C. Ao dai
---
6. What of the following forms of martial arts does not originate from Japan?
A. Taekwondo
B. Aikido
C. Karate
---
7. Which sacred animal can you find wandering in the Nara Park?
A. Horse
B. Red squirrel
C. Deer
---
8. What is the symbol of Shinto, the indigenous religion in Japan?
A. A temple
B. A gate
C. A stone
---
9. Fuji is a sacred symbol of Japan. What is it actually?
A. A forest
B. A mountain
C. A lake
---
10. When was the last time when Mount Fuji erupted?
A. It has never erupted
B. In 578
C. In 1707
---
11. The Shinkansen is the network of high-speed railway lines in Japan. The design of the bullet trains running on this network was inspired by which animal?
A. Kingfishers
B. Hummingbirds
C. Songbirds
---
12. Which of the following is not a typical Japanese dish?
A. Udon
B. Kimchi
C. Ramen
---
13. What do waiters or waitresses say to welcome guests in Japanese restaurants?
A. Sayonara
B. Arigato
C. Irasshaimase
---
14. What does Sushi mean in Japanese?
A. Shark food
B. Sour rice
C. Raw fish
---
15. What does a Geisha do?
A. To perform traditional Japanese songs and dance
B. To serve diners in traditional Japanese restaurants
C. To write traditional Japanese poems
---
16. The U.S dropped two atomic bombs on which Japanese cities during World War II?
A. Tokyo and Osaka
B. Hiroshima and Nagasaki
C. Hokkaido and Nagoya
---
17. The Obon festival, one of the major holiday seasons in Japan, takes place during which season of the year?
A. Spring
B. Summer
C. Winter
---
18. Which Emperor decided to move the capital of Japan to Tokyo from Kyoto?
A. Emperor Taisho
B. Emperor Meiji
C. Emperor Komei
---
19. Since the end of World War II, which was the first country that Japan send the military forces?
A. Syria
B. Afghanistan
C. Iraq
---
20. When will Japan host the Summer Olympic Games for the second time?
A. 2021
B. 2025
C. 2029
---
21. What is the oldest university in Japan?
A. Tohoku University
B. Keio University
C. Tokyo University
---
22. What is the second largest city in Japan based on population?
A. Yokohama
B. Osaka
C. Hokkaido
---
23. Which city in Japan is known as the "kitchen of Japan"?
A. Kobe
B. Osaka
C. Fukuoka
---
24. Tempura is a typical Japanese dish that consists of veggies, meat, and seafood that are battered and deep fried. However, from which country does the dish actually originate?
A. Spain
B. England
C. Portugal
---
25. Which of the following seas is not bordered with Japan?
A. Yellow Sea
B. East China Sea
C. Sea of Japan
---
26. Which of the following statements best describes sumo?
A. Wrestling derived from Shinto religion
B. A full-contact form of martial combat
C. Mud wrestling
---
27. Tsukiji in Tokyo is the largest market in the world for which food?
A. Beef
B. Fish
C. Seaweed
---
28. Which typical Japanese wine is made from fermented rice?
A. Sake
B. Soju
C. Ramen
---
29. What is the main subject of Bonsai, a world-renowned art form?
A. Animals
B. Trees
C. Music
---
30. Lexus is the luxury vehicle division of which Japanese automaker?
A. Honda
B. Nissan
C. Toyota
---
31. What do we call graphic novels or comics originating from Japan?
A. Anime
B. Manga
C. Origami
---
32. Which Japanese fictional character is described as a young female cat with no mouth and a red bow?
A. Doraemon
B. Hello Kitty
C. Rilakkuma
---
33. Which philosophical school of thought had influences on the Silver and Gold Pavilions in the Kyoto style of art?
A. Zen
B. Confucianism
C. Enlightenment
---
34. What is the official currency of Japan?
A. Yen
B. Won
C. Renminbi
---
35. Which two colours are on the national flag of Japan?
A. White and yellow
B. Red and white
C. Green and red
---
36. Based on geographical location, which area does Japan belong to?
A. South Asia
B. North Asia
C. East Asia
---
37. Which of the following dog breeds originates from Japan?
A. Lhasa Apso
B. Shiba Inu
C. Sapsali
---
38. Which flower is the symbol of the Japanese Imperial family and Emperor?
A. Cherry blossom
B. Chrysanthemum
C. Carnation
---
39. Which Japanese island is a tropical paradise of jungles and beaches as well as a unique cultural hybrid?
A. Okinawa
B. Naoshima
C. Ishigaki
---
40. The last one in this list of Japan quiz questions and answers: the basic administrative division in Japan is prefecture. How many prefectures are there in the country?
A. 26
B. 38
C. 47
---
41. Which Japanese games studio is known for creating "Animal Crossing", "Pokemon", or "Mario"?
A. Nintendo
B. Sega
C. Bandai Namco
---
42. How to say "hello" in Japanese?
A. Nihao
B. Konichiwa
C. Xin chao
---
43. Which of the following is the public broadcaster in Japan?
A. CBS
B. NHK
C. BBC
---
44. What is the type of short poetry in Japan?
A. Baiku
B. Maiku
C. Haiku
---
45. What is the biggest airport in Japan?
A. Tokyo Haneda International Airport
B. Kansai International Airport
C. Narita International Airport
---
If you can answer all of these Japan quiz questions and answers, then you are probably a potential ambassador for this beautiful country. For those wanderlust people who want to learn more about the world, make sure to check out the following African quiz or this one about Spain.