It is hard to find anyone who does not love pets. They are cute, loyal, playful, and bring a lot of joy to our life. Let's take a look at the following 30 famous cats and dogs quiz questions and answers to see how much you know.
Famous Cats And Dogs Quiz Questions and Answers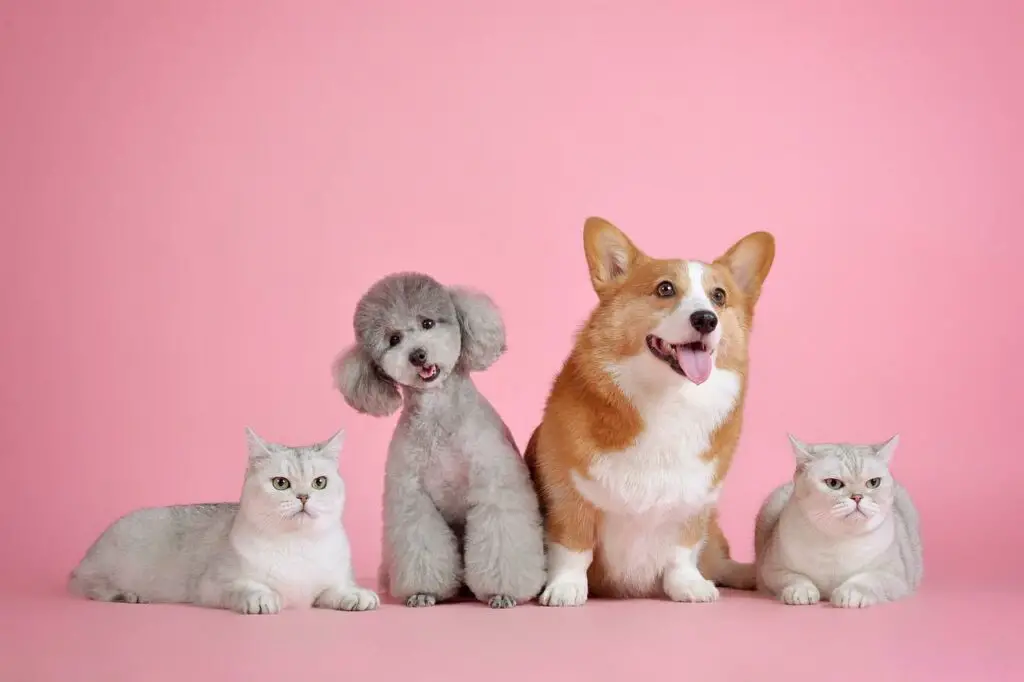 ---
1. Bo is the pet dog of which former U.S. President?
A. Bill Clinton
B. Barrack Obama
C. Donald Trump
---
2. Which dog breed is Scooby-Doo in the animated TV series of the same name?
A. Great Dane
B. Golden Retriever
C. German Shepherd
---
3. What is the name of the blue cat that always fights with a brown mouse called Jerry in a popular animated series?
A. John
B. David
C. Tom
---
4. Which of the following features is true about Hello Kitty, a fictional cat originating from Japan?
A. She has no mouth
B. She wears two red bows
C. She has a black nose
---
5. On 13 May 2020, Nala the Cat was verified by the Guinness World Record to be the world's most followed cat on Instagram. How many followers did she have?
A. 1.5 million
B. 4.3 million
C. 11.7 million
---
6. According to the Guinness World Records, how old was the world's oldest cat when she died in 2005?
A. 17 years old
B. 38 years old
C. 51 years old
---
7. Which dog became the first animal to orbit the Earth in 1957?
A. Maika
B. Naika
C. Laika
---
8. In which US state did a cat called Stubbs become the mayor of a small village?
A. Maine
B. California
C. Alaska
---
9. Smoky was the first therapy dog in the world. In which war did she serve?
A. World War I
B. World War II
C. Vietnam War
---
10. In which year did French scientists launch the first cat called Félicette into space?
A. 1963
B. 1976
C. 1982
---
11. What is the name of the fictional dog in the popular comics series "The Adventures of Tintin"?
A. Snowy
B. Rainy
C. Windy
---
12. In the children's book "The Cat in the Hat", what does the Cat do at the beginning to entertain the children?
A. Singing
B. Playing the piano
C. Doing tricks
---
13. Which is the only cat to win the Picture Animal Top Star of the Year or PATSY awards two times?
A. Thackery Binx in "Hocus Pocus"
B. The Chesire Cat in "Alice in Wonderland"
C. Orangey in "Breakfast at Tiffany's"
---
14. Lucas the Kop Cat is the mascot of which English football club?
A. West Ham United
B. Leeds United
C. Aston Villa
---
15. What is special about Dug, a fun-loving golden retriever in the animated movie "Up"?
A. He can fly
B. He can speak English
C. He can cook
---
16. During World War II, how many shipwrecks did the "Unsinkable Sam" survive?
A. 3
B. 7
C. 12
---
17. What did the Japanese Akita dog Hachiko do after the death of his owner?
A. He kept waiting for the owner at the train station for 9 years
B. He stayed in the owner's graveyard for 3 months
C. He refused to eat and passed away 1 week later
---
18. What is the name of Hagrid's dog in the series "Harry Potter"?
A. Grumpy
B. Hedwig
C. Fang
---
19. What is the colour of Snoopy's ears?
A. White
B. Black
C. Brown
---
20. What is the name of Dorothy's dog in "The Wizard of Oz"?
A. Momo
B. Toto
C. Dodo
---
21. Which fictional tuxedo cat always wants to chase and eat Tweety Bird?
A. Sylvester
B. Gonzales
C. Hippety Hopper
---
22. Which dog is the pet of Mickey Mouse?
A. Goofy
B. Pluto
C. Donald
---
23. A black and white collie dog named Pickles was known for his role in finding which stolen object in March 1966?
A. Crown of Queen Elizabeth II
B. Mona Lisa painting
C. World Cup trophy
---
24. The logo of which British company depicts a dog named Nipper looking at a gramophone?
A. Ministry of Sound
B. His Master's Voice
C. Black Butter Records
---
25. Which classic novel by Charles Dickens inspired a Disney movie that features dogs like Francis, Rita, and Dodger?
A. Oliver Twist
B. A Christmas Carol
B. The Chimes
---
26. What is the name of the puppies' father in the Disney film "101 Dalmatians"?
A. Roger
B. Pongo
C. Perdita
---
27. What is the name of the cat who has served at 10 Downing Street since 2011 as Chief Mouser to the Cabinet Office of the United Kingdom?
A. Freya
B. Larry
C. Sybil
---
28. Where was the orange, fuzzy tabby cat Garfield born?
A. In a kitchen
B. In a park
C. In a museum
---
29. Which cheeky Labrador dog is adopted in a movie starring Jennifer Aniston and Owen Wilson?
A. Harley
B. Barley
C. Marley
---
30. Which dog breed is Mojo in the 2007 film "Transformers"?
A. Chihuahua
B. Pomeranian
C. Poodle
---
What do you think about these famous cats and dogs quiz questions and answers? We hope you learn some interesting facts and enjoy your time. For more challenges on the same topic, check out the following trivia famous animals quiz.