No music genre is like hip hop. With unique rhymes and beats, it has quickly thrived and penetrated nearly all aspects of pop and mainstream culture. Check out the following 30 trivia hip hop quiz questions and answers to see how much you know.
Hip Hop Quiz Questions And Answers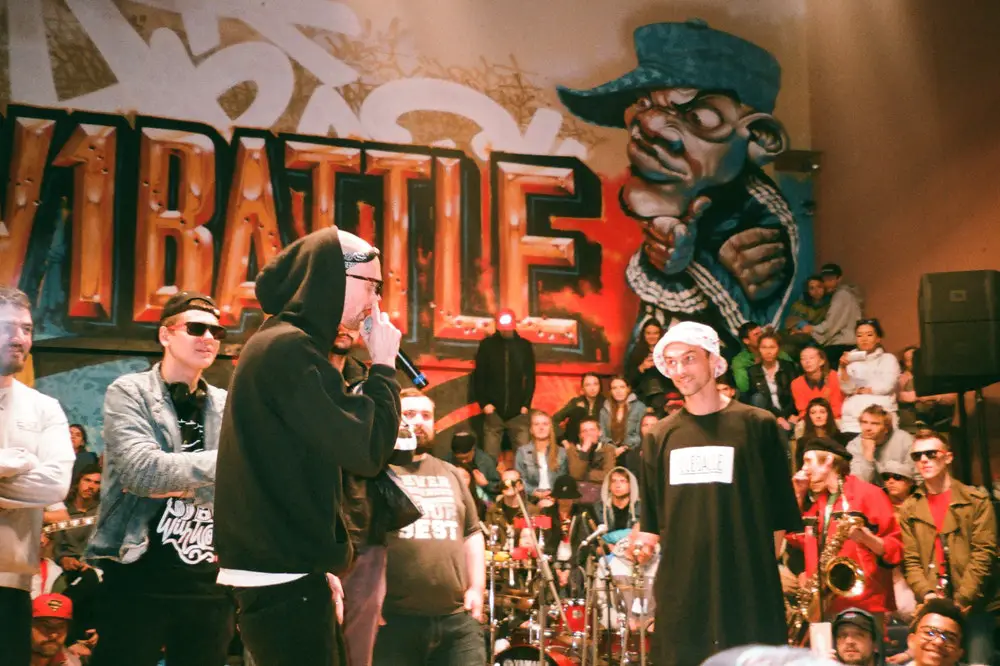 ---
1. In which U.S city was the hip hop culture created?
A. Chicago
B. Los Angeles
C. New York City
---
2. Which actor and rapper is often known as Ice Cube?
A. Kanye West
B. O'Shea Jackson
C. Calvin Broadus
---
3. Which of the following is not a hip hop group?
A. B2K
B. N.W.A
C. Public Enemy
---
4. The American hip hop star Dr. Dre also has a popular brand of which product with his name?
A. Shoes
B. Food
C. Headphones
---
5. There are four original elements of hip hop culture: break dancing, deejaying, rapping, and what else?
A. Beatboxing
B. Graffiti
C. Locking
---
6. What is the name of the first album by Jay-Z?
A. The Blueprint
B. Reasonable Doubt
C. Watch the Throne
---
7. What was the first rap name of Biggie Smalls, also known as The Notorious B.I.G?
A. M.C. Quest
B. M.C. Best
C. M.C. Jest
---
8. Run-D.M.C worked with rock musicians Joe Perry and Steven Tyler to remake which rap song of their band?
A. Sweet Emotion
B. Dream On
C. Walk This Way
---
9. Which of the following people was not a member of the hip hop group Fugees?
A. Pras Michael
B. Wyclef Jean
C. Method Man
---
10. Which of the following is a magazine that focuses on the world of hip hop?
A. Under the Radar
B. The Source
C. Rolling Stone
---
11. Chuck D, the leader of the rap group Public Enemy, once called rap "the black …"
A. BBC
B. MTV
C. CNN
---
12. The famous rapper Karim Kharbouch, often known as French Montana was born in which country?
A. Morocco
B. Algeria
C. Egypt
---
13. Which of the following record labels featured famous artists, such as Snoop Dogg, Dr. Dre, and Tupac?
A. Def Jam
B. Death Row Records
C. Roc-A-Fella
---
14. In which year was the hit "Juicy" by The Notorious B.I.G released?
A. 1994
B. 1999
C. 2003
---
15. "It Ain't Hard to Tell" and "N.Y. State of Mind" are two songs in the 1994 album Illmatic by which rapper?
A. Jay-Z
B. Tupac Shakur
C. Nas
---
16. What is the other name of breakdancing, one of the major elements of hip hop?
A. Popping
B. B-Boying/B-Girling
C. House dance
---
17. Which singer is often known as the Queen of Hip Hop Soul?
A. Lady Gaga
B. Mary J. Blige
C. Alicia Keys
---
18. The UK number 1 hit "Ghetto Gospel" was a collaboration between Elton John and which hip hop legend?
A. Lil Wayne
B. Tupac Shakur
C. LL Cool J
---
19. In his 2017 album, the American hip hop star Snoop Dogg featured a picture of the corpse of which U.S. President?
A. George Bush
B. Barrack Obama
C. Donald Trump
---
20. Which record producer was involved in world-famous work, such as Promiscuous by Nelly Furtado, Work It by Missy Elliott, Big Pimpin by Jay-Z, and Pony by Ginuwine?
A. Timbaland
B. Sean Combs
C. The Neptunes
---
21. Which artist holds the record for the most wins in the Grammy Award for Best Rap Album?
A. Nas
B. Eminem
C. Tyler, the Creator
---
22. Which of the following was the first rap song to reach number 1 on the Billboard Hot 100 chart?
A. Bust a Move by Young MC
B. Wild Thing by Tone Loc
C. Ice Ice Baby by Vanilla Ice
---
23. Which rapper worked with Lauryn Hill on the song "If I ruled the world"?
A. Andre 3000
B. Nas
C. Jay-Z
---
24. The music video of the song "Get Your Freak On" by Missy Elliot featured which of the following female rapper?
A. Da Brat
B. Eve
C. Lil' Kim
---
25. When was the debut album of Kanye West "The College Dropout" released?
A. 2000
B. 2004
C. 2009
---
26. Which of the following members made up the hip hop group Guerilla Unit or G-Unit?
A. Lloyd Banks, Tony Yayo, and 50 Cent
B. Eminem, 50 Cent, and Tony Yayo
C. 50 Cent, Lloyd Banks, and Eminem
---
27. Which of the following is not a song by the hip hop group N.W.A?
A. Harder Than You Think
B. Express Yourself
C. Panic Zone
---
28. Which hip hop artist holds the record for the most number 1 albums in the United States, after the Beatles?
A. Eminem
B. Jay-Z
C. Kayne West
---
29. In 2003, Eminem won a Grammy Award for which song, but refused to perform it as he would have had to do a clean version?
A. Lose Yourself
B. Rap God
C. Love the Way You Lie
---
30. The 2012 song "The Motto" by Lil Wayne and Drake helped popularise which popular acronym?
A. Lol – Laugh out loud
B. Yolo – You only live once
C. Wth – What the hell
---
What do you think about these religion quiz questions and answers? We hope you have learned many interesting facts about this unique style of music. For more challenges on the same topic, check out the following trivia jazz quiz.