Welcome back to another trivia quiz from We Love Quizzes! This time, we'll take a stab at answering questions about lyrics from well-known and not very well-known songs all throughout history. Good luck with these 39 trivia music lyrics quiz questions and answers!
Music Lyrics Quiz Questions and Answers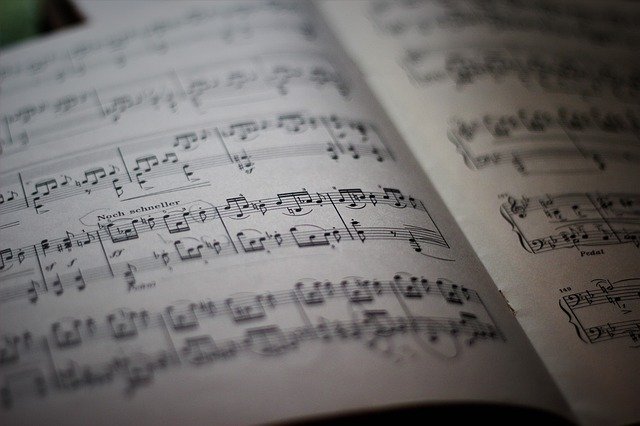 ---
1 "…don't be afraid. Take a sad song and make it better. The minute you let her under your skin, then you begin to make it better."
A She Loves You
B Hey Jude
C Come Together
---
2 In September 2019, Miley Cyrus collaborated with Ariana Grande and Lana Del Ray to create a song serving as part of the soundtrack of the film Charlie's Angels. In the song, they sing, "Boy, don't call me _____, you ain't got me right…"
A lover
B honey
C angel
---
3 The band Fall Out Boy made the song whose lyrics are…
A "let's live in visible darkness…"
B "let's be alone together…"
C "Let's love our enemies…"
---
4 "Near, far, wherever you are…" is a lyric from a 1997 song by ______.
A Celine Dion
B Elton John
---
5 "I'm starting with _____________. I'm asking him to change his ways. And no message could have been any clearer."
A "the boy with the gun"
B "the man in the mirror"
C "the kid with the iron heart"
---
6 "I hope __________. I hope ____________. Gives you all his hours, when he has the chance."
A he buys you flowers / he holds your hand
B that you're his sunflower / with you he'll dance
C he'll never glower / he loves your glance
---
7 "Amazing Grace, how…"
A "nice its warmth…"
B "sweet the sound…"
C "fair the sight…"
---
8 Which of these is the Beatles' song that this lyric, "So we sailed up to the sun, 'til we found a sea of green. And we lived beneath the waves…"came from?
A I Am The Walrus
B Sea of Time
C Yellow Submarine
---
9 "L is for the way you look at me, O is for the only one I see, V is very, very extraordinary, E is…"
A "everlasting, eclectic energy"
B "even more than anyone that you adore…"
C "everything that you can see"
---
10 From the Elton John song, "It's a little bit funny, this feeling…"
A "inside…"
B "within…"
C "I love…"
---
11 "The ______ who's rapping at your door is standing in the clothes you once wore, strike another match, go start anew…"
A vagabond
B hobo
C wanderer
---
12 Which of these is a lyric from the folk rock song by Sandy Denny, Who Knows Where the Time Goes?
A "He's the one who gives his body as a weapon of the war…"
B "Across the purple sky, all the birds are leaving, but how can…"
C "I'm empty and aching and I don't know why…"
---
13 From the Bob Dylan song, All I Really Want to Do: "I don't want to _____, make you ___ or ____…"
A take your sin / grin / bite my chin
B take your bin / win / wear your skin
C meet your kin / spin / do you in
---
14 What were the original lyrics to The Beatles' hit song, Yesterday?
A "Cottage cheese, you're so tasty, though you smell like fleas…"
B "Yesterday, all my troubles seemed so far away…"
C "Scrambled eggs, oh my baby, how I love your legs…"
---
15 "I was born in a dump, my mother died, my daddy got drunk, they left me here to die or grow in the middle of…"
A "Tobacco Road"
B "Abbey Road"
C "Louisville Road"
---
16 Written by The Big Bopper and recorded by Johnny Preston: "On the banks of the river stood ________, a young Indian brave."
A Running Bear
B Mad Cow
C the Deer of Wrath
---
17 "Buddy, you're a boy, make a big noise, playin' in the street, gonna be a big man some day…" is a lyric from the Queen song, ______.
A Bohemian Rhapsody
B Don't Stop Me Now
C We Will Rock You
---
18 What comes directly after the first verse in the song, Silly Love Songs, by Paul McCartney & Wings?
A second verse
B bridge
C chorus
---
19 Which is NOT a lyric from the 1970 song, God, by John Lennon?
A "God is a concept by which we measure our pain"
B "The dream is over"
C "I don't believe in me"
---
20 "Blackbird singing in the dead of night, take these broken wings and learn to fly…" Which social issue are The Beatles referring to in their song, Blackbird?
A Civil rights
B Women's suffrage
C Vietnam war
---
21 Which of these is the last line for John Lennon's 1970 song, Working Class Hero?
A "If you want to be a hero, well, just follow me"
B "A working class hero is something to be"
C "When you can't really function, you're so full of fear"
---
22 Which of these is the first verse in the 1971 John Lennon song, Oh Yoko! ?
A "In the middle of a dream. In the middle of a dream, I call your name…"
B "In the middle of a bath. In the middle of a bath, I call your name…"
C "In the middle of the night. In the middle of the night, I call your name…"
---
23 Which of these is NOT a phrase recited in the George Harrison song, My Sweet Lord?
A Hare Krishna
B Gurur Sakshaat
C Allahu Akhbar
---
24 "Come closer, come closer and listen, the beat of my heart keeps on missin', I notice it most when we're kissin', come closer and love me tonight…" is from the song ______ by ____.
A Boom Bang-a-Bang / Lulu
B Let's Dance / Chris Montez
C Bang Bang / Sonny Bono
---
25 Which of these is a lyric from the song "Everywhere," sung by Michelle Branch?
A "Pulling you in, spinning you 'round, lifting your feet right off the ground…"
B "You're everything I know that makes me believe I'm not alone…"
C "Take your records, take your freedom, take your memories; I don't need 'em…"
---
26 "Everything changes but beauty remains. Something so tender, I can't explain" is from the song, ______.
A Lean on Me
B She Will Be Loved
C A Moment Like This
---
27 The song with the lyric, "Then I saw her face, now I'm a believer, not a trace of doubt in my mind. I'm in love; I'm a believer!" was covered by the band Smash Mouth which ended up being in the soundtrack of the Shrek film series. But, which band wrote these lyrics?
A The Monkees
B Queen
C The Byrds
---
28 "Her name was McGill and she called herself Lil, but everyone knew her as _____"
A April
B Nancy
C Julia
---
29 What are the two things that Sue's father left for them in the Johnny Cash song, A Boy Named Sue?
A a wrecked car and a rusty knife
B a hundred dollar bill and a ripped-up book
C an old guitar and an empty bottle of booze
---
30 "I don't worry whenever skies are gray above. Got a pocketful of ______, got a heart full of love."
A rainbows
B sunshine
C flowers
---
31 "Throw your ____ through every open door! Count your blessings to find what you look for!"
A life
B soul
C hate
---
32 "There ain't no reason you and me should be alone tonight, yeah, baby, tonight, yeah, baby. I got a reason that you're who should take me home tonight" is the ______ of the song, Edge of Glory, by Lady Gaga.
A first verse
B second verse
C chorus
---
33 "I want to hold your hand, I want to hold your hand!" is the _____ of the song, I Want to Hold Your Hand, by The Beatles.
A first verse
B second verse
C chorus
---
34 Why did you fly your Lear Jet to Nova Scotia in the Carly Simon song, You're So Vain?
A to see a total eclipse of the sun
B to escape society
C to become rich
---
35 Finish this lyric: "Let me take you down, 'cause I'm going to…"
A Strawberry Fields
B Penny Lane
C Abbey Road
---
36 Which popular Christmas song starts with the following lyrics: "I don't want a lot for Christmas"?
A. Last Christmas
B. All I Want For Christmas Is You
C. White Christmas
---
37 What is the opening lyrics for the song "Let It Be" by the Beatles?
A. "When I find myself in times of trouble, Mother Mary comes to me"
B. "Oh, yeah, I tell you something"
C. "There are places I'll remember"
---
38 The lyrics of "Walk This Way" by Aerosmith was inspired by a line in which movie?
A. Jurassic Park
B. E.T.
C. Young Frankenstein
---
39 Complete the first line of the lyrics in "God Save the King": God save our ___ King!
A. Glorious
B. Marvellous
C. Lovely
---
Did you enjoy this latest We Love Quizzes quiz? How many lyrics questions did you get correct? If you want to try another, check our trivia quiz on Opera, or this quiz with first lines of songs, or click here to try out another awesome quiz from us.