Rainforests are the Earth's lungs. With great diversity in animals and plants, they also play a key role in the global ecosystem. Let's take a look at the following 26 jungle quiz questions and answers to see how much you now about them.
Jungle Quiz Questions And Answers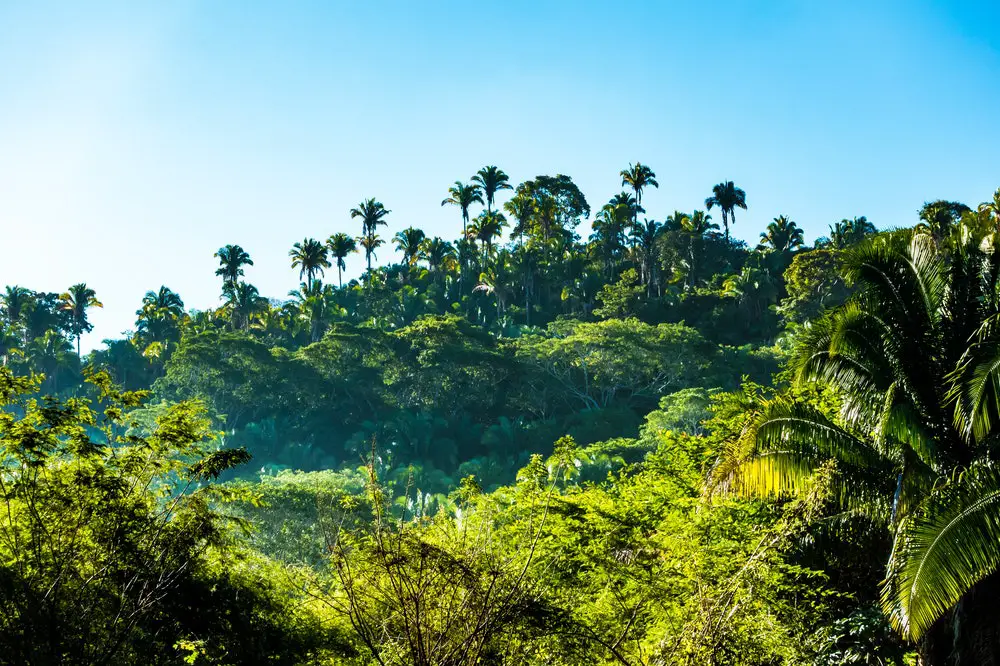 ---
1. Most jungles can be found in which kind of climate?
A. Temperate climates
B. Tropical climates
C. Continental climates
---
2. The word "jungle" is derived from the Sanskrit word "jangala". What does it mean?
A. Wet land
B. Diverse land
C. Dry land
---
3. "Welcome to the Jungle" is a popular song by which famous rock band?
A. Guns N' Roses
B. The Rolling Stones
C. Pink Floyd
---
4. The Amazon rainforest is located in which continent?
A. South America
B. Africa
C. Asia
---
5. In the Disney movie "The Jungle Book", the main character Mowgli was raised in the jungle by which animal?
A. Wolves
B. Gorillas
C. Bears
---
6. What is the second-largest rainforest in the world, which has a total area of approximately 2 million square kilometre?
A. New Guinea Rainforest
B. Congo Basin Rainforest
C. Sundaland Rainforest
---
7. The Amazon rainforest spans how many countries and territories?
A. 5
B. 9
C. 15
---
8. Also called the "zebra giraffe", this animal mostly lives in the Congolese rainforest with zebra-like stripes and a giraffe-like head. What is it?
A. Ikapo
B. Akipo
C. Okapi
---
9. Most tigers live in the jungles in which part of the world?
A. North America
B. Africa
C. Asia
---
10. Which of the following is NOT a key difference between a jungle and a rainforest?
A. Jungles have more sunlight
B. Jungles have fewer trees
C. Jungles are smaller in size
---
11. What percent of animals in the world live in jungles?
A. More than 20 per cent
B. More than 50 per cent
C. More than 70 per cent
---
12. Sloths can be found in jungles in South and Central America. Approximately how many hours do sloths spend sleeping per day?
A. Around 10 hours
B. Around 15 hours
C. Around 20 hours
---
13. Which British explorer disappeared in 1925 during an expedition in the jungles of Brazil to find the lost city of Z?
A. Percy Fawcett
B. Francis Drake
C. Walter Raleigh
---
14. Which toxic chemical was used by the U.S. military during the Vietnam War to destroy jungles and expose North Vietnamese soldiers?
A. Agent Blue
B. Agent Orange
C. Agent Red
---
15. Where do capybaras, an oversize version of rodents, typically live in the jungles?
A. Along lakes or rivers
B. In shrubs and bushes
C. In dark caves
---
16. Although lions are also regarded as "the king of the jungle", where do they typically live?
A. Desert
B. Mountain
C. Grassland
---
17. Which of the following is NOT a typical condition in jungles?
A. High rainfall
B. Warm temperatures
C. Low humidity
---
18. Jungles are mainly located in which part of the Earth?
A. Close to the oceans
B. Close to the equator
C. Close to the Artic circles
---
19. Which country was compared to "a villa in the jungle" by its former Prime Minister?
A. Israel
B. Russia
C. North Korea
---
20. The Rumble in the Jungle was a heavyweight championship boxing match taking place in 1974 between George Foreman and which boxer?
A. Muhammad Ali
B. Manny Pacquiao
C. Mike Tyson
---
21. What is the highest layer of a jungle that is comprised of towering trees?
A. Upperstory layer
B. Canopy layer
C. Emergent layer
---
22. The name of the animal "orangutan" is derived from the two Malay words "orang" and "hutan". What does it literally mean?
A. Soul of the forest
B. Son of the forest
C. Man of the forest
---
23. What is the third-largest island in the world by area, which is mostly covered with jungles and rainforests?
A. Madagascar
B. Borneo
C. New Guinea
---
24. What is the name of the forest at Hogwarts in the fictional series "Harry Potter"?
A. Forbidden Forest
B. Restricted Forest
C. Blocked Forest
---
25. In the early days, how did European explorers travelled through tropical jungles?
A. By boats on the river
B. By hot-air balloon
C. By steam train
---
26. In addition to Asia, elephants can be found in the jungles of which another continent?
A. South America
B. Africa
C. Australia
---
What do you think about these jungle quiz questions and answers? We hope you learn some interesting facts and enjoy your time. For more challenges on the same topic, check out the following ecology quiz.