Ecology is an important branch of science that helps us understand the relationship between living entities and their habitats. It is closely related to other sciences, such as natural history, evolutionary biology, ethology, and genetics. Check out these 29 trivia ecology quiz questions and answers to see how much you know about it.
Ecology Quiz Questions And Answers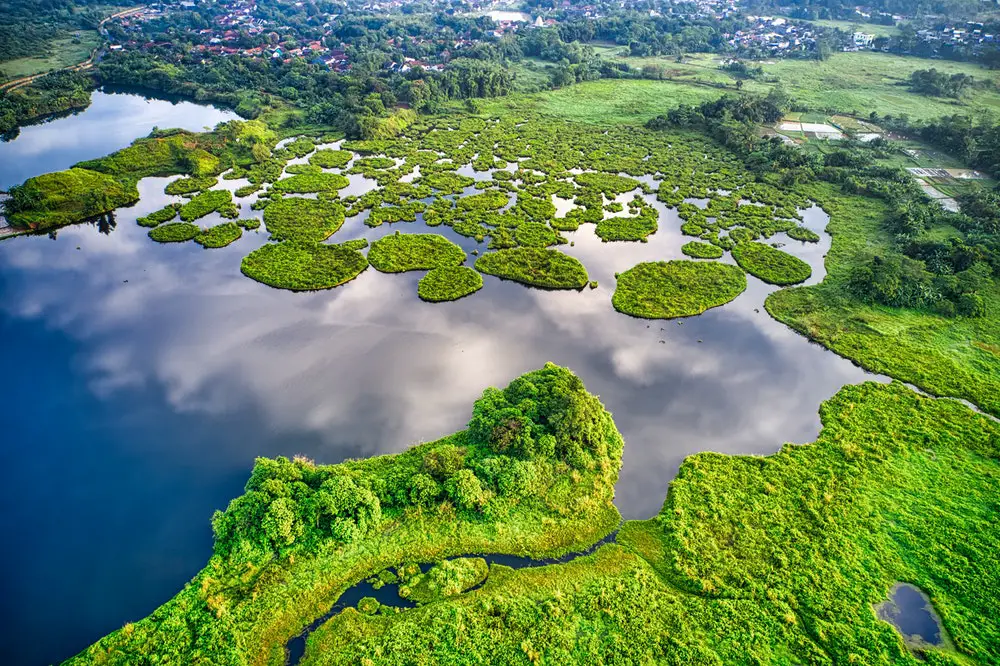 ---
1. What is the name of the natural process in which the Earth's surface absorbs and captures the Sun's energy, which makes the atmosphere warm
A. Greenline effect
B. Greenhouse effect
C. Greenfield effect
---
2. Which of the following terms refers to the natural environment of an organism?
A. Habitat
B. Biome
C. Niche
---
3. Which natural process makes an organism suited to live in a specific environment?
A. Participation
B. Competition
C. Adaptation
---
4. The shape of fish is streamlined over time to move faster in water. Which kind of adaptation is this?
A. Structural adaptation
B. Behavioural adaptation
C. Physiological adaptation
---
5. Which of the following terms refer to the sequence in which one organism eats another and is eaten by another?
A. Digestion chain
B. Consumption chain
C. Food chain
---
6. What is a keystone species?
A. A species that is on top of the food chain
B. An important species for an ecosystem that would collapse without it
C. A vulnerable species that is in danger of extinct
---
7. Which of the following terms refers to a foreign plant that thrives and takes up the living space of native plants?
A. Invasive
B. Aggressive
C. Dominating
---
8. Which of the following is a physical or abiotic factor in the environment?
A. Number of parasites
B. Amount of food
C. Temperature
---
9. A lion hunts and eats a deer. What is the role of the tiger in the ecosystem?
A. A prey
B. A predator
C. A hunter
---
10. Which of the following is an example of a host-parasite relationship?
A. A vine getting support from a bigger plant
B. A tick living on a cat
C. A rhino living in the same area with an elephant
---
11. Which of the following factors may affect the population of organisms on Earth?
A. Movements of stars and planets in the solar system
B. Number of natural disasters
C. Amount of disease and food
---
12. What is the ultimate source of all energy in most ecosystems?
A. Water
B. Sunlight
C. Oxygen
---
13. Which part of the Earth consists of all the living things, including animals, plants, and microorganisms?
A. The Hydrosphere
B. The Lithosphere
C. The Biosphere
---
14. A change in which of the following factors has the smallest effect on the distribution of moths?
A. pH level of the soil
B. Temperature
C. Availability of water
---
15. What does it mean when an animal is a frugivore?
A. It lives on fruit plants
B. It mostly eats raw fruits
C. It helps pollinate fruit plants
---
16. Which natural process causes a decrease in the pH of the ocean?
A. Acidification
B. Alkalisation
C. Bioaccumulation
---
17. Where do arboreal species live?
A. Underwater
B. Underground
C. In trees
---
18. What does the term "biodiversity" mean?
A. The effects of physical and non-physical factors on the environment
B. The range of different species in the environment
C. The daily and seasonal changes in the environment
---
19. Plants in the same habitat do not compete for which of the following factors?
A. Heat
B. Minerals
C. Light
---
20. Which of the following factors has the biggest impact on the environment?
A. Human interference
B. Organism migration
C. Predation
---
21. Which of the following is considered to be a biotic factor in the ecosystem?
A. Soil
B. Temperature
C. Bacteria
---
22. The term "ecology" was coined in 1866 by a scientist from which country?
A. France
B. Denmark
C. Germany
---
23. Which of the following organisms is most affected when there is a change in the buoyancy of water in the ocean?
A. Crabs
B. Jellyfish
C. Sharks
---
24. Which kind of plants can bloom when being exposed to light more than 12 hours a day?
A. Day neutral plants
B. Short day plants
C. Long day plants
---
25. According to Shelford's law of tolerance, organisms with a wide tolerance limit for environmental factors tend to have …
A. High population size with wide distribution
B. Low population size with narrow distribution
B. Average population size with average distribution
---
26. Aiming at significantly reducing biodiversity loss, the United Nations has designated which decade as the "Decade of Biodiversity"?
A. 1991 – 2000
B. 2001 – 2010
C. 2011 – 2020
---
27. In an ecosystem, the energy flow is always …
A. Unidirectional
B. Multidirectional
C. Bi-directional
---
28. Which of the following terms refers to animals that consume both animal and plant matters?
A. Omnivores
B. Carnivores
C. Herbivores
---
29. Which of the following is the right food chain?
A. Snail – Bird – Frog – Fox
B. Fox – Frog – Bird – Snail
C. Snail – Frog – Bird – Fox
---
We hope these ecology quiz questions and answers may help you understand more about how the natural world works. For more challenges on the same topic, check out the following plants quiz.