The natural world and animals always fascinate us. From familiar species like lions and dolphins to creepy or dangerous creatures like scorpions or pythons, there are many interesting things to discover in the animal kingdom. Check out the following 31 trivia world wildlife quiz questions and answers to test your knowledge about endangered species and iconic animals on Earth.
World Wildlife Quiz Questions And Answer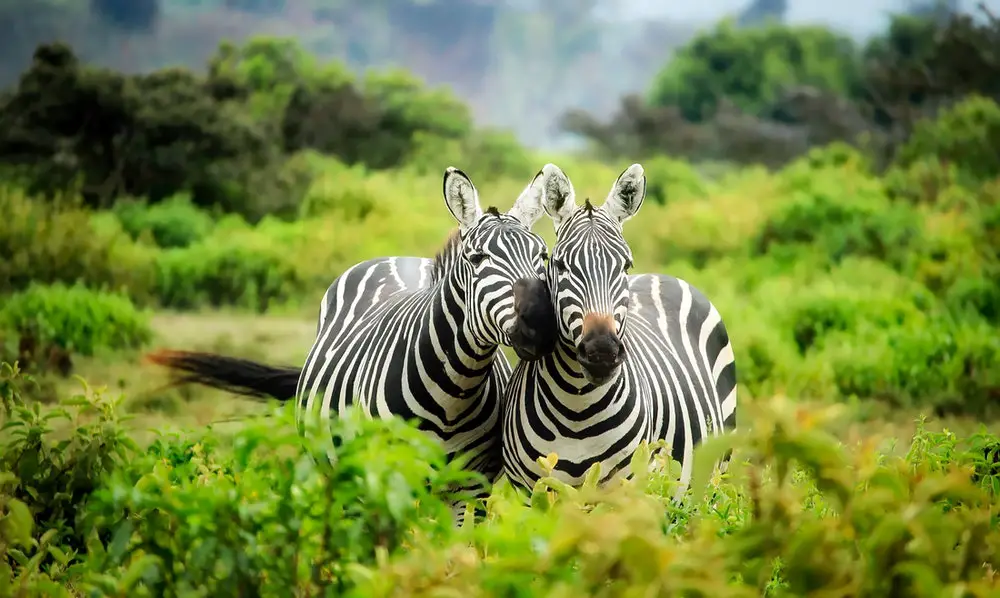 ---
1. Which of the following is the world's largest conservation organisation?
A. The International Fund for Animal Welfare – IFAW
B. The World Wide Fund for Nature – WWF
C. The Nature Conservancy
---
2. What is the colour of a polar bear's skin?
A. White
B. Brown
C. Black
---
3. Which of the following is the only bird species that can fly backwards?
A. Hummingbird
B. Scarlet robin
C. Spotted pardalote
---
4. Which animal is featured on the logo of the World Wild Fund?
A. A dodo
B. A koala
C. A panda
---
5. Approximately how many muscles are there in a trunk of an elephant?
A. Around 5,000
B. Around 40,000
C. Around 100,000
---
6. Around how many eggs could a sea turtle often lay at one time?
A. Around 50 eggs
B. Around 240 eggs
C. Around 530 eggs
---
7. After successful hunting, which lion in the group tends to eat first?
A. Cubs
B. Females
C. Males
---
8. Which of the following statements is a true fact about koalas?
A. They have opposable thumbs
B. They live in Australia and New Zealand
C. Koalas and bears are in the same family
---
9. Over the period from 1970 to 2010, the global population increased by more than 50 per cent. How much percentage did the wildlife population decreases in the same period?
A. Around 20 per cent
B. Around 40 per cent
C. Around 60 per cent
---
10. Which unique tactic does a pangolin often use to defend and protect themselves?
A. To play dead
B. To roll up into a ball
C. To release a stinky smell
---
11. What are the horns of rhinoceroses made from?
A. Hair
B. Bone
C. Ivory
---
12. Which of the following is the national mammal of the United States?
A. Black bear
B. Mule
C. American bison
---
13. What is the other name of "Cape hunting dog" or "painting dog"?
A. European wild dog
B. American wild dog
C. African wild dog
---
14. It is not easy to differentiate between a leopard and a jaguar. In addition to the body size, which other physical feature can help us tell them apart?
A. The length of the legs
B. The markings on the fur
C. The tail
---
15. Which of the following animals cannot be found in the wild in Britain anymore?
A. Beaver
B. Wolf
C. Wallaby
---
16. How long does it normally take for a sloth to digest all the food?
A. Around 1 week
B. Around 1 month
C. Around 6 months
---
17. What is the biggest animal on Earth?
A. Blue whale
B. Colossal squid
C. African elephant
---
18. Which word is used to call a group of sharks?
A. A sharklet
B. A flotilla
C. A shoal
---
19. Black-footed ferrets completely depend on which animal for shelter and food?
A. Voles
B. Prairie dogs
C. Grasshoppers
---
20. The blue whale is the animal with the slowest heart rate at … times per minute, while the pygmy shrew is the animal with the quickest heart rate at … times per minute.
A. 1 – 300
B. 3 – 700
C. 8 – 1200
---
21. Which of the following animals has the longest migration distance with up to 71,000 km per year?
A. Arctic tern
B. Humpback whale
C. Wandering albatross
---
22. Why do bees and other pollinators are important to life on the planet?
A. They provide us with food
B. They reduce the population of harmful pests
C. They aid in oxygen production
---
23. Which of the following species can easily adapt to life on a river thanks to their dense fur and webbed feet?
A. Sea lion
B. Otter
C. Walrus
---
24. Billions of which birds used to inhabit North America in the 1800s before they were hunted by humans to extinction?
A. Dodo
B. Labrador duck
C. Passenger pigeon
---
25. What is stored in the hump of a camel?
A. Fat
B. Water
C. Food
---
26. In which of the following animals do the males give birth?
A. Sea dragon
B. Dragonfly
C. Shrimp
---
27. Which of the following big cats cannot roar?
A. Cheetah
B. Tiger
C. Snow leopard
---
28. On which part of the body is the heart of a shrimp located?
A. Stomach
B. Head
C. Tail
---
29. Which of these most common types of deer has the longest lifespan?
A. Axis Deer
B. Moose
C. Roe Deer
---
30. Which of the following programming languages is named after a wild animal?
A. Perl
B. Cobra
C. Cobol
---
31. Which animal only move the hind legs together on land, but can kick each leg independently in the water to swim?
A. Cheetah
B. Kangaroo
C. Hippopotamus
---
What do you think about these world wildlife quiz questions and answers? We hope you have learned many interesting facts about nature and distinctive animals on Earth. For more challenges, check out the following British wildlife quiz.