There is something both frightening and sweet about bees. These small insects can fly around and sting, but they also bring us honey, a popular ingredient for many recipes and dishes. Check out the following 45 trivia bees quiz questions and answers to learn more interesting facts about them.
Bees Quiz Questions And Answers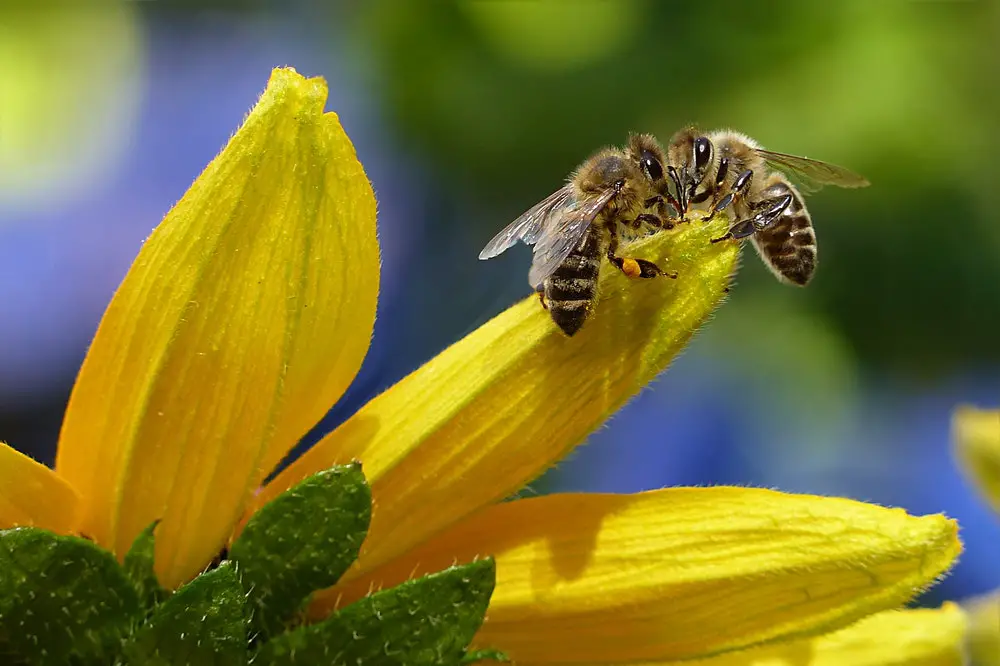 ---
1. Bees do not pollinate which of the following foods?
A. Almonds
B. Grains
C. Apples
---
2. Approximately how many species of bees are there in the United Kingdom?
A. More than 10
B. More than 150
C. More than 250
---
B. Habitat loss
C. Use of pesticides in agriculture
---
4. What percentage of main crops in the world is pollinated by bees?
A. Around 20 per cent
B. Around 45 per cent
C. Around 75 per cent
---
5. The honeybee is a part of which family?
A. Apidae
B. Andrenidae
C. Melitidae
---
6. How many eyes do bees have?
A. 2
B. 4
C. 5
---
7. Honeybees communicated with each other by which type of dance?
A. The squiggle dance
B. The waggle dance
C. The wiggle dance
---
8. Meliponines are a special species of bees known for which feature?
A. They do not sting
B. They do not make honey
C. They live in dry conditions
---
9. Most species of bees collect pollen in which part of the body?
A. Wings
B. Antenna
C. Back legs
---
10. Where does the name "carpenter bee" come from?
A. This bee plays a key role in the carpenter's work
B. This bee often makes tunnels in rotting wood
C. This species of bee was discovered by a group of carpenters
---
11. A bee colony is typically made up of three kinds of bee: queen, drone, and …
A. King
B. Worker
C. Carpenter
---
12. How many queen bees are there in a typical bee colony?
A. 1
B. 2
C. 3
---
13. Based on genetic and anatomical reasons, worker bees are male or female?
A. Male
B. Female
C. Either male or female
---
14. Which type of bees has a sting?
A. Queen
B. Worker
C. Drone
---
15. Why are bee attracted by nectar?
A. Because nectar is sweet
B. Because nectar is common in the typical habitat of bees
C. Because nectar is high in energy
---
16. What is the home of a bee colony called?
A. A hive
B. A nest
C. A den
---
17. What is the typical shape of cells in a beehive?
A. Pentagon
B. Hexagon
C. Heptagon
---
18. What is the most common species of honey bee?
A. Pollen honey bee
B. Western honey bee
C. Cowboy honey bee
---
19. Where is the stinger of a bee located?
A. At the abdomen's lower tip
B. On the front leg
C. In the mouth
---
20. Bees cannot see which colour?
A. Yellow
B. Red
C. White
---
21. Which of the following insects eat bees?
A. Ladybugs
B. Beetles
C. Dragonflies
---
22. How do bumblebees pollinate tomato flowers?
A. Grab hold of the flowers and buzz
B. Stick their tongue into the flowers
C. Dip their legs into the flowers
---
23. How do honeybee tell others when they find nectar?
A. Make a sound
B. Draw a map
C. Do a dance
---
24. The body of a bee can be broken into how many parts?
A. 3
B. 5
C. 7
---
25. Bee's stingers evolved from an ovipositor, which was originally used for which purpose?
A. To digest foods
B. To lay eggs
C. To store foods
---
26. What is the process in which bees grow from larva to pupa and then adult?
A. Metamorphosis
B. Gestation
C. Adolescence
---
27. Which body part enables a bee to feel and smell?
A. Thorax
B. Antennae
C. Legs
---
28. Which part helps protect the delicate internal structures in a bee's body?
A. Internal skeleton
B. Vertebrae
C. Exoskeleton
---
29. What is the technical term for beekeeping, the maintenance of bee colonies by humans?
A. Apiculture
B. Sericulture
C. Aviculture
---
30. What is the main role of drone bees in a colony?
A. Collect nectar
B. Mate with the queen bee
C. Lay eggs
---
31. When do bees swarm?
A. When they mate
B. When the colony becomes too large
C. When they lay eggs
---
32. Why do honey bees make and store honey?
A. To build the hive
B. To prevent predators
C. To eat over the winter
---
33. What is the only continent in which honey bees do not live?
A. Africa
B. South America
C. Antarctica
---
34. What is the average life span of honey bees in the wild?
A. Around 1 year
B. Around 5 years
C. Around 10 years
---
35. What is the other name for killer bees?
A. Africanised bees
B. Asianised bees
C. Americanised bees
---
36. How many sets of wings do honey bees have?
A. 1 set (2 wings)
B. 2 sets (4 wings)
C. 3 sets (6 wings)
---
37. What can a bee calculate?
A. The speed of the wind
B. The angle of the earth
C. The surrounding temperature
---
38. Are honey bees cold- or warm-blooded insects?
A. Warm-blooded
B. Cold-blooded
C. Both
---
39. Which of the following insects is mostly related to bees?
A. Crickets
B. Wasps
C. Moths
---
40. Which branch of alternative medicine utilises products of honey bees like royal jelly, pollen, or honey?
A. Naturopathy
B. Apitherapy
C. Phytotherapy
---
41. Which US state is known as the Beehive State?
A. Utah
B. Colorado
C. Maine
---
42. How long can honey kept on the shelf?
A. 2 years
B. 10 years
C. No expiry date
---
43. How many times do bee larvas shed their skin?
A. 1
B. 5
C. 15
---
44. Which king chose used the bee for his family emblem?
A. Napoleon Bonaparte
B. Alexander the Great
C. Charlemagne
---
45. What is royal jelly?
A. Sweat of bees
B. Protein-rich secretion of bees
C. Special honey made by queen bees
---
Whether you are a bee or honey lover, these bees quiz questions and answers can be a great chance to test your knowledge and learn more interesting facts about these frightening yet diligent insects. For more questions, make sure to check out the following trivia British wildlife quiz or these gardening questions and answers.