France attracts millions of travelers each year with its long history, rich culture, pristine beaches, peaceful villages, unique architecture, mouth-watering dishes, and many more. If you want to learn more about this beautiful country, then have a try at the following 35 trivia France quiz questions and answers.
France Quiz Questions and Answers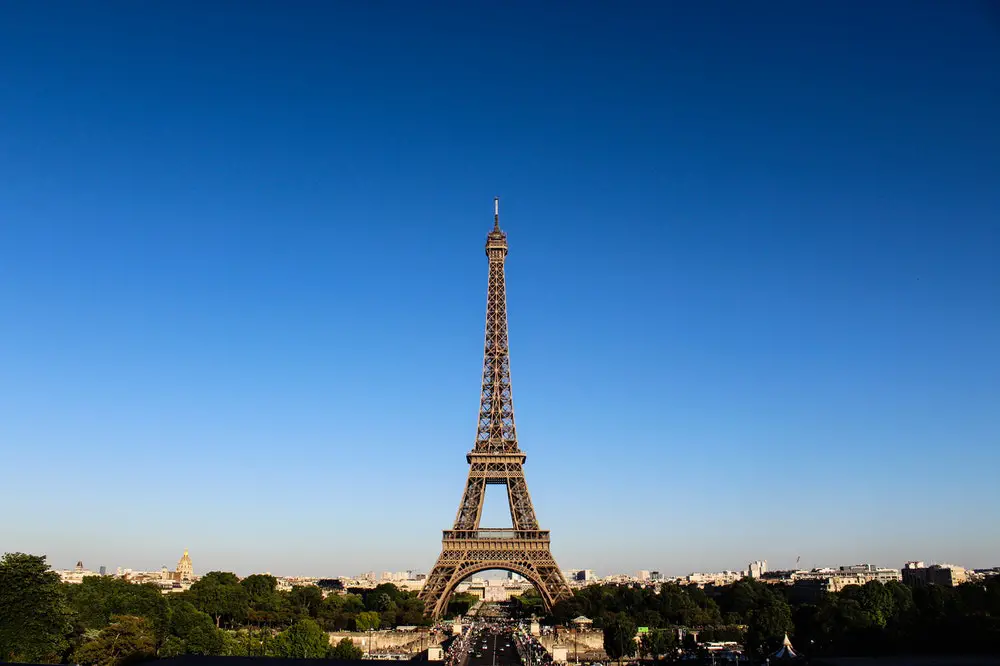 ---
1. Which of the following colours is not featured on the flag of France?
A. White
B. Green
C. Red
---
2. What is the second-largest city in France, after the capital of Paris?
A. Marseille
B. Lyon
C. Bordeaux
---
3. What is the official currency of France?
A. French franc
B. French dollar
C. Euro
---
4. Which of the following counties is NOT bordered by France?
A. The Netherlands
B. Belgium
C. Italy
---
5. Which of the following facts is true about macaroons, which are one of the most popular desserts in France?
A. They typically have square shapes
B. They are often in a variety of colours
C. They are sweetened by fruit juices
---
6. When did the French Revolution break out?
A. 1567
B. 1678
C. 1789
---
7. Which of the following famous painters is French?
A. Claude Monet
B. Pablo Picasso
C. Vincent van Gogh
---
8. Which of the following is a famous tourist destination in France?
A. La Sagrada Familia
B. Palace of Versailles
C. Leaning Tower of Pisa
---
9. Which major sports event will take place in Paris in 2024?
A. The FIFA World Cup
B. The Summer Olympic Games
C. The Rugby World Cup
---
10. Which of the following car brands originated from France?
A. Volvo
B. Volkswagen
C. Renault
---
11. Which is the iconic flower of the region Provence in the south of France with purple colours and sweet floral scent?
A. Lavender
B. Iris
C. Lily
---
12. What is the right way to say "thank you" in French?
A. Danke
B. Merci
C. Gracias
---
13. France is one of the world's largest manufacturers of which products?
A. Coffee
B. Tea
C. Wine
---
14. Which animal is the national symbol of France?
A. Rooster
B. Tiger
C. Eagle
---
15. When was same-sex officially legalised in France?
A. 2003
B. 2007
C. 2013
---
16. Adopted in 2015, the Paris Agreement, also known as the Paris Accords, is an international treaty dealing with which global problem?
A. Terrorism
B. Inequality
C. Climate change
---
17. Who was the last King of France before being forced to abdicate during the French Revolution?
A. Napoleon Bonaparte
B. Louis XVI
C. Charlemagne
---
18. What is the official name of France?
A. The French Republic
B. The Federal Republic of Germany
C. The Kingdom of France
---
19. Which musical instrument did the famous French musician Manitas de Plata play?
A. Guitar
B. Piano
C. Violin
---
20. The "Tour de France" is an annual event held in France for which sport?
A. Triathlon
B. Cycling
C. Marathon
---
21. Which French brand is the largest luxury company in the world by total sales?
A. Chanel
B. Hermès
C. Louis Vuitton Moet Hennessey
---
22. The French Lumière Brothers, including Louis and Auguste Lumière, is credited with creating what?
A. Cinema
B. Comics
C. Radio
---
23. Which of the following songs is the national anthem of France?
A. La Marseillaise
B. Le Parisien
C. Le Francais
---
24. Rene Descartes, Montesquieu, and Voltaire are major French philosophers of which philosophical and intellectual movement?
A. Romanticism
B. Enlightenment
C. Renaissance
---
25. Which of the following is a novel by Victor Hugo, one of the best-known and greatest French writers?
A. The Three Musketeers
B. Twenty Thousand Leagues Under the Sea
C. The Hunchback of Notre-Dame
---
26. What does the shape of France look like on the map?
A. A high heel boot
B. A buffalo
C. A hexagon
---
27. What is the name of the river that flows through Paris?
A. Seine
B. Danube
C. Elbe
---
28. Which of the following famous animated movies is set in Paris, France?
A. Ratatouille (2007)
B. The Incredibles (2004)
C. Up (2009)
---
29. What is the largest and busiest airport in France?
A. Charles de Gaulle Airport
B. Paris Orly Airport
C. Reunion Roland Garros Airport
---
30. What is the nickname that local people in Paris gave to the Eiffel Tower when it was first built in 1887?
A. Triangle of Love
B. Iron Lady
C. French Baguette
---
31. France is divided into how many administrative regions?
A. 5
B. 18
C. 42
---
32. In addition France, French is an official language in which of the following European countries?
A. Andorra
B. Monaco
C. Vatican
---
33. Complete the national motto of France: "…, equality, fraternity".
A. Freedom
B. Independence
C. Liberty
---
34. In which field does France have more Nobel Prize winners than any other country in the world?
A. Chemistry
B. Physics
C. Literature
---
35. What is the highest mountain in France and also the second-highest mountain in Europe?
A. Mount Elbrus
B. Mont Blanc
C. Mount Kazbek
---
What do you think about these France quiz questions and answers? We hope you learn some interesting facts about this great country and enjoy your trip there. For more challenges on the same topic, check out the following Germany quiz.