The month of May marks the beginning of summer when people start to go outdoors to enjoy blooming flowers and beautiful weather. Let's celebrate this great month with the following 32 May quiz questions and answers.
May Quiz Questions And Answers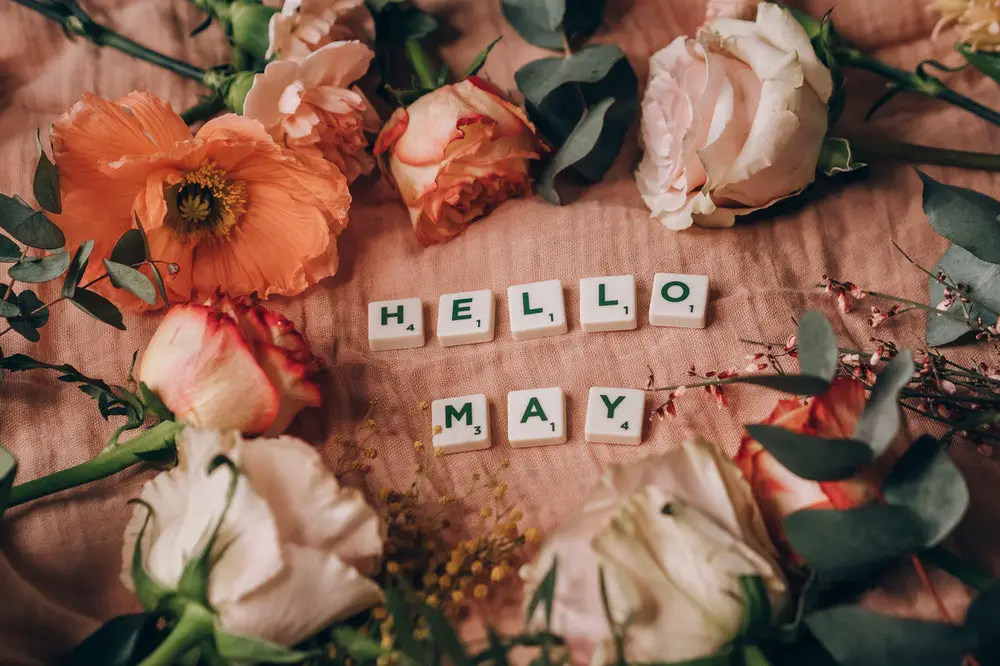 ---
1. What is the birthstone for May?
A. Emerald
B. Ruby
C. Sapphire
---
2. Which would be your sign of zodiac if your birthday is in May?
A. Aries or Taurus
B. Taurus or Gemini
C. Gemini or Cancer
---
3. When do people in the United States celebrate Mother's Day?
A. The first Sunday in May
B. The second Sunday in May
C. The last Sunday in May
---
4. Which of the following famous actors was NOT born in May?
A. Dwayne Johnson
B. George Clooney
C. Leonardo DiCaprio
---
5. How many days are there in May?
A. 28
B. 30
C. 31
---
6. The month of May was named after Maia. Who is actually Maia?
A. A Greek goddess
B. A Christian saint
C. A princess
---
7. When do we celebrate May Day?
A. May 1st
B. May 15th
C. May 31st
---
8. What do people celebrate on May Day?
A. The birthday of a Christian saint
B. The end of World War II
C. The arrival of spring
---
9. Which kind of dance is mostly associated with May Day in England?
A. Morris dance
B. Maypole dance
C. Barn dance
---
10. A May Ball is a dance party that takes place in which British university at the end of the academic year?
A. The University of Cambridge
B. The University of Oxford
C. The University of Edinburgh
---
11. When do people celebrate International Hamburger Day?
A. May 2nd
B. May 15th
C. May 28th
---
12. May 23rd is the World … Day.
A. Alligator
B. Turtle
C. Starfish
---
13. What is the season in the southern hemisphere of the world during May?
A. Spring
B. Summer
C. Autumn
---
14. The Catholic Church typically holds special devotions during the month of May to honour whom?
A. Mother Mary
B. Jesus Christ
C. Saint Nicolai
---
15. Which tennis Grand Slam tournament begins in late May each year?
A. US Open
B. French Open
C. Australia Open
---
16. Which famous English writer is the author of the following line, "Rough winds do shake the darling buds of May"?
A. William Shakespeare
B. Charles Dickens
C. J. R. R. Tolkien
---
17. According to a wedding superstition, you should not do what in May to avoid "ruing the day"?
A. Move to a new house
B. Get married
C. Travel
---
18. Which of the following events is held annually between May and June in the United Kingdom?
A. National Hug Month
B. National Love Month
C. National Smile Month
---
19. Which of the following words means May in Spanish?
A. Maya
B. Maye
C. Mayo
---
20. Which world-famous landmark was officially opened to the public on May 6, 1889?
A. Taj Mahal, India
B. Big Ben, The United Kingdom
C. Eiffel Tower, France
---
21. Which international film festival is held annually in May and awards the winners with the prize called Palme d'Or?
A. Cannes International Film Festival
B. Berlin International Film Festival
C. BFI London Film Festival
---
22. Mayflower was a ship that transported whom from England to the U.S. in 1620?
A. The Pilgrims
B. Christopher Columbus
C. The Vikings
---
23. Which country celebrates Victoria Day on May 24 annually in honour of Queen Victoria?
A. Australia
B. Canada
C. New Zealand
---
24. On May 8, 1945, the Allied Forces celebrated the end of which world conflict after Germany's unconditional surrender?
A. World War I
B. World War II
C. Cold War
---
25. Which of the following is a song about the month of May by Michael Bublé?
A. First of May
B. 5 Days in May
C. End of May
---
26. The last episode of which popular TV series was aired on May 6, 2004?
A. Friends
B. How I Met Your Mother
C. Modern Family
---
27. Which product was first introduced by Steve Jobs, Apple's chief executive, on May 7, 1998?
A. iPhone
B. iMac
C. iPod
---
28. Which music competition has taken place annually in May since 1956?
A. Eurovision Song Contest
B. International Chopin Piano Competition
C. American Idol
---
29. Which world-known film franchise is celebrated by fans on May 4th every year?
A. Harry Potter
B. The Lord of the Rings
C. Star Wars
---
30. On May 29, 1953, Tenzing Norgay and Edmund Hillary became the first explorers to …
A. Discover Machu Picchu in Peru
B. To reach the top of Mount Everest
C. To set foot in Antarctica
---
31. Which country changed its name from Ceylon to the current name on May 22, 1972?
A. Indonesia
B. Colombia
C. Sri Lanka
---
32. Which award was first announced on May 4, 1959?
A. Academy Awards
B. Grammy Awards
C. Golden Globe Awards
---
What do you think about these May quiz questions and answers? We hope you learn some interesting facts and enjoy your time. For more challenges on the same topic, check out the following April quiz or this July quiz.