Easter is one of the most important festivals in the Christian calendar. From the Easter bunny and egg rolling to hot cross buns and chocolate, there are many things to do and enjoy with your family during this special time. And try the following 35 trivia Easter quiz questions and answers in your gathering to have fun and learn more about it.
Easter Quiz Questions And Answers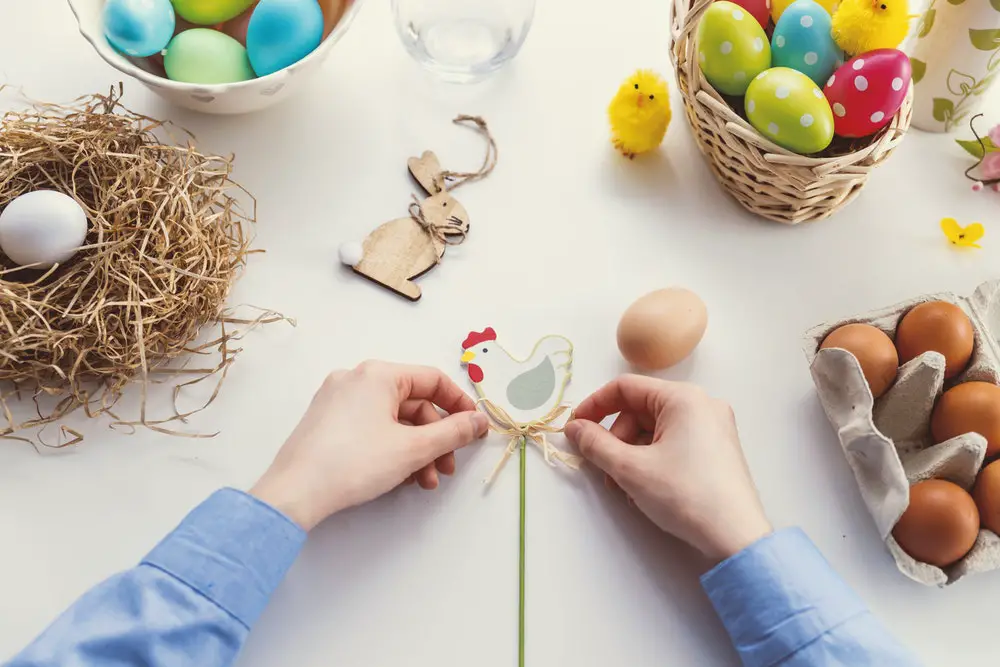 ---
1. Easter is also called Resurrection …
A. Friday
B. Sunday
C. Monday
---
2. When is Easter typically celebrated?
A. Two weeks before Christmas
B. The last Monday of January
C. The first Sunday after the first full moon after Spring equinox
---
3. What is the meaning of the 11 balls of marzipan on traditional Simnel cakes?
A. They represent 12 apostles, except Judas
B. They represent the age when Jesus performed the first miracle
C. They represent 10 commandments and Jesus
---
4. Which of the following animals is often associated with Easter?
A. Buffalo
B. Bunny
C. Puma
---
5. The tradition of Easter Eggs originated from which country?
A. Italy
B. France
C. Germany
---
6. For what is Easter celebrated?
A. The born of Jesus
B. The resurrection of Jesus
C. The crucifixion of Jesus
---
7. Hot buns with crosses are thought to be first made by who?
A. Ancient Romans
B. Ancient English
C. Ancient Greeks
---
8. In which country can we visit the Easter Island, also known as Rapa Nui?
A. Chile
B. New Zealand
C. Madagascar
---
9. Along with Easter Bunny, which animal is known for bringing Easter Eggs as well in Switzerland?
A. Deer
B. Cuckoo
C. Squirrel
---
10. Easter Eggs are often thought to represent the following, EXCEPT…
A. Food at the Last Supper
B. The stone rolled in front of the tomb of Jesus
C. New life
---
11. Each year on the day before Good Friday, the Queen represents what to pensioners to recognise their service to the community?
A. Food
B. Flowers
C. Money
---
12. What is an Easter bonnet?
A. A pair of shoes
B. A hat
C. A dish
---
13. Which flower is typically associated with Easter as it is said to grow to honour Jesus with its head down?
A. Lily
B. Rose
C. Orchid
---
14. What are the two traditional colours on Easter?
A. Red and green
B. Blue and orange
C. Yellow and purple
---
15. Traditionally, Wales and England have a day off on Easter Monday. What is this day called?
A. Fun Day
B. Happy Monday
C. Bank Holiday
---
16. Who is the author of "The Tale of Peter Rabbit"?
A. Roald Dahl
B. Beatrix Potter
C. Jacqueline Wilson
---
17. Which meat is typically eaten on Easter Sunday?
A. Lamb
B. Pork
C. Beef
---
18. Egg rolling is a traditional game in many European countries in which people roll decorated boiled eggs down a hill. Now it is an annual event at which world-famous landmark?
A. The Eiffel Tower
B. The Big Ben
C. The White House
---
19. Why are many Easter eggs often decorated with fish or crocodile scales on the surface?
A. To cover up imperfections
B. To represent fish eaten on Easter
C. To look different from normal eggs
---
20. The Easter Egg Museum is home to the largest collection of Easter eggs with more than 1500 units. Where is it?
A. Germany
B. Poland
C. Czech Republic
---
21. It is believed what you should do on Easter to bring good luck in the next year?
A. To eat a lot of Easter eggs
B. To give your family member best wishes
C. To wear a new piece of clothing
---
22. How many days after being buried did Jesus rise from dead?
A. 3 days
B. 7 days
C. 30 days
---
23. The Good Friday Agreement was signed in 1998 to end the political conflict in Northern Ireland. What is it also known as?
A. The Northern Ireland Agreement
B. The Belfast Agreement
C. Thee Dublin Agreement
---
24. Who was the first person to speak to Jesus after his resurrection?
A. Mother Mary
B. Mary Magdalene
C. Judas Iscariot
---
25. Which of the following holidays overcomes Easter in candy and chocolate sales?
A. Christmas
B. Thanksgiving
C. Halloween
---
26. Lent is known as a fasting period before Easter. How many days does it last?
A. 20 days
B. 30 days
C. 40 days
---
27. After what is Easter named?
A. A historical event
B. An Anglo-Saxon goddess
C. A holy site
---
28. Which tasty snack was typically associated with Easter due to the twists that look like arms crossed in prayer?
A. Pretzel
B. Guacamole
C. French fries
---
29. Easter always takes place in which two months of the year?
A. February and March
B. March and April
C. April and May
---
30. Between Good Friday and Easter Sunday during Easter, which of the following is avoided by Catholic tradition?
A. Visiting the church
B. Ringing church bells
C. Confession in church
---
31. Which ingredient is put on top of Easter  simnel cakes?
A. Marzipan balls
B. Chocolate bars
C. Strawberries
---
32. In which country do people celebrate Easter with water fight?
A. Italy
B. Hungary
C. Poland
---
33. In French culture, what brings Easter eggs to children?
A. Red envelopes
B. Flying bells
C. Wooden boxes
---
34. Hot cross buns typically contain which dried fruits?
A. Dates
B. Raisins
C. Figs
---
35. What was the colour of the world's first Easter eggs?
A. Yellow
B. Green
C. Red
---
We hope you and your family have a lot of fun with these Easter quiz questions and answers. If you want to learn more interesting facts or challenge your knowledge, then check out the following wedding quiz or this Alter ego quiz.