Summer and vacations are definitely the main reason why July is a favorite month for everyone. But there are even more events and important holidays to celebrate and enjoy during this period. Let's take a look at the following 30 July quiz questions and answers to see how much you know.
July Quiz Questions And Answers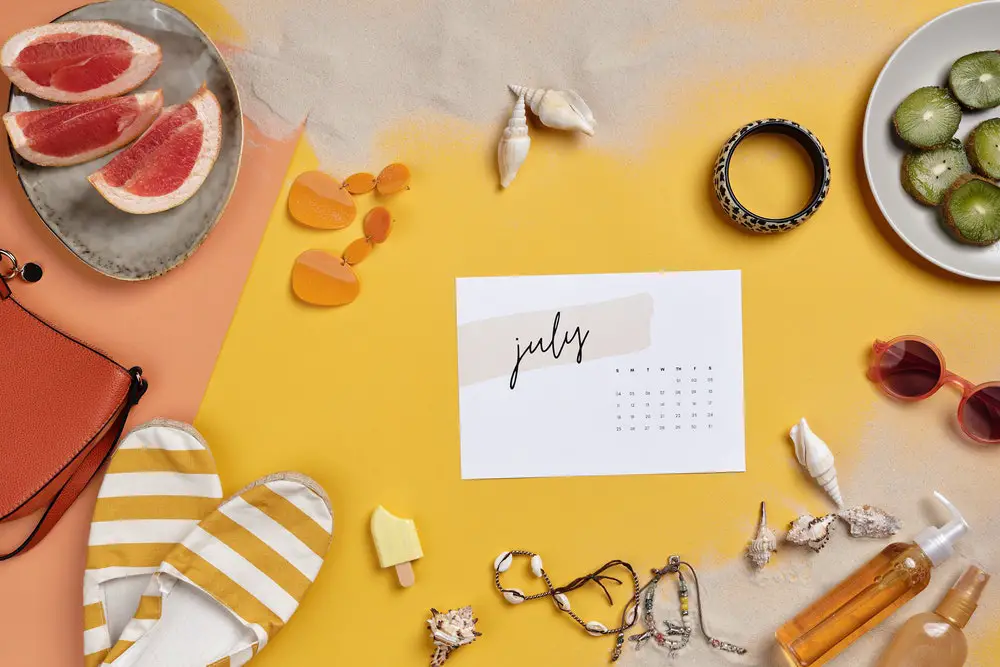 ---
1. Which of the following holiday takes place on 17 July each year?
A. World Emoji Day
B. World E-mail Day
C. World Blog Day
---
2. When do people in the United States celebrate Independence Day each year?
A. 4 July
B. 14 July
C. 24 July
---
3. What do we call the days that usually start in early July when the hot summer weather begins?
A. Cat days
B. Chicken days
C. Dog days
---
4. How many days are there in July?
A. 30
B. 31
C. 30 or 31
---
5. What is the birthstone for the month of July?
A. Pearl
B. Ruby
C. Bloodstone
---
6. Why was July named after the Roman general Julius Caesar?
A. He died in July
B. He was born in July
C. July was his favourite month of the year
---
7. 31st July is the birthday of which fictional character?
A. Sherlock Holmes
B. Peter Pan
C. Harry Potter
---
8. In which language is the word "July" translated into "Juli"?
A. German
B. French
C. Italian
---
9. What are the two zodiac signs for those people who were born in July?
A. Aquarius and Pisces
B. Sagittarius and Capricornus
C. Leo and Cancer
---
10. Which of the following is the birth flower of July?
A. Water lily
B. Poppy
C. Honeysuckle
---
11. Which astronaut became the first person in history to step on the moon on 20 July 1969?
A. Neil Armstrong
B. Buzz Aldrin
C. Yuri Gagarin
---
12. The Rosetta Stone, an ancient stone inscribed in several scripts and languages, was discovered on 15 July 1799 in which country?
A. Iran
B. Egypt
C. Turkey
---
13. Which popular amusement park was first opened in California on 17 July 1955?
A. Universal Theme Parks
B. Disneyland
C. Tivoli Gardens
---
14. The July Column, a monumental column commemorating the July Revolution of 1830, is located in which European city?
A. Berlin
B. Rome
C. Paris
---
15. Which prestigious golf tournament is held annually in July?
A. U.S. Open
B. Masters Tournament
C. British Open
---
16. Dharma Day, which takes place in July every year, is a special event in which religion?
A. Buddhism
B. Judaism
C. Islam
---
17. On 21 July 1796, Mungo Park became the first European ever to find which river in Africa?
A. Niger River
B. Congo River
C. Zambezi River
---
18. On 7th July each year, people around the world celebrate World … Day.
A. Milk
B. Chocolate
C. Ice Cream
---
19. Which former U.S. President was assassinated on 2 July 1881?
A. Rutherford Hayes
B. James Garfield
C. Chester Arthur
---
20. July Days was a period of unrest between 16 and 20 July 1917 in which revolution?
A. French Revolution
B. Chinese Revolution
C. Russian Revolution
---
21. According to traditional British folklore, if the weather is sunny on St Swithin's day, which takes place on 15 July each year, what will be the weather like in the next 40 days?
A. Sunny
B. Rainy
C. 20 sunny days followed by 20 rainy days
---
22. "4th of July" is a song in the 1984 album "The Unforgettable Fire" by which rock band?
A. U2
B. The Beatles
C. Pink Floyd
---
23. Which country celebrates its Independence Day on 1 July each year?
A. Canada
B. Australia
C. New Zealand
---
24. How many days does the Sunderland International Airshow, the biggest free airshow in Europe, last each year in July?
A. 1 day
B. 3 days
C. 7 days
---
25. In which year did the England national football team win their first and only FIFA World Cup title after beating West Germany 4 – 2 in the final on 30 July?
A. 1954
B. 1966
C. 1974
---
26. On 29 July 1981, which member of the royal family was married to Lady Diana Spencer?
A. Prince William
B. Prince Charles
C. Prince Andrew
---
27. On 7 July 2005, which event happened in London that killed 52 people and injured more than 700 individuals?
A. A fire
B. A tornado
C. A terrorist attack
---
28. The German car manufacturer Volkswagen closed the deal for purchasing which automotive brand on 3 July 1998?
A. Rolls Royce
B. Ferrari
C. Porsche
---
29. On 5 July 1946, a French designer called Louis Réard first introduced which type of clothing?
A. Jeans pants
B. Bikini
C. Short skirt
---
30. Which type of animal became the first mammal to be cloned from a somatic cell in July 1996?
A. A horse
B. A sheep
C. A monkey
---
What do you think about these July quiz questions and answers? We hope you learn some interesting facts and enjoy your time. For more challenges on the same topic, check out the following June quiz.