Ed Sheeran is definitely one of the most popular and recognized singers in the world right now. With amazing talents and phenomenal songs, he has been attracting millions of admirers. If you are a big fan, let's test your knowledge with the following 32 Ed Sheeran quiz questions and answers.
Ed Sheeran Quiz Questions and Answers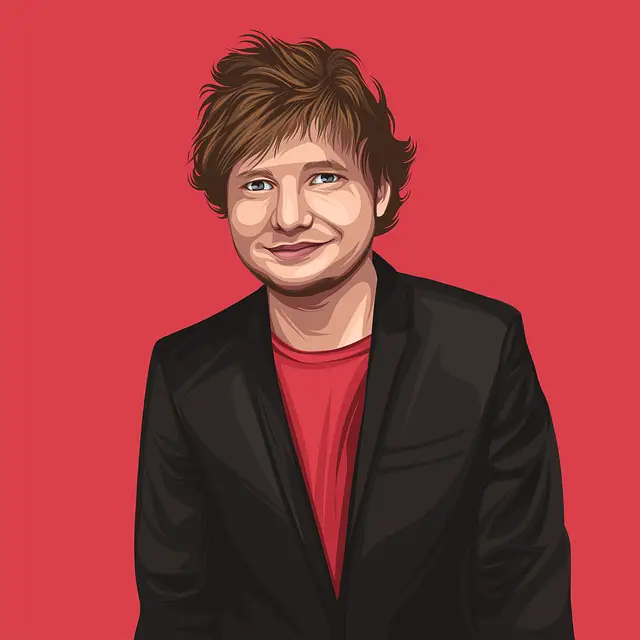 ---
1. What is the full name of Ed Sheeran?
A. Edward Christopher Sheeran
B. Edmond Tommy Sheeran
C. Edmund George Sheeran
---
2. When is Ed Sheeran's birthday?
A. 12 March 1988
B. 17 February 1991
C. 8 April 1994
---
3. What is the name of the debut studio album by Ed Sheeran?
A. –
B. +
C. /
---
4. How many children does Ed Sheeran have?
A. 1
B. 2
C. 3
---
5. Ed Sheeran was born and raised in which country?
A. Scotland
B. Northern Ireland
C. England
---
6. Here is the lyrics from which popular song by Ed Sheeran: "So you can keep me. Inside the pocket of your ripped jeans."
A. Photograph
B. Thinking Out Loud
C. Shape of You
---
7. Which song is the debut solo single by Ed Sheeran?
A. Wake Me Up
B. Lego House
C. The A Team
---
8. The music video of the song Bibia Be Ye Ye by Ed Sheeran was recorded in which African country?
A. Morocco
B. Ghana
C. South Africa
---
9. When did Ed Sheeran won the Grammy Awards for Song of the Year with the song "Thinking Out Loud"?
A. 2010
B. 2013
C. 2016
---
10. Ed Sheeran cannot play which of the following musical instrument?
A. Saxophone
B. Piano
C. Guitar
---
11. To whom is Ed Sheeran married?
A. Cherry Seaborn
B. Anna Verena
C. Diana Spencer
---
12. Which record label was created by Ed Sheeran in 2015 at the same time with his YouTube channel?
A. Ed Banger Records Label
B. Gingerbread Man Records
C. Asylum Records
---
13. What is special about the name of all music albums by Ed Sheeran?
A. They are all English letters
B. They are all numbers
C. They are all math symbols
---
14. Ed Sheeran appeared as a cameo in which TV series in 2017?
A. Bridgerton
C. The Witcher
---
15. What was the first tattoo that Ed Sheeran had on this left arm at the age of 18?
A. A broken heart
B. A paw print
C. A four-leaf clover
---
16. Ed Sheeran names what as Nigel, Cyril, Felix, and Lloyd?
A. His cars
B. His guitars
C. His dogs
---
17. Which of the following words is used to call Ed Sheeran fans?
A. Sheerishes
B. Sheerames
C. Sheerios
---
18. The song "Castle on the Hill" by Ed Sheeran was about which castle in real life?
A. Warwick Castle
B. Bodiam Castle
C. Framlingham Castle
---
19. Which actor from the series Harry Potter starred in the music video "Lego House" by Ed Sheeran?
A. Daniel Radcliffe (Harry Potter)
B. Rupert Grint (Ron Weasley)
C. Tom Felton (Draco Malfoy)
---
20. Complete the lyrics from the song "Perfect" by Ed Sheeran: "I found a …, for me. Darling, just dive right in and follow my lead."
A. Love
B. Girl
C. Heart
---
21. What is the favourite animal of Ed Sheeran?
A. Dogs
B. Cats
C. Horses
---
22. Which of the following famous songs was actually written by Ed Sheeran?
A. Love Story by Taylor Swift
B. Love Yourself by Justin Bieber
C. In My Blood by Shawn Mendes
---
23. What is the song "Nancy Mulligan" by Ed Sheeran about?
A. Love story with his wife
B. Love story of his grandparents
C. Love story of his parents
---
24. Which song by Ed Sheeran was the theme song in the movie "The Hobbit: Smaug's Wasteland"?
A. I See Fire
B. I See Dragon
C. I See Elf
---
25. With whom did Ed Sheeran sing the song "Everything Has Changed"?
A. Adele
B. Christina Aguilera
C. Taylor Swift
---
26. How many siblings does Ed Sheeran have?
A. 1 brother
B. 1 sister
C. 1 brother and 1 sister
---
27. What is the colour of Ed Sheeran's hair?
A. Black
B. Blond
C. Red
---
28. What was the first record company in the career of Ed Sheeran?
A. Warner Music Group
B. Asylum Records
C. Universal Music Group
---
29. Ed Sheeran did NOT perform at which of the following events?
A. 2012 Summer Olympics ceremony
B. Queen Elizabeth II's Diamond Jubilee
C. 2012 Academy Awards ceremony
---
30. What did Ed Sheeran purchase in 2012 with the hope of raising a family there?
A. A castle
B. An island
C. A farm
---
31. Which award did Ed Sheeran win at the 2022 BRIT Awards?
A. Songwriter of the Year
B. Singer of the Year
C. Song of the Year
---
32. What is the name of the 4th world concert tour by Ed Sheeran?
A. Mathematics Tour
B. Chemistry Tour
C. Physics Tour
---
What do you think about these Ed Sheeran quiz questions and answers? We hope you learn some interesting facts and enjoy your time. For more challenges on the same topic, check out the following Elvis Presley quiz, R&B quiz, or this Who am I  trivia quiz.