People all over the world have been celebrating the beginning of each new year for a long time. From the bustling energy of Times Square in New York City and beautiful firework displays to cozy and joyful parties with friends or family, everyone wants to enjoy this special moment to the fullest. Check out these 35 trivia New Year quiz questions and answers to learn more about this tradition in various cultures and countries.
New Year Quiz Questions And Answers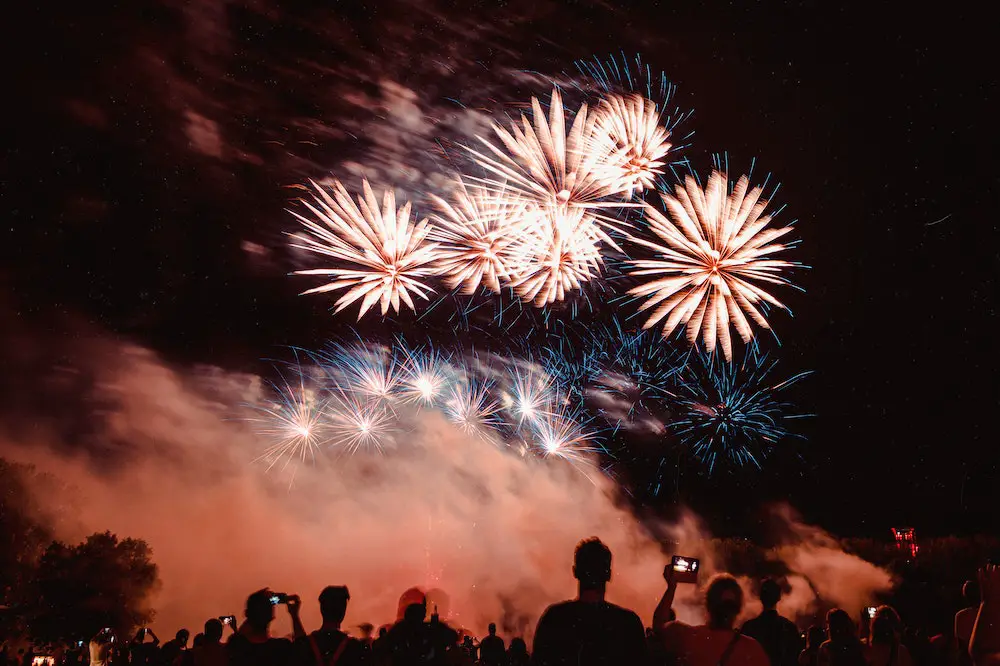 ---
1. What is the first country to celebrate the New Year?
A. Tonga
B. Tuvalu
C. Fiji
---
2. The New Year is the first day of the year on which calendar?
A. Christian calendar
B. Gregorian calendar
C. Lunar calendar
---
3. What is traditionally dropped in Times Square, New York City, to celebrate the New Year's Eve?
A. A star
B. A ball
C. A giant orange
---
4. On New Year's Eve in London, which clock is supposed to strike at midnight?
A. The Saviour Tower
B. Rathaus-Glockenspiel
C. Big Ben
---
5. Which of the following songs is often used on New Year's Eve in many English-speaking countries?
A. "Happy New Year"
B. "Auld Lang Syne"
C. "This Will Be Our Year"
---
6. What is Scotland's well-known tradition for celebrating New Year called?
A. Pygmalion
B. Hogmanay
C. Hogenkamp
---
7. According to superstition and tradition in Spain, how many grapes should you eat at midnight on New Year's Eve to bring good luck for the next year?
A. 3
B. 9
C. 12
---
8. What do people in Romania often toss into rivers at New Year?
A. Salt
B. Coins
C. Rice
---
9. 1st of January was celebrated as the beginning of a new year for the first time in 153 B.C after the Romans changed the calendar. What was the reason for this move?
A. To honour Roman gods
B. To coincident with the two highest-ranking positions' elections
C. To use a more precise calendar
---
10. According to traditional beliefs in the southern United States, what must you do while making your New Year's resolution to make it stick?
A. To be at death's door
B. To be in a church
C. To be newly divorced or widowed
---
11. Which film has the highest box office sales of all time on a New Year's Day?
A. "Titanic"
B. "Harry Potter And The Order Of The Phoenix"
C. "Avatar"
---
12. According to traditional customs in some countries, who should be spanked by the head of the household on New Year's Day to bring health to the family?
A. The oldest family member
B. The children
C. The wife
---
13. It is customary in some parts of the world to eat black-eyed peas on New Year's Day for which reason?
A. To bring peace in the coming year
B. To bring prosperity in the coming year
C. To bring health in the coming year
---
14. Rosh Hashanah is the New Year in which religion?
A. Hindu
B. Muslim
C. Jewish
---
15. On New Year's Day in 1863, which U.S. President issued the Emancipation Proclamation to grant freedom to the slaves in the country?
A. George Washington
B. Abraham Lincoln
C. John Adams
---
16. On 1st January 1803, Haiti gained its independence from which European country?
A. France
B. Spain
C. Britain
---
17. At Chinese New Year, what do children receive from their parents as a gift?
A. Clothes
B. Money
C. Toys
---
18. Chinese New Year is the occasion to celebrate the beginning of which season in China?
A. Spring
B. Summer
C. Autumn
---
19. In Colombia, putting on which color underwear at New Year would bring good fortune and wealth in the next year?
A. Red
B. Blue
C. Yellow
---
20. In which nation would banging walls and doors with bread at New Year dispel bad luck from your house?
A. Ireland
B. Norway
C. Iceland
---
21. At what time does New Year's Eve end?
A. 12 a.m.
B. 12 p.m.
C. 6 a.m.
---
22. Which country has the tradition of signifying the beginning of the new year with a baby?
A. Greece
B. Italy
C. Croatia
---
23. According to the ancient Roman calendar, a new year began on which date?
A. January 1st
B. February 1st
C. March 1st
---
24. In the Netherlands, people believe that eating which food can bring good fortune on New Year's Day?
A. Hamburgers
B. Donuts
C. Sausages
---
25. In which country do people believe that jumping into a frozen lake with a tree trunk can bring good luck at New Year?
A. Siberia, Russia
B. Alaska, U.S.
C. Greenland, Denmark
---
26. In Italy, eating pig's trotters with which food is believed to be a good omen for the next year?
A. Nuts
B. Beans
C. Lentils
---
27. The tradition of New Year's resolutions has started around 4,000 years ago by which ancient civilization?
A. Egypt
B. Babylon
C. Phoenicia
---
28. People in which country carry a suitcase around their house on New Year's Eve to fulfil their travelling dream?
A. Venezuela
B. Colombia
C. Chile
---
29. Which former country officially split into two separate nations on New Year's Day of 1993?
A. Yugoslavia
B. Czechoslovakia
C. Serbia and Montenegro
---
30. The construction of which canal was started on 1st of January, 1881?
A. Suez Canal
B. Corinth Canal
C. Panama Canal
---
31. What is the meaning of "Auld Lang Syne"?
A. For God's sake
B. Old times
C. New beginnings
---
32. "Happy New Year" is a song by which group?
A. ABBA
B. Bee Gees
C. Carpenters
---
33. In the Netherlands, eating which food on New Year's Day is believed to bring good luck?
A. Sausages
B. Cookies
C. Doughnuts
---
34. In ancient Roma, the new year actually started in which month?
A. February
B. March
C. April
---
35. In which of the following countries do people celebrate Lunar New Year?
A. India
B. Brazil
C. China
---
These new year quiz questions and answers can be a great addition to your celebration for this special moment. We hope you have fun and learn many interesting facts. If you still want to know more, make sure to check out the following trivia Christmas quiz or this quiz about St Patrick's day.