Beers are ruling the world. Everyone loves enjoying an ice-cold beer with their friends in parties, meals, or whenever they want. From Sours and Bocks to Lagers and Stouts, the list of options to try is almost endless. Do you think that you are a beer expert? Regardless of the answer, check out the following 37 trivia beer quiz questions and answers to challenge your knowledge and sound smart at the next party. Good luck!
Beer Quiz Questions and Answers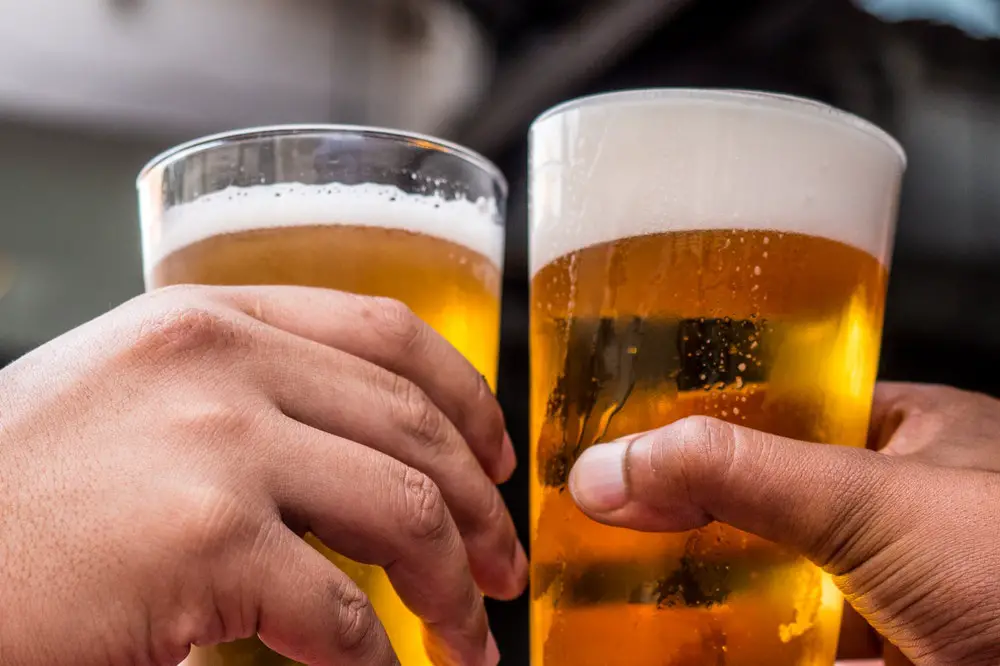 ---
1. A lot of archaeological evidence suggested that beer was first produced in which country and when?
A. Around 100 BC in Germany
B. Around 7000 BC in China
C. Around 1000 BC in Persia

---
2. During the brewing process of beer, the fermentation transforms sugar into two components: alcohol and …
A. Carbon dioxide
B. Malt
C. Nitrogen

---
3. Which beer company made a significant contribution to the invention of a yeast strain that is currently used in many brewing products?
A. Carlsberg
B. Budweiser Budvar
C. Heineken

---
4. What are the 4 main ingredients in most types of beer?
A. Hops, yeast, rye, and barley
B. Molasses, yeast, malt, and water
C. Yeast, hops, malt, and water

---
5. Which country in the world has the highest consumption of beer per capita?
A. Germany
B. Czech Republic
C. Slovakia

---
6. The first beer bottle in the world was sold in which year?
A. 1800
B. 1850
C. 1900

---
7. What is the colour of the star on the Heineken label?
A. Green
B. Blue
C. Red

---
8. Which of the following beer brands comes from Australia?
A. Foster's
B. Heineken
C. Stroh's

---
9. Who was the first U.S. President to brew beer inside the White House?
A. Bill Clinton
B. George Bush
C. Barack Obama

---
10. What does zythology mean?
A. The study of beer brewing and beer
B. The study of beer culture
C. The study of beer drinking

---
11. What is the most important feature of a craft beer brewery?
A. It brews no more than 1,000 barrels per month
B. It is traditional, independent, and small
C. It produces only one selection of beer

---
12. During the first stages of a brewing process, which ingredient is malted?
A. Hops
B. Barley
C. Yeast

---
13. What is the typical taste of a gueuze beer?
A. Sour
B. Sweet
C. Bitter

---
14. Based on ABV or alcohol by volume, which is the strongest beer product in the world?
A. Brewmeister Snake Venom
B. Ruhstaller Capt
C. Brewmeister Armageddon

---
15. Which beer brand is featured in "The Simpsons" series?
A. Beer Beer
B. Duff Beer
C. Emergency Beer

---
16. Oktoberfest is the largest beer festival in the world. Where does it take place annually?
A. New York, the United States
B. London, the United Kingdom
C. Munich, Germany

---
17. Around 3,000 BC, how many types of beers did ancient Egyptians brew?
A. Two
B. Six
C. Ten

---
18. In which country is beer sold in vending machines?
A. China
B. England
C. Japan

---
19. What is the best way to remove the foam layer on top of a beer glass?
A. Stick the fingers into it
B. Shake the glass
C. Sprinkle salt on it

---
20. A labeorphilist often collects which object related to beer?
A. Beer bottles
B. Beer books
C. Beer openers

---
21. What is the oldest beer brand in the world that is still being produced these days?
A. Chimay
B. Augustiner
C. Weihenstephan

---
22. Beer cans were first introduced in which year?
A. 1900
B. 1925
C. 1950

---
23. Drinking beer would strengthen which of the following body part?
A. Bones
B. Liver
C. Stomach

---
24. According to the Code of Hammubari, what could happen when a brewer sold beer too cheaply?
A. They would be heavily fined
B. They would be drowned to death
C. They would be forced to drink all of it

---
25. What does ABV stand for?
A. Alcohol by value
B. Alcohol by volume
C. Alcohol by valuation

---
26. While there are hundreds of beer styles, they all fall into which two basic categories?
A. Ales and lagers
B. Lagers and bocks
C. Altbiers and ales

---
27. Which type of beer has more calories: dark beers or light-coloured beers?
A. Dark beers
B. Light-colour beers
C. It depends on the brewing process and list of ingredients

---
28. Drinking beer is associated with a reduced risk of developing which disease?
A. Heart disease
B. Kidney stone
C. Osteoporosis

---
29. What was the best-selling beer brand in the world in 2018?
A. Budweiser
B. Heineken
C. Snow

---
30. What is the average ABV or alcohol by volume of beers?
A. 2% to 4%
B. 4% to 6%
C. 6% to 8%

---
31. What do we call the process of making beer?
A. Malting
B. Brewing
C. Mashing

---
32. Why did many civilisations in the ancient and Medieval times heavily relied on?
A. Because of low-quality water
B. To serve religious purposes
C. To improve health

---
33. Which country in the world has the highest beer consumption by volume in 2018?
A. The United States
B. China
C. Czech Republic
---
34. In which language do people say "bier"?
A. Dutch
B. French
C. Spanish
---
35. Based on the International Bitterness Unit scale, what is the bitterest beer in the world?
A. Corona
B. Dogfish Head
C. Stone
---
36. What is the main feature of a session beer?
A. Dark colour
B. Creamy consistency
C. Low alcohol level
---
37. What is the cause of skunked beer?
A. High temperature
B. Light
C. Bad yeast
---
Drinking beer is probably a near-universal pastime in many parts of the world. These beer quiz questions and answers are very interesting and fun to pass your time with friends. How many questions can you answer? Let us know in the comment section. Do not forget to check another quiz on elephants, this wine quiz, or this trivia food and drink quiz.