Sparkling, orange, rose, white, and red – the world of wine is diverse with various tastes, flavours, and feelings. It is undoubtedly one of the cultural features that everyone loves around the world. Let's try the following 43 trivia wine quiz questions and answers to see how much you know about it.
Wine Quiz Questions and Answers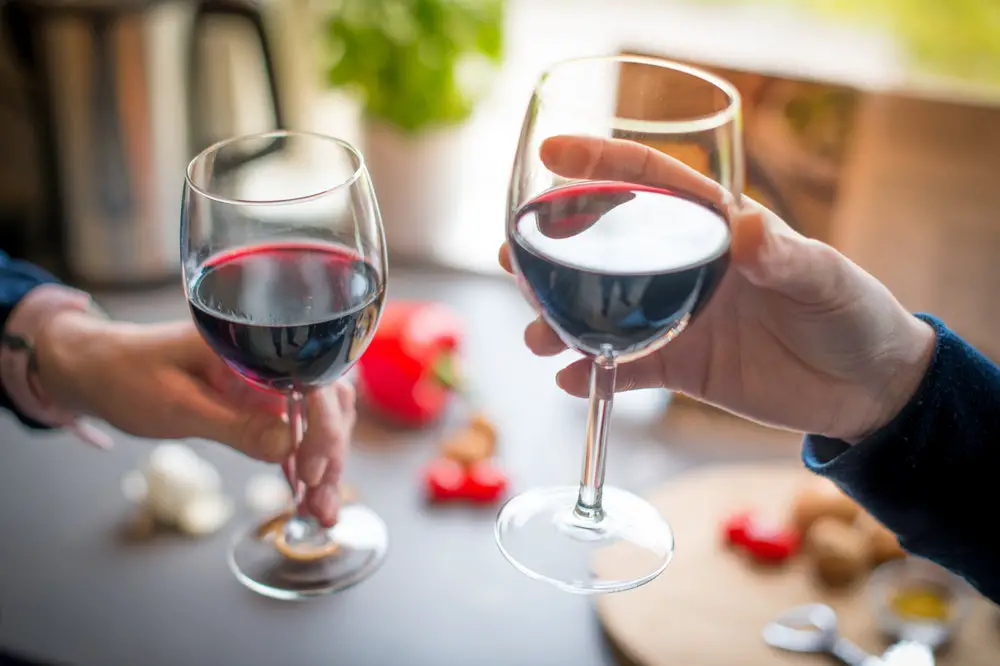 ---
1. From which fruits is wine typically made?
A. Oranges
B. Grapes
C. Berries
---
2. The oldest recorded evidence for using grapes in a wine recipe comes from which country?
A. Italy
B. Egypt
C. China
---
3. What is used to ferment wine?
A. Bacteria
B. Sugar
C. Yeast
---
4. The famous winemaking region Douro is located in which country?
A. Spain
B. France
C. Portugal
---
5. As a rule of thumb, what is the ideal temperature to serve full-bodied red wine?
A. 5 to 7 degrees
B. 10 to 12 degrees
C. 14 to 16 degrees
---
6. What is the standard amount in most wine bottles?
A. 500 millilitres
B. 750 millilitres
C. 1 litres
---
7. How many wine bottles are there in a case?
A. 6 bottles
B. 8 bottles
C. 12 bottles
---
8. In which country can we find the vineyard with the highest altitude in the world?
A. Peru
B. Chile
C. Argentina
---
9. Prosecco is produced in which Italian region?
A. Veneto
B. Piedmont
C. Tuscany
---
10. What does the term "Demeter" mean on the label of wine bottles?
A. Natural wine
B. Unfiltered wine
C. Biodynamic wine
---
11. How much sugar is necessary to produce 1 per cent of alcohol during the fermentation?
A. 7 grams
B. 17 grams
C. 27 grams
---
12. Which of the following compounds mainly contributes to the colour of red wine?
A. Damascenone
B. Pyrazines
C. Anthocyanins
---
13. What do we call the types of wine with significant carbon dioxide levels?
A. Red wine
B. White wine
C. Sparkling wine
---
14. Which country in the world has the largest total area of vineyards?
A. Spain
B. France
C. Australia
---
15. A magnum typically contains how many Champagne bottles?
A. 2
B. 5
C. 10
---
16. Produced since the 12th century, Commandaria St. John is often known as the oldest wine brand in the world. It is made in which country?
A. Hungary
B. Serbia
C. Cyprus
---
17. What is the study and science of winemaking and wine?
A. Oenology
B. Zymology
C. Mixology
---
18. What do we call a knowledgeable and trained wine professional who often works in fine restaurants?
A. A connoisseur
B. A sommelier
C. A cicerone
---
19. Which kind of wine is often paired with fish?
A. Dessert wine
B. Dry white wine
C. Red wine
---
20. Pinot Noir, Syrah, and Cabernet are all produced from which grape variety?
A. Noble
B. Red soil
C. Vintage
---
21. What is the most popular varietal in the world?
A. Zinfandel
B. Merlot
C. Chardonnay
---
22. What do we call a type of wine that has a high level of alcohol content?
A. Dry wine
B. Mead wine
C. Robust wine
---
23. White wine can be produced from which colour grapes?
A. White grapes
B. Green grapes
C. Any colour grapes
---
24. What is a non-vintage wine?
A. A mix of wine made from various grape varieties
B. A mix of wine from various years
C. A mix of wine from various flavours
---
25. Which European country is the largest wine producer in the world by volume?
A. Spain
B. France
C. Italy
---
26. What do we call a type of wine that does not have a single varietal designation?
A. Blend
B. Mix
C. Combo
---
27. Retsina is a type of wine coming from which country?
A. Iran
B. Greece
C. Turkey
---
28. Which famous scientist found out that yeast would trigger fermentation?
A. Louis Pasteur
B. Charles Darwin
C. Gregor Mendel
---
29. How are wines mostly classified in European countries?
A. By grape categories
B. By regions
C. By production methods
---
30. What is the occupation of Dom Perignon when he invented Champagne?
A. A monk
B. A farmer
C. A trader
---
31. What is special about fortified wines?
A. They are distilled to increase the alcohol content
B. They are added with another spirit
C. They are stored in a long period to enhance the taste
---
32. During the bottling phase, wine can be filled with carbon dioxide or which substance to display lingering oxygen on top?
A. Hydrogen
B. Heli
C. Nitrogen
---
33. From which material do wine's bottle caps are made?
A. Oak
B. Cork
C. Plastic
---
34. In addition to the levels of tannins, which factor determines a dry white wine?
A. Alcohol levels
B. Acidity
C. Stored years
---
35. What do we call the process of finishing and filtering wines?
A. Filtration
B. Verification
C. Clarification
---
36. Which material is mostly used to make the containers or barrels during the maturation phase?
A. Oak
B. Beech
C. Ash
---
37. Once the grapes have been harvested from the yards, what is the next step in producing wine?
A. Mix them with yeast
B. Crush and destem them
C. Ferment them
---
38. What is the main difference between white wine and red wine?
A. The grape's skins are left in white wines
B. The grape's skins used for making red wine are darker
C. Grapes used for making white wines are often harvested sooner
---
39. Sake is the traditional rice wine in which country?
A. Japan
B. China
C. Korea
---
40. Mead is a type of wine made by fermenting which ingredient?
A. Fruits
B. Starch
C. Honey
---
41. As of 2021, what was the world's leading producer of wine?
A. France
B. Italy
C. Spain
---
42. From which country does Sherry wine come from?
A. Spain
B. Germany
C. England
---
43. The colour of wine is determined by which part of the grapes?
A. Flesh
B. Skin
C. Tissue
---
Having these wine quiz questions and answers next time you drink with friends at the table and everyone will have more fun. We hope you have learned a lot of interesting facts about booze, whites, reds, and many other alcoholic drinks. Check out the following chess quiz for more.