Just like beer and other alcoholic drinks, the world of whiskey has divided into various flavours and niches. From Scotch and Bourbon to blended and spirit, people can choose from a rich collection for different occasions and moments to enjoy their life. So, do you think that you know everything about whiskey? Then, let's challenge yourself with the following 39 trivia whisky quiz questions and answers.
Whisky Quiz Questions and Answers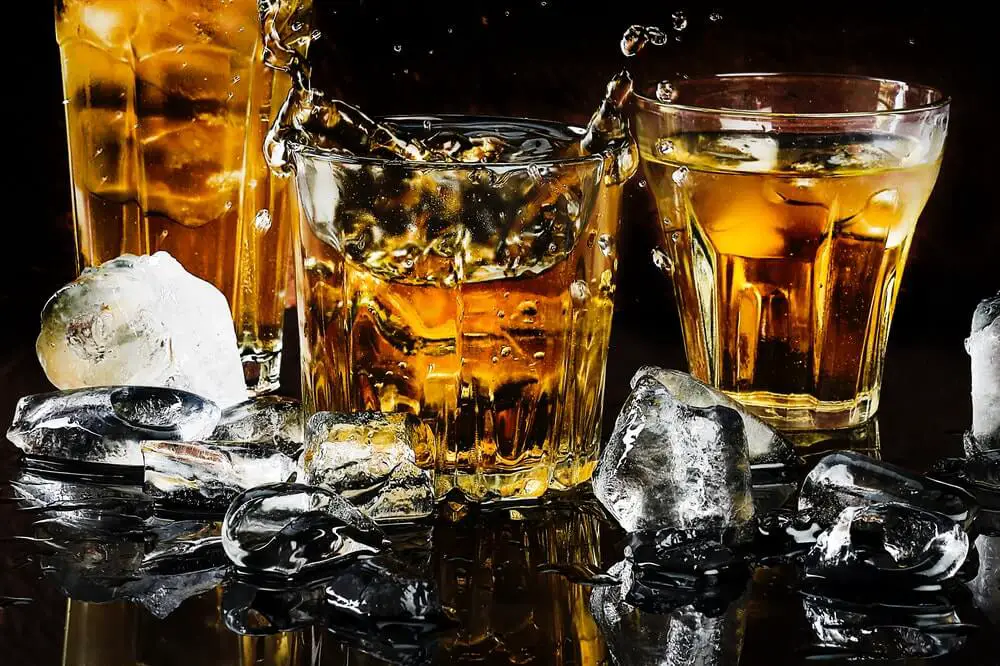 ---
1. What is the original meaning of the word "whisky" in Classical Gaelic?
A. Alcohol
B. Water
C. Wine

---
2. Whiskey is typically aged in wooden casks made of which type of wood?
A. White oak
B. Redwood
C. Maple
Answer: A. White oak
---
3. Which part of the population in Europe created the earliest types of whisky?
A. Soldiers
B. Farmers
C. Monks

---
4. In the early stages of production, whisky is basically similar to which type of alcoholic drink?
A. Beer
B. Vodka
C. Wine

---
5. What is the benefit of blended Scotch whisky over single-malt Scotch whisky?
A. Higher alcohol content
B. Well-rounded flavour
C. More bitterness

---
6. What is the minimum alcohol content in most whiskies?
A. Around 30%
B. Around 40%
C. Around 50%

---
7. Scotch whisky is often distilled in a container constructed from which material?
A. Copper
B. Lead
C. Iron

---
8. What does a whisky neat mean?
A. Straight whisky without any mixer
B. Whisky with an ice cube
C. Whisky with several drops of water

---
9. What was the most popular kind of whisky in the US before the Prohibition?
A. Bourbon whisky
B. Rye whisky
C. Irish whisky

---
10. Which ingredient accounts for up to 51% of Bourbon whisky?
A. Corn
B. Wheat
C. Barley

---
11. What does an angle's share mean?
A. The amount of whisky left after the maturation process
B. The amount of alcohol for the Gods
C. The amount of alcohol evaporated while ageing

---
12. Bourbon whisky is originated from which country?
A. The United States
B. Ireland
C. Germany

---
13. Which of the following whisky types is often placed in a single pot still?
A. Irish whisky
B. Bourbon whisky
C. Scotch whisky

---
14. What do we call ground malt barley?
A. Wort
B. Wheesht
C. Grist

---
15. What occurs during the malting process?
A. Damp barley is spread on the ground for germination
B. Barley is roasted before brewing
C. Barley is soaked in Horlicks

---
16. Which of the following names is not a blended whisky brand?
A. Pig's Nose
B. Hankey Bannister
C. Yer Maw

---
17. When whisky leaves the cask right after ageing, how strong is it?
A. From 15% to 20%
B. From 60% to 65%
C. From 80% to 85%

---
18. To distil whisky, you first need to make which kind of alcoholic drink?
A. Mead
B. Beer
C. Pulque

---
19. Whisky is believed to have been distilled first in which country?
A. Scotland
B. England
C. Ireland

---
20. Which grain is the main ingredient in malt Scotch whisky?
A. Corn
B. Wheat
C. Barley

---
21. What does "barrel strength" or "cask strength" mean on the label a whiskey bottle?
A. The whisky was aged with oak
B. The producer did not dilute whisky with water
C. The whisky is more than 30 years old

---
22. Which region in Scotland is famous for producing smoky-tasting whisky?
A. Islay
B. Lowlands
C. Highlands

---
23. Which of the following brands is an Irish whisky?
A. Johnnie Walker
B. Jameson
C. Jim Beam

---
24. From the perspective of experts, what is the best way to drink whisky?
A. With Coke
B. With added flavours
C. Without anything

---
25. Scotch Whisky has an official definition in the laws of the United Kingdom. Which law is this?
A. The Whisky Act in 1988
B. The Scotch Whisky Act in 1988
C. The Licensing Act in 1988

---
26. During the 17th century, the production of whisky in Scotland was driven underground for which reason?
A. Irish began producing whisky
B. Taxes on whisky and malt were levied
C. Whisky was officially banned

---
27. What is the minimum permitted period of maturity for Scotch whisky in oak casks?
A. 3 years
B. 4 years
C. 5 years

---
28. Which step during the process of whisky distillation produces the Wort, also known as sugar solution?
A. Malting
B. Mashing
C. Fermentation

---
29. The kind of cask used in the process of whisky maturation can contribute to the final colour. Which is the most common option in the industry?
A. Sherry
B. Port
C. Cognac

---
30. In which country is the oldest licensed distillery of whisky?
A. The United States
B. Ireland
C. Russia

---
31. What is the oldest whisky brand in the world?
A. Glenavon Special Liqueur Whisky
B. Isabelle Islay
C. Karuizawa Whisky

---
32. In which countries the term "whiskey" is used in replacement of "whisky"?
A. England and Scotland
B. The United States and Ireland
C. Canada and New Zealand

---
33. The earliest evidence of the distillation of whisky are in which country?
A. England in the 12th century
B. Italy in the 13th century
C. Germany in the 14th century
---
34. During the Prohibition in the United States, all alcoholic drinks were banned from sales. However, whiskies would still be used for which purpose?
A. Medicinal purposes
B. Exporting businesses
C. Manufacturing industry
---
35. What is the minimum ageing time of most Bourbon whiskey?
A. 1 year
B. 2 year
C. No ageing time

---
36. Japanese whiskey is most similar to which variety of whiskey?
A. Scotch whiskey
B. Irish whiskey
C. Canadian whiskey
---
37. Which chemical compounds contribute to the roasted character of whiskey?
A. Carbonyl
B. Sulfur
C. Fatty acids
---
38. Which of the following is a well-known variety of whiskey from the USA?
A. Californian whiskey
B. Washington whiskey
C. Tennessee whiskey
---
39. Where did the word Bourbon originate from?
A. A city in Spain
B. A dynasty in France
C. A god in Greek mytholody
---
How well can you answer these 39 whiskey quiz questions and answers? Let us know in the comment section below. If you still want more on alcoholic beverages, then make sure to check out the following post on beer quiz or this trivia quiz about cooking or this candy quiz.