The 2020 F1 world championship was a real cracker, with Lewis Hamilton achieved his 7th crown. Before training your eyes on the coming excitement in the next tournament, let's participate in these 37 trivia Formula 1 quiz questions and answers to see how much you know about the world of speed.
Formula 1 Quiz Questions and Answers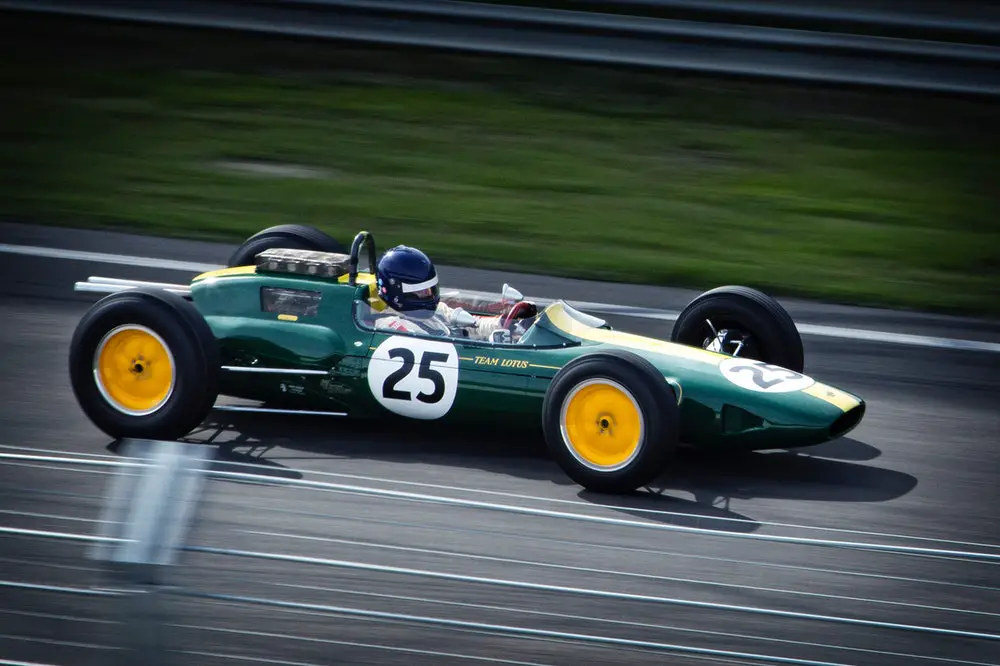 ---
1. Lewis Hamilton won the first F1 world championship title when he raced for which team?
A. McLaren
B. Mercedes
C. Red Bull

---
2. The title "Grand Prix" was first used for a motor race in which country?
A. France
B. Germany
C. The United States

---
3. What is the nickname of Ferrari – one of the most successful racing teams in F1 history?
A. The Dancing Donkey
B. The Prancing Horse
C. The Prancing Pony

---
4. Juan Manuel Fangio, one of the greatest F1 drivers, took his last world championship title in which year?
A. 1956
B. 1957
C. 1958

---
5. Ford provided engines to F1 for many years before forming its own team in 2000 under the name of which subsidiary marques?
A. Mazda
B. Volvo
C. Jaguar

---
6. For what country did Emerson Fittipaldi and Wilson Fittipaldi compete and win two world titles?
A. Mexico
B. Argentina
C. Brazil

---
7. Which driver won the first ever F1 world championship title?
A. Juan Manuel Fangio
B. Alberto Ascari
C. Giuseppe Farina

---
8. Which of these Italian racers became the first woman to enter a professional F1 race at the 1958 Monaco Grand Prix?
A. Silvia Farina Elia
B. Clotilde Fasolis
C. Maria Teresa de Filippis

---
9. Which circuit held the first race of the French Grand Prix in 1950?
A. Reims
B. Paul Ricard
C. Magny Cours

---
10. For which country the Haas team compete?
A. Italia
B. The United States
C. Germany

---
11. Which major car manufacturer was successful at supplying engines for McLaren between 1988 and 1992, but failed when the two renewed their cooperation in 2015?
A. Hyundai
B. Honda
C. Holden

---
12. Which of these Hills racers was not an F1 world champion in the 20th century?
A. Jimmy Hill
B. Graham Hill
C. Phil Hill

---
13. In 2017, which racer became the first New Zealander to participate in an F1 tournament in more than 30 years?
A. Bill Holland
B. Brendon Hartley
C. Brian Henton

---
14. The Hungarian Grand Prix became a part of the F1 world championship during which decade?
A. 1940s
B. 1960s
C. 1980s

---
15. HSBC was the title sponsor for which F1 team from 1997 to 1999?
A. Jaguar
B. Stewart
C. Williams

---
16. Which F1 world champion passed away after an F2 accident in 1968 in Germany?
A. Jack Brabham
B. Jochen Rindt
C. Jim Clark

---
17. What must a racer do when he or she sees a blue flag during a practice session or race?
A. Slow down and allow the quicker vehicle behind them to pass
B. Pull over to the track's side and stop
C. Slow down and block all vehicles behind them

---
18. When a red and yellow striped flag is waved, the stripes will run in what direction?
A. Diagonally from left to right
B. Diagonally from right to left
C. Vertically

---
19. In 2005, the regulations changed and stated that teams weren't allowed to change … during a Grand Prix.
A. Rear wings
B. Tyres
C. Front wings

---
20. In 2007, which two racers were disqualified in the Canadian Grand Prix for neglecting the red lights in the pit lane?
A. Nico Rosberg and Fernando Alonso
B. Giancarlo Fisichella and Felipe Massa
C. Fernando Alonso and Felipe Massa

---
21. Which F1 constructor enters the most races without a win?
A. Arrows
B. Tyrrell
C. Matra

---
22. Who is the only woman to get points in an F1 World Championship race?
A. Desire Wilson
B. Lella Lombardi
C. Susie Wolff

---
23. What was the last race that awarded half points after the race had been stopped?
A. Japan 2014
B. Korea 2012
C. Malaysia 2009

---
24. In 2004, which of the following F1 features were banned in 2004?
A. Automatic gearbox
B. Launch control
C. Both of them

---
25. If a few drivers set identical lap times, then who would get the priority?
A. The driver with a shorter surname
B. The driver with the most wins
C. The driver who set first

---
26. During his F1 career, Luca Badoer had competed in how many races?
A. 46
B. 56
C. 66

---
27. What does a red flag mean in the race?
A. The race is stopped
B. There is oil spilled on the track
C. There is no red flag in F1

---
28. In F1, which flag signifies that there is one more lap before the race ends?
A. The white flag
B. The orange flag
C. There is no such flag

---
29. Which team have completed in all of the F1 world championships in the 20th century?
A. McLaren
B. Ferrari
C. Williams

---
30. When was the last time the Brands Hatch Circuit hosted the British Grand Prix in the 20th century?
A. 1962
B. 1974
C. 1986

---
31. Which is the longest circuit in F1 at 25.8 km?
A. Pescara
B. Nurburgring
C. Dijon

---
32. How old was Ayrton Senna when he died?
A. 32
B. 33
C. 34
---
33. Which movie was made about Niki Lauda's racing career?
A. Crash
B. Rush
C. Champion
---
34. What are the colours of the checkered flag in F1?
A. Black and white
B. Red and white
C. Yellow and blue
---
35. How many races were there in the first world championship season in 1950?
A. 2
B. 7
C. 15
---
36. What is a pit stop in F1?
A. A difficult turn
B. An area for repairing and refueling
C. A food area for drivers
---
37. As of 2022, who is the youngest driver to win an F1 race at the age of 17 years 166 days?
A. Lance Stroll
B. Lando Norris
C. Max Verstappen
---
Can you answer all of these questions correctly? If yes, then you are a true genius who knows almost everything about the F1 world. Try this quiz on Lord of the Rings or this basketball quiz to test your knowledge about the Middle Earth.