Halloween is one of the most popular events in the world, especially in the United States. Each year, children celebrate the day by dressing up in special costumes and going trick-or-treating around the neighborhood. Check out the following trivia Halloween quiz questions and answers to see how much you know about it.
Halloween Quiz Questions and Answers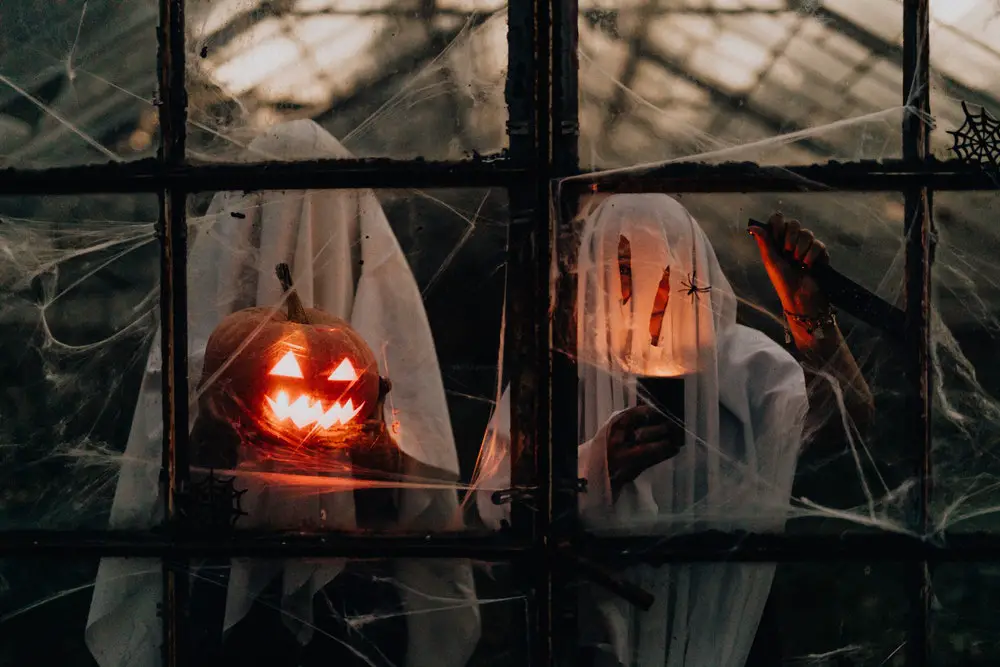 ---
1. When is Halloween celebrated each year?
A. 31st September
B. 31st October
C. 31st November
---
2. Which of the following vegetables is mostly associated with Halloween?
A. Butternut squash
B. Zucchini
C. Pumpkin
---
3. What is the name of the carved pumpkin that people often make to celebrate Halloween?
A. Jack O' Lantern
B. Tom O' Lantern
C. John O' Lantern
---
4. Halloween originated from which religion?
A. Judaism
B. Christianity
C. Islam
---
5. Why was the original meaning of celebrating Halloween?
A. To mark the beginning of the pumpkin season
B. To celebrate a Saint
C. To drive away the evil spirits like witches or ghosts
---
6. Which veggies were used to make Jack O' Lanterns before people used pumpkins?
A. Onions
B. Potatoes
C. Turnips
---
7. The roots of Halloween can be traced back to an ancient festival in which UK region?
A. Scotland
B. Wales
C. England
---
8. Why do people wear masks and costumes on Halloween?
A. To confuse evil spirits who are looking for humans
B. To make them stand out in the festival
C. To hide themselves from other people
---
9. Which of the following terms refers to the fear of Halloween?
A. Samhainophobia
B. Black pumpkin syndrome
C. Spookitis
---
10. What do we call the day after Halloween, or 1st November?
A. All Saint's Day
B. Advent
C. St Andrew's Day
---
11. Which of the following fictional character is the villain in an American franchise called "Halloween"?
A. Frankenstein
B. Dracula
C. Michael Myers
---
12. When did the tradition of trick-or-treating first appear in the United Kingdom?
A. 14th century
B. 16th century
C. 18th century
---
13. Which of the following is the traditional cake that Irish people often bake on Halloween?
A. Cranachan
B. Bara brith
C. Barmbrack
---
14. Which of the following animals is a common symbol of Halloween?
A. Owls
B. Bats
C. Black dogs
---
15. In which city does the biggest Halloween parade in the world take place with more than 50,000 participants and 2 million spectators?
A. New York City
B. Los Angeles
C. London
---
16. In medieval times, groups of children in Europe knocked on the doors of their neighbours to ask for what in exchange for praying for the souls of the dead?
A. Coins
B. Food
C. Flowers
---
17. According to an old tradition, what happens when you peel an apple and throw the peel over the shoulder on Halloween?
A. It will bring a lot of luck in the next day
B. It will show the name of your true love
C. It will drive away all evil spirits
---
18. On Halloween, the Sun appears to be in which constellation?
A. Leo
B. Cancer
C. Libra
---
19. What does the word "Hallow" mean in old English?
A. Ghost
B. Saint
C. Hell
---
20. Which country celebrates the Day of the Dead, or Dia de Muertos, instead of Halloween?
A. Brazil
B. Argentina
C. Mexico
---
21. Which of the following food was banned from eating on Halloween in Scotland until 1950?
A. Sweets
B. Sandwiches
C. Sausage rolls
---
22. Lambswool is a traditional drink on Halloween. The two main ingredients include milk and which fruit?
A. Apple
B. Banana
C. Lemon
---
23. Apple bobbing is a popular game played on Halloween. Where did this tradition originate from?
A. Ancient Greek
B. The Romans
C. The Franks
---
24. What does it mean when you see a spider on Halloween?
A. A loved one is watching you
B. A ghost is following you
C. You are going to have bad luck
---
25. Where is the apostrophe located in the correct spelling of the word Halloween?
A. Hallow'een
B. Hallowe'en
C. Hallo'ween
---
26. Which are the two colours mostly associated with Halloween these days?
A. Purple and orange
B. Orange and black
C. Black and white
---
27. In which US state is it illegal to dress up as a nun or priest on Halloween?
A. Alabama
B. Missouri
C. California
---
28. Which ancient goddess is believed to be honoured on Halloween through the tradition of apple bobbing?
A. Juno
B. Diana
C. Pomona
---
29. According to some superstitions on Halloween, what would happen when you wear clothes inside out and walk backwards?
A. See a witch at midnight
B. Bring a lot of good luck
C. See your future
---
30. Trick-or-Treat for UNICEF is a fund-raising program for children organised by UNICEF USA. When did it first start?
A. 1950
B. 1960
C. 1970
---
How do you find about these Halloween quiz questions and answers? We hope you have a lot of fun and learn some interesting facts about this event. For more challenges, check out the following Easter quiz or this Valentine's Day quiz.