Are you a big fan of winter sports? Check out the following 35 trivia ice hockey quiz questions and answers to see how much you know about it.
Ice Hockey Quiz Questions and Answers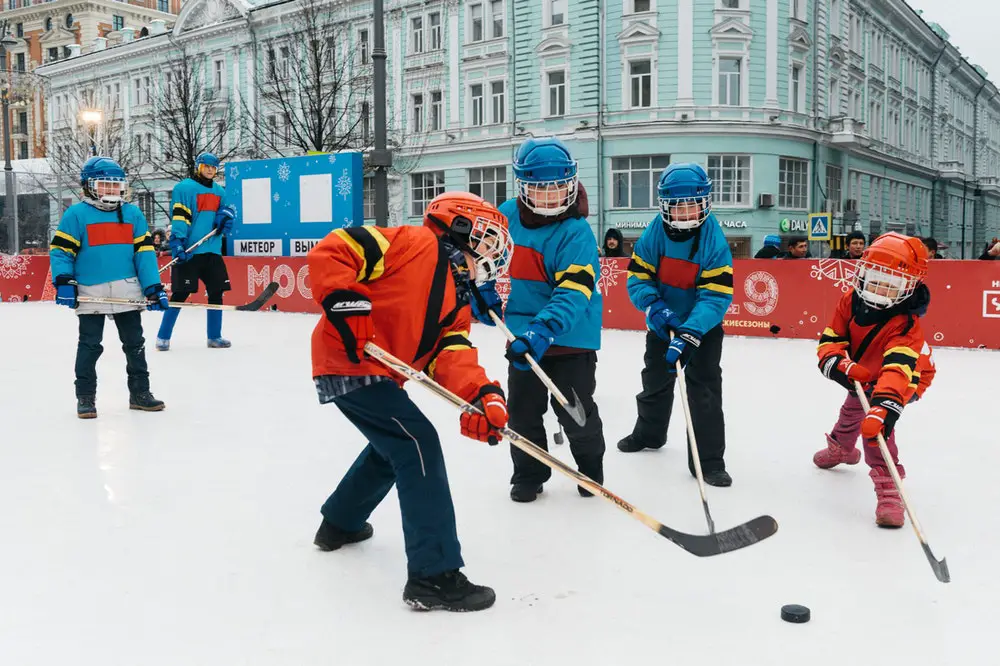 ---
1. What do we call the area where a game of ice hockey is played?
A. An ice course
B. An ice field
C. An ice rink
---
2. How many players can each team have on the ice rink at one time?
A. 5
B. 6
C. 7
---
3. In which city is the headquarters of the International Ice Hockey Federation based?
A. Zurich, Switzerland
B. Montreal, Canada
C. Chicago, The United States
---
4. Which material is used for making a puck, which is the hard rubber disc that players hit in ice hockey?
A. Wood
B. Rubber
C. Plastic
---
5. How many periods in each game of ice hockey?
A. 2
B. 3
C. 4
---
6. How many minutes are there in each period of ice hockey?
A. 15 minutes
B. 20 minutes
C. 25 minutes
---
7. How many minutes are there in breaks between each period in ice hockey?
A. 5 minutes
B. 10 minutes
C. 15 minutes
---
8. Who is often considered one of the greatest ice hockey players of all time with the nickname "Mr. Hockey"?
A. Gordie Howe
B. Wayne Gretzky
C. Bobby Orr
---
9. How often is the Ice Hockey World Championships are organised?
A. Every year
B. Every two years
C. Every four years
---
10. What does the term "hooking" mean in ice hockey?
A. To block another player with the stick
B. To push the puck with the stick
C. To bang the stick against that of another player for luck
---
11. Which country won the 2021 IIHF World Championship in Latvia and Belarus?
A. Russia
B. Canada
C. Finland
---
12. Which country will host the 2022 IIHF World Championship?
A. Germany
B. Sweden
C. Finland
---
13. The National Hockey League or NHL is a professional ice hockey league in which two countries?
A. Canada and the United States
B. Finland and Sweden
C. Russia and Belarus
---
14. Which trophy is given to the winning team of the NHL Finals?
A. The Super Bowl
B. The Memorial Cup
C. The Stanley Cup
---
15. Wayne Gretzky is widely considered the best NHL player of all time. How many points did he score during his career?
A. 1435
B. 2857
C. 3329
---
16. When did the first official and organised indoor ice hockey game take place?
A. 1850
B. 1875
C. 1900
---
17. In which country is ice hockey the official national winter sport?
A. Russia
B. Canada
C. Finland
---
18. How many designated face-off spots or dots are there in total on a hockey ice rink?
A. 5
B. 7
C. 9
---
19. What do we call the situation when a player rushes the net alone to score without any defence in their way?
A. A breakaway
B. A dangle
C. A streak
---
20. Which of the following ice hockey teams was the first to win the Stanley Cup in 1893?
A. Chicago Blackhawks
B. Boston Bruins
C. Montreal Hockey Club
---
21. How many minutes does a minor penalty last in ice hockey?
A. 1 minute
B. 2 minutes
C. 3 minutes
---
22. When a referee waves his hand below the knees, which infraction is he calling?
A. Tripping
B. Cross-checking
C. Hooking
---
23. Which area on an ice hockey rink is also called the "sin bin"?
A. The face-off circle
B. The penalty box
C. The goal crease
---
24. Which penalty is called by the referee when a player jabs the stick at the opponent?
A. Icing
B. Boarding
C. Spearing
---
25. While players can wear helmets in various colour options, which colour helmet is a hockey referee required to wear?
A. Black
B. White
C. Blue
---
26. The United States, Canada, Finland, Sweden, and which two other countries comprise the Big Six, a group of 6 national teams that have dominated men's international ice hockey?
A. Russia and the Czech Republic
B. Germany and France
C. Norway and Belarus
---
27. Which of the following is the definition of an attacking zone on an ice hockey rink?
A. The area between two blue lines
B. The area behind the blue line of your own team
C. The area beyond the blue line of the opponent team
---
28. In which year was ice hockey first played in the Summer Olympic Games?
A. 1920
B. 1928
C. 1936
---
29. What is the most common major penalty in ice hockey?
A. Cross-checking
B. Fighting
C. Boarding
---
30. What does a saucer pass mean in ice hockey?
A. A pass lifted off the ice
B. A very hard pass
C. A very long pass
---
31. Players in which position in ice hockey is most likely to wear a protector for their throat?
A. Forwards
B. Defence
C. Goalie
---
32. What do we call the space between the leg pads of a goalie?
A. A single-hole
B. A three-hole
C. A five-hole
---
33. A holding is called when a referee clasps which part of his body?
A. Wrists
B. Bellies
C. Shoulders
---
34. What is likely to happen when a player trips an opponent on a breakaway?
A. A penalty shot is given
B. The player is kicked off
C. Nothing happens
---
35. In an ice hockey game, which team starts with possession of the puck?
A. The home team
B. The away team
C. The team winning the puck drop
---
How do you find about these Ice Hockey quiz questions and answers? We hope you have a lot of fun and learn some interesting facts about this sport. For more challenges, check out the following badminton quiz, or the Winter Olympics quiz.