Combining elements of different genres, such as dance, hip hop, pop, funk, soul, and blues, R&B is a distinctive style for music lovers. Whether you are a fan of this type or not, the following R&B music quiz questions and answers will provide you with interesting trivia facts. Let's check it out.
R&B Music Quiz Questions And Answers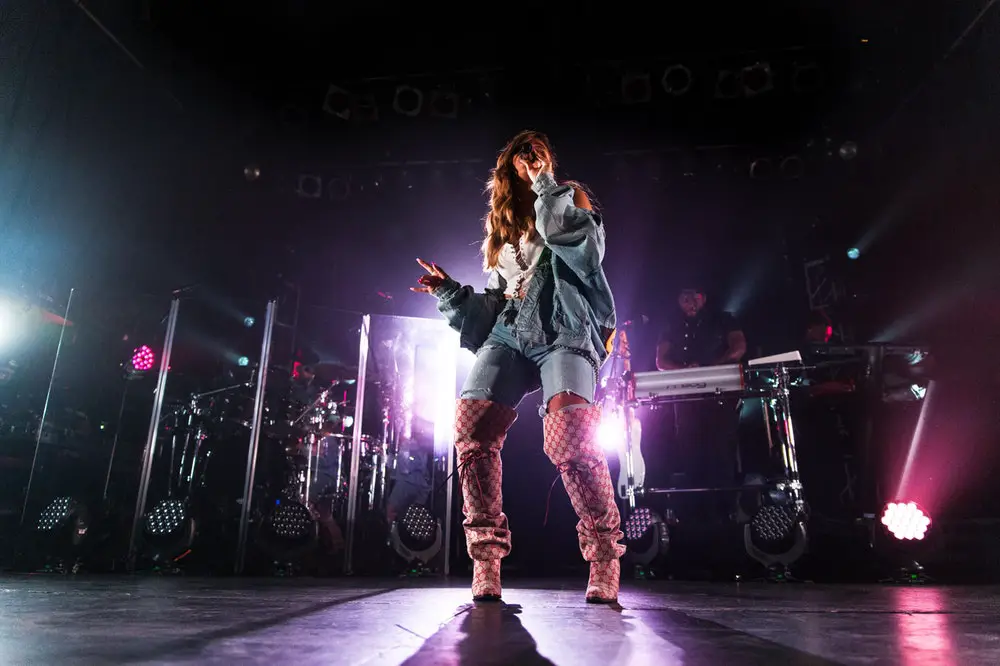 ---
1. What does R&B stand for?
A. Rock and blues
B. Rhythm and blues
C. Rock and bass
---
2. When was the term R&B music first introduced?
A. Around the 1940s
B. Around the 1950s
C. Around the 1960s
---
3. Which magazine created the term R&B for use in a marketing campaign?
A. MTV
B. Billboard
C. Rolling Stone
---
4. What is the first album of Destiny's Child?
A. Destiny's Child
B. 8 Days of Christmas
C. The Writing's on the Wall
---
5. The famous hit "Doo-Wop (That Thing)" by Lauryn Hill was first introduced in which decade?
A. 1980s
B. 1990s
C. 2000s
---
6. Which part of Rihanna's body was insured for one million dollars?
A. Hands
B. Shoulders
C. Legs
---
7. Which musical instrument does Alicia Keys often play?
A. Electric guitar
B. Piano
C. Violin
---
8. What are the names of all three Aaliyah's albums?
A. Rock The Boat, Millions, and Pretty Young Thang
B. The Last One, What's Up, and New Girl
C. Aaliyah, One In A Million, and Age Ain't Nothing But A Number
---
9. In which year was the first album of Alicia Keys, "Song In A Minor", released?
A. 1995
B. 2001
C. 2003
---
10. Which R&B group is known for begging in their music?
A. Keith Sweat
B. Boyz II Men
C. Tony Toni Tone
---
11. Which R&B group was founded by Michael Bivins, the former member of New Edition?
A. Boyz II Men
B. Dru Hill
C. After 7
---
12. Which of the following songs was featured in the soundtrack of the movie "Poetic Justice"?
A. That's the Way Love Goes
B. Again
C. I'll Make Love to You
---
13. Which of the following was a hit song in 1990 by Whitney Houston?
A. I Have Nothing
B. I'm Your Baby Tonight
C. Miracle
---
14. What is another name of R&B these days?
A. Contemporary R&B
B. Modern R&B
C. Classic R&B
---
15. Which of the following music genres has a close association with R&B?
A. Rock
B. Rap
C. Hip hop
---
16. Which famous singer added more electronic components to his song to create smoother dancefloor-friendly sounds, which are typical of contemporary R&B?
A. Michael Jackson
B. Justin Timberlake
C. Robert Sylvester Kelly
---
17. The lead singer of the O' Jays, Eddie Levert, is father to which famous singer and actor?
A. Caris Levert
B. Michael Levert
C. Gerald Levert
---
18. Which R&B group decided to disband in January 2009?
A. Danity Kane
B. Native Deen
C. The Cheetah Girls
---
19. What is the name of the first album of Whitney Houston in the 21st century?
A. Whitney
B. Just Whitney
C. Only Whitney
---
20. In the "We Are One" concert in 2009, which singer performed the song "Higher Ground" with Shakira and Usher?
A. Adam Levine
B. Stevie Wonder
C. Blake Shelton
---
21. Which city do all members of the R&B group Boyz II Men come from?
A. Philadelphia
B. New York
C. Los Angeles
---
22. At the beginning around the 1950s, R&B music was mainly associated with which group?
A. Black youth
B. Black adults
C. Black elders
---
23. What is the typical style of R&B music?
A. Soothing and soft
B. Moving and soulful
C. Funky and erratic
---
24. What is the main difference between the original R&B and contemporary R&B?
A. Original R&B was much jazzier with a lot of natural flows and rhythms
B. Contemporary is much jazzier with a lot of electronic sounds
C. There are not many differences between the two styles
---
25. In which decade was contemporary R&B first introduced by African American singers and songwriters?
A. 1970s
B. 1980s
C. 1990s
---
26. Which musical instrument is the most dominant one in R&B music?
A. Drum
B. Bass guitar
C. Piano
---
27. Which song of Gladys Knight starts with, "It's sad to think"?
A. Neither One of Us
B. I Heard It Through the Grapevine
C. Save the Overtime for Me
---
28. Which singer or band won the most Grammy Awards for Best R&B Song?
A. Stevie Wonder
B. Alicia Keys
C. Beyoncé
---
29. Which singer or band won the most Grammy Awards for Best R&B Album?
A. TLC
B. Alicia Keys
C. John Legend
---
30. Which number 1 hit by Beyoncé did Ne-Yo write?
A. Irreplaceable
B. Beautiful Liar
C. I Am … Sasha Fierce
---
31. The famous R&B singer Lauryn Hill used to be a member of which group?
A. En Vouge
B. Destiny's Child
C. The Fugees
---
32. The discography of which artist features the world's most famous equation: E = mc2?
A. Whitney Houston
B. Alicia Keys
C. Mariah Carey
---
33. At the Brit Awards in 2009, which R&B singer won the "Best International Male Solo Artist"?
A. Usher
B. Kanye West
C. John Legend
---
Do you know all of these facts? We hope you can acquire a lot of interesting facts and knowledge with these R&B music quiz questions and answers. Check out the following heavy metal music quiz or this dog quiz to learn more about our furry friends.