As part of the United Kingdom, Scotland is a fascinating country with a rich culture, beautiful nature, and friendly people. Whether you are going to explore the nation or want to learn more about it, the following 39 trivia Scottish quiz questions and answers are for you. From sport, music to history, culture, and more, check them out to see how much you know about Scotland.
Scottish Quiz Questions And Answers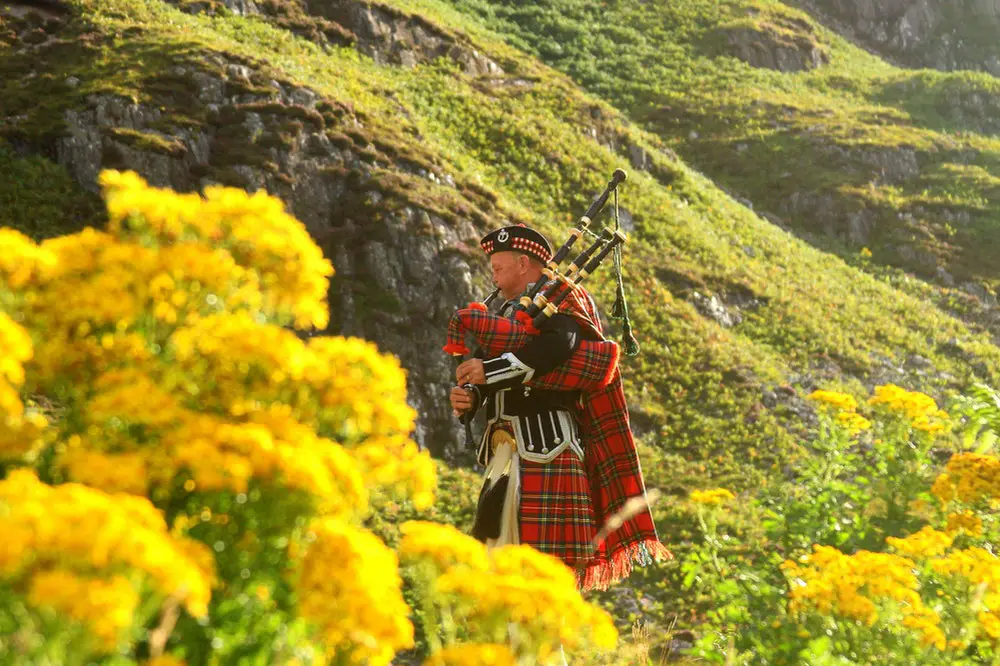 ---
1. Which city is the capital of Scotland?
A. Aberdeen
B. Edinburgh
C. Glasgow
---
2. Which two colours are featured on the Saltire – the flag of Scotland?
A. Red and white
B. Green and white
C. Blue and white
---
3. In Scotland, a "Munro" is defined as a mountain above which height?
A. 3,000 feet or 914,4 metres
B. 4,000 feet or 1219,2 metres
C. 5,000 feet or 1524 metres
---
4. Which train station in Scotland is named after a novel by Sir Walter Scott?
A. Edinburgh Waverley
B. Glenfinnan Railway Station
C. Bridge of Orchy
---
5. Which professional club wins the most titles in the history of the Scottish Premiership, the top division of the Scottish Professional Football League?
A. Dundee
B. Celtic
C. Rangers
---
6. To be legally declared whisky, a spirit should be mature for how long in a barrel?
A. 1 year
B. 2 years
C. 3 years
---
7. Which of the following is the British royal residences in Scotland?
A. Clarence House
B. Balmoral Castle
C. Thatched House Lodge
---
8. "Uisge Beatha" is the Gaelic word for whisky. What does it literally mean?
A. Water of Life
B. Good Health
C. Spirit of Scotland
---
9. Which of the following animals is the national symbol of Scotland?
A. Unicorn
B. Dragon
C. Lion
---
10. What is the national tree of Scotland?
A. The Scot oak
B. The Scot pine
C. The Scot Birch
---
11. What is the national flower of Scotland?
A. Shamrock
B. Daffodil
C. Thistle
---
12. What can we do with a rowie?
A. Play
B. Wear
C. Eat
---
13. Which kind of knee-length skirt is typically worn by both Scottish men and women on formal occasions?
A. Kilt
B. Tartan
C. Sporran
---
14. Logarithms were invented by which Scottish mathematician?
A. James Clerk Maxwell
B. John Napier
C. James Gregory
---
15. What is the nickname of Glasgow's underground system?
A. The Banter Bus
B. The Clockwork Orange
C. The Late Train
---
16. Which of the following sports existed in Scotland from the early 16th century?
A. Curling
B. Shuffleboard
C. Bowls
---
17. Which musical instrument is typical of Scotland and has strong connections to Gaelic culture?
A. Fiddle
B. Clarsach
C. Bagpipes
---
18. The English writer George Orwell wrote his novel 1984 when he was living on which island in Scotland?
A. Iona
B. Skye
C. Jura
---
19. McCaig's Folly, also known as McCaig's Tower, is a prominent power located on Battery Hill. It overlooks which Scottish town?
A. Rosyth
B. Pitlochry
C. Oban
---
20. Andrew Carnegie, one of the richest Americans in history, is known for leading the expansion of the steel industry in the country. In which Scottish town was he born?
A. Edinburgh
B. Dunfermline
C. Greenock
---
21. Who is the patron saint of Scotland?
A. St. Andrew
B. St. Patrick
C. St. George
---
22. Which ancient Celtic language is the founding language of Scotland?
A. Breton
B. Cornish
C. Gaelic
---
23. What is the oldest university in Scotland?
A. The University of Glasgow
B. The University of Edinburgh
C. The University of St Andrews
---
24. What is the Scottish title of Prince William and Kate Middleton after their marriage?
A. Count and Countess of Linlithgow
B. Earl and Countess of Strathearn
C. Duke and Duchess of Glamis
---
25. What is the longest Scottish river?
A. River Tay
B. River Dee
C. River Clyde
---
26. Which of the following tales of horror was inspired by the Slains Castle in Aberdeenshire, Scotland?
A. "The Strange Case of Dr. Jekyll and Mr. Hyde" – Robert Louis Stevenson
B. "Frankenstein" – Mary Shelley
C. "Dracula" – Bram Stoker
---
27. At the end of the Victorian era, the Scottish city Dundee was synonymous with three Js, which indicate the dominating industries in the region. These include Jute, Jam, and what?
A. Jigsaws
B. Journalism
C. Joinery
---
28. Cullen skink is a typical thick Scottish soup. It consists of onions, potatoes, and which type of fish?
A. Tuna
B. Salmon
C. Haddock
---
29. The 1995 epic historical film "Braveheart" by Angus Macfadyen depicts the life of which Scottish figure?
A. William Wallace
B. Robert the Bruce
C. Thomas Muir
---
30. Gerard Butler is one of the most successful actors in Scotland. Originally, what did he study to become?
A. A doctor
B. A musician
C. A lawyer
---
31. The Scottish Reformation took place in which century?
A. 15th century
B. 16th century
C. 17th century
---
32. The Scottish scientist is known for discovering which antibiotics?
A. Penicillin
B. Amoxicillin
C. Clindamycin
---
33. About how many golf courses are there in Scotland?
A. 150
B. 550
C. 950
---
34. Smokies, which are the smoked haddock, come from which Scottish region?
A. Peterhead
B. Arbroath
C. Oban
---
35. When does Scottish celebrate St Andrew's Day?
A. 10 February
B. 20 July
C. 30 November
---
36. What is the headquarters of the London Metropolitan Police called?
A. Scotland Yard
B. Scotland Force
C. Scotland Block
---
37. Where is Scotland located in the island of Great Britain?
A. South
B. North
C. West
---
38. Who is widely regarded as the national poet of Scotland?
A. Walter Scott
B. Robert Burns
C. James Macpherson
---
39. What is Irn-Bru?
A. A Scottish fastfood chain
B. A Scottish brand of candy
C. A Scottish carbonated soft beverage
---
Have you tried all of these trivia Scottish quiz questions and answers? We hope they would give you a lot of interesting information and knowledge about this beautiful country. If you want to learn more about different cultures and nations, make sure to check the following Japan trivia quiz, quiz about London, or this language quiz.