Brazil is definitely one of the most favourite destinations in the world. Millions of people travel to the country of rhythm-filled cities, varied wild and rainforests, and beautiful white-sand beaches. Whether you are planning a summer trip to Rio de Janeiro or want to learn more about the Amazon rainforest, check out these 41 trivia Brazil quiz questions and answers.
Brazil Quiz Questions And Answers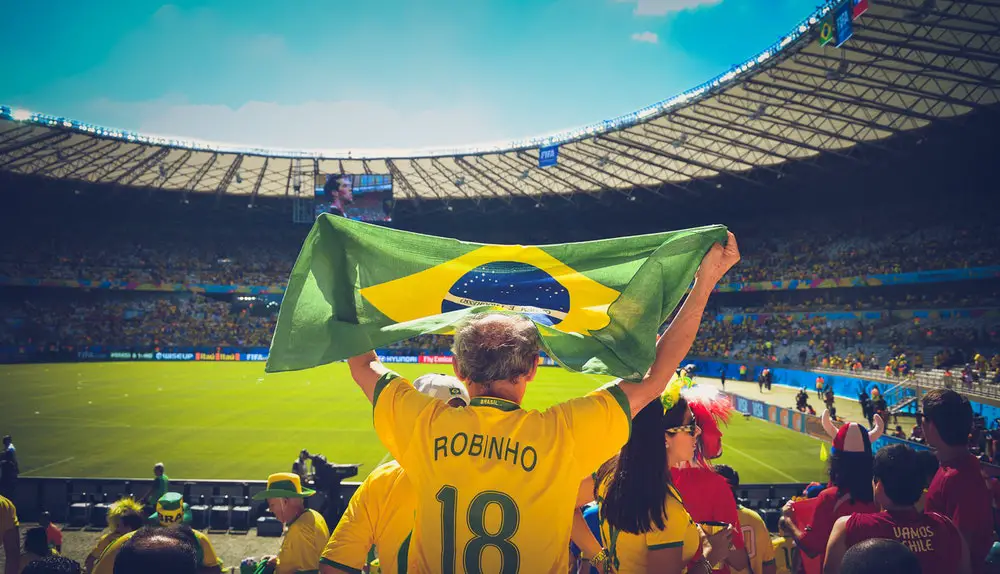 ---
1. What is the most populous city in Brazil?
A. Sao Paulo
B. Rio de Janeiro
C. Brasilia
---
2. What is the capital city of Brazil?
A. Sao Paulo
B. Rio de Janeiro
C. Brasilia
---
3. The statue Christ the Redeemer, one of the seven new wonders of the world, was originally built in which country?
A. Spain
B. Portugal
C. France
---
4. What is the official language of Brazil?
A. Brazilian
B. Spanish
C. Portuguese
---
5. Which of the following facts is true about Brazil?
A. It is a landlocked country
B. It is the only Portuguese-speaking country in South America
C. It is the third-largest country in the world
---
6. What is special about the rainforest in Brazil?
A. It is the only area where alligators and crocodiles coexist
B. It is the most biologically diverse habitat in the world
C. It is the southernmost forest in the world
---
7. What is the most typical form of music in Brazil?
A. Samba
B. Flamenco
C. Tango
---
8. Brazil is bordered with all countries in South America, except which two?
A. Bolivia and Peru
B. Uruguay and Paraguay
C. Chile and Ecuador
---
9. Which fruit was first discovered in a Brazilian monastery as an accidental mutation?
A. Passion fruit
B. Avocado
C. Navel orange
---
10. What is the formal name of Brazil?
A. United States of Brazilians
B. People's Republic of Brazil
C. Federative Republic of Brazil
---
11. What is the approximate percentage of Brazil's territory consists of the rainforest?
A. 20 per cent
B. 40 per cent
C. 60 per cent
---
12. In which year did Brazil gained its independence from Portugal and become a separate country?
A. 1822
B. 1886
C. 1901
---
13. When does the Carnival in Rio de Janeiro often take place each year?
A. From February to March
B. From June to July
C. From September to November
---
14. Feijoada is the national dish of Brazil. It is made of beef or pork and which ingredient?
A. Pinto beans
B. Kidney beans
C. Black beans
---
15. From the air, what does the shape of Brazil's capital city Brasilia look like?
A. A flower
B. A cross
C. An aeroplane
---
16. Caipirinha is the national drink of Brazil. What type of beverage is it?
A. Fruit juice
B. Cocktail
C. Beer
---
17. In which year did Rio de Janeiro host the Summer Olympics Games?
A. 2008
B. 2012
C. 2016
---
18. Marmosets are native to Brazil and other South American countries. Which type of animal is it?
A. Monkey
B. Fox
C. Alligator
---
19. What is the official currency of Brazil?
A. Brazilian dollar
B. Brazilian real
C. Brazilian pound
---
20. Where did the name "Brazil" originally come from?
A. A tree
B. An animal
C. An indigenous tribe
---
21. Except the Federal District that holds the capital city Brasilia, how many states are there in Brazil?
A. 17
B. 26
C. 31
---
22. The yellow colour on Brazil's flag symbolises what?
A. Sand
B. Sun
C. Gold
---
23. How many times did the Brazilian racing driver Ayrton Senna da Silva won the Formula One Championship?
A. 3
B. 5
C. 7
---
24. Brazil is bounded by which ocean on the east?
A. Pacific Ocean
B. Atlantic Ocean
C. Arctic Ocean
---
25. Itaipu, one of the largest hydroelectric dam in the world, is located on the border between Brazil and which neighbouring country?
A. Uruguay
B. Paraguay
C. Argentina
---
26. What is the highest mountain in Brazil?
A. Pedra da Mina
B. Pico da Bandeira
C. Pico da Neblina
---
27. What is the largest religion in Brazil?
A. Protestantism
B. Catholicism
C. Spiritism
---
28. In 1988, which epidemic occurred in Brazil with more than 500,000 reported cases?
A. Malaria
B. Tuberculosis
C. Dengue fever
---
29. The Octoberfest festival, a copy of the original in Germany, is celebrated each year in which part of the country?
A. North
B. Central West
C. South
---
30. To bring good luck in the next year, Brazil people typically wear which colour in New Year's Eve?
A. Red
B. Yellow
C. White
---
31. Which day of the week is considered to be the quasi-official day for feijoada in Brazil?
A. Monday
B. Wednesday
C. Friday
---
32. Festival de Gramado is the biggest festival in Brazil in which industry?
A. Agriculture
B. Film
C. Automotive
---
33. The Cathedral of Brasilia in the capital city is an example of which architectural style?
A. Modern architecture
B. Neoclassical architecture
C. Postmodern architecture
---
34. Which immigrant community in Brazil has the largest population outside the home country?
A. German
B. Japanese
C. French
---
35. In which year did Brazil win the first FIFA World Cup title?
A. 1958
B. 1970
C. 1994
---
36. The last one on this list of Brazil quiz questions and answers: What is the most popular family name in Brazil?
A. Lima
B. Silva
C. Santos
---
37. Which Brazilian player is known as the King of Football?
A. Kaká
B. Ronaldo
C. Pelé
---
38. Who was the President of Brazil from 2018 to 2022?
A. Jair Bolsonaro
B. Luiz Inácio Lula da Silva
C. Michel Temer
---
39. What is the approximate population of Brazil?
A. Around 124 million
B. Around 208 million
C. Around 437 million
---
40. What is piranha?
A. A type of plant
B. A local tribe
C. A type of fish
---
41. What is the nickname for Recife, a city in northeastern Brazil?
A. Paris of Brazil
B. London of Brazil
C. Venice of Brazil
---
With these Brazil quiz questions and answers, now you are ready for a fascinating adventure to the land of the Amazon rainforest and bustling metropolitans. We hope you have a lot of fun and learn many interesting facts about the country. Do you still want more knowledge about other cultures? Then check out the following trivia Scotland quiz or this quiz about Australia.