With the increasing popularity of online instructions and guides, more and more people spend their time on DIY projects, either for fun or professional purposes. Whether you are an amateur or full-time craftsman, check out the following 30 DIY quiz questions and answers to see how much you know.
DIY Quiz Questions And Answers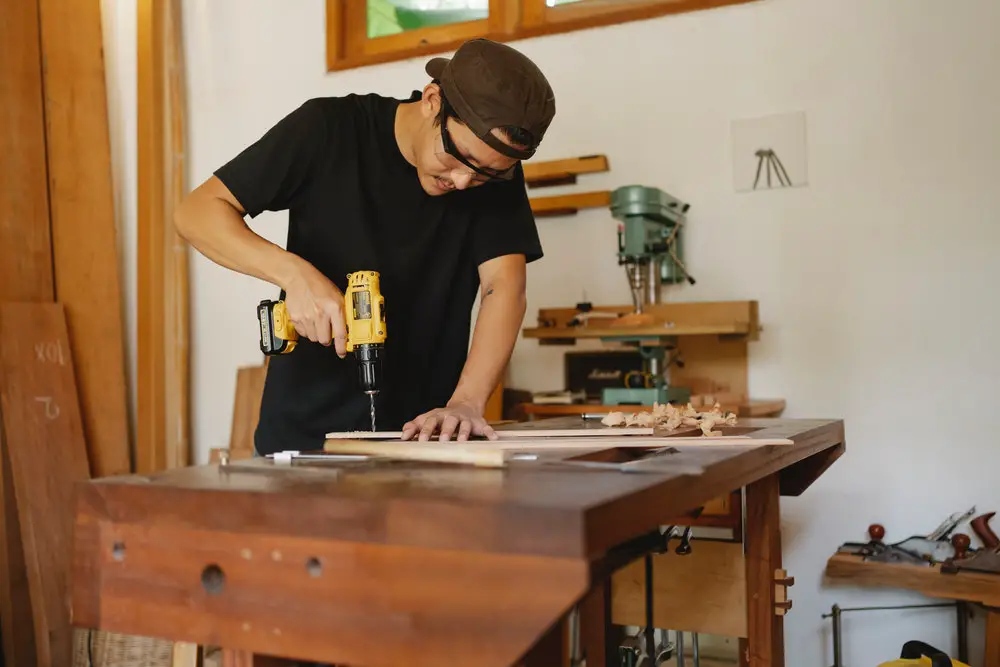 ---
1. What does the term DIY stand for?
A. Drive It Yourself
B. Double It Yourself
C. Do It Yourself
---
2. Which of the following tools comes with a detachable pointed end to make holes?
A. A padlock
B. A sew
C. A drill
---
3. What is the colour of the neutral wire in a standard British plug?
A. Blue
B. Brown
C. Yellow and green
---
4. Which of the following is the most common problem with interior doors?
A. Squeaking hinges
B. Falling knobs
C. Jamming or sticking
---
5. Which term refers to the process of applying a flexible compound to seal joints?
A. Gluing
B. Sticking
C. Caulking
---
6. Where is the ideal place to shop for DIY projects in the United Kingdom?
A. Tesco
B. IKEA
C. Sainsbury's
---
7. Which of the following is the most common reason for a leaky faucet?
A. A faulty rubber washer
B. A corroded valve seat
C. A deteriorated valve packing
---
8. Which of the following building materials is made out of laminated wood sheets?
A. Studwood
B. Timber
C. Plywood
---
9. A wire stripper can be used for which type of DIY projects?
A. Electrical applications
B. Gardening tasks
C. Plumbing projects
---
10. Which of the following is the advantage of using LED light bulbs?
A. Smaller sizes
B. Energy efficiency
C. Warmer light
---
11. What does it mean when you bleed the radiator?
A. To eliminate trapped air in the radiator
B. To change oil in the radiator
C. To drain dirty water in the radiator
---
12. Most I-beams are made out of which material?
A. Aluminium
B. Copper
C. Structural steel
---
13. Origami, the art of paper folding, is typically associated with which country?
A. Mexico
B. Japan
C. Norway
---
14. Which term refers to the process of doing the edges and corners first in painting?
A. Cutting in
B. Edging in
C. Outwards in
---
15. Which part of the toilet should we check first if it is not flushing properly?
A. Boiler
B. Cistern
C. U-bend
---
16. What can MDF be used for?
A. Woodwork
B. Foundations
C. Fireproofing
---
17. What do we use if we are repointing?
A. Paint
B. Plaster
C. Mortar
---
18. The biscuit joiner is a woodworking tool that can joint two wooden pieces by cutting holes in which shape?
A. Rectangle
B. Crescent
C. Triangle
---
19. Which part should we pain first when painting a room?
A. Ceiling
B. Trim and woodwork
C. Walls
---
20. Which type of painting finish has no shine and can be perfect for hiding any problems on the walls?
A. Matte finish
B. Eggshell finish
C. Gloss finish
---
21. Which of the following is a type of joint in woodworking projects?
A. Belly joint
B. Head joint
C. Butt joint
---
22. Why should we use a cling film to wrap a paintbrush?
A. To check the colour before the second coat
B. To prevent a mess
C. To keep the paint from becoming harder between coats
---
23. Which of the following mixtures can we use as a natural way to deal with a clogged sink?
A. Lemon juice, vinegar, and baking soda
B. Eggs, soda, sugar
C. Water, vinegar, and flour
---
24. What is the use of PTFE tapes in plumbing?
A. To seal leaking holes
B. To seal pipe threads
C. To joint separate pipes
---
25. Which British DIY TV series, hosted by Tommy Walsh, Charlie Dimmock, and Alan Titchmarsh, was broadcast by the BBC from 1997 to 2005?
A. Escape to the Chateau
B. Ground Force
C. Grand Designs
---
26. Which type of paints is the best option if you are living in an area with a warm and dry climate?
A. Latex-based paints
B. Water-based paints
C. Oil-based paints
---
27. What should we do if the electricity only goes out in one room?
A. Exam the trip switch on the fusebox
B. Turn all the electrical devices off and then on again
C. Call the emergency service
---
28. A defection in which part is a common cause of dripping taps?
A. C-ring
B. G-ring
C. O-ring
---
29. The name of which animal is used for the wedge-shaped depression on the brick's surface?
A. Snake
B. Frog
C. Lizard
---
30. Which kind of key can we use to put flat pack furniture together?
A. A Bob key
B. A Steve key
C. A star key
---
What do you think about these DIY quiz questions and answers? We hope you learn some interesting facts and enjoy your time. For more challenges on the same topic, check out the following gardening quiz.