In many countries, Black Friday is definitely one of the biggest shopping events of the year. With a countless number of promotions and discounts, people across the world can purchase their favourite products without worrying about going over the budget. Check out the following 25 trivia Black Friday quiz questions and answers to learn more interesting facts about this special day.
Black Friday Quiz Questions And Answers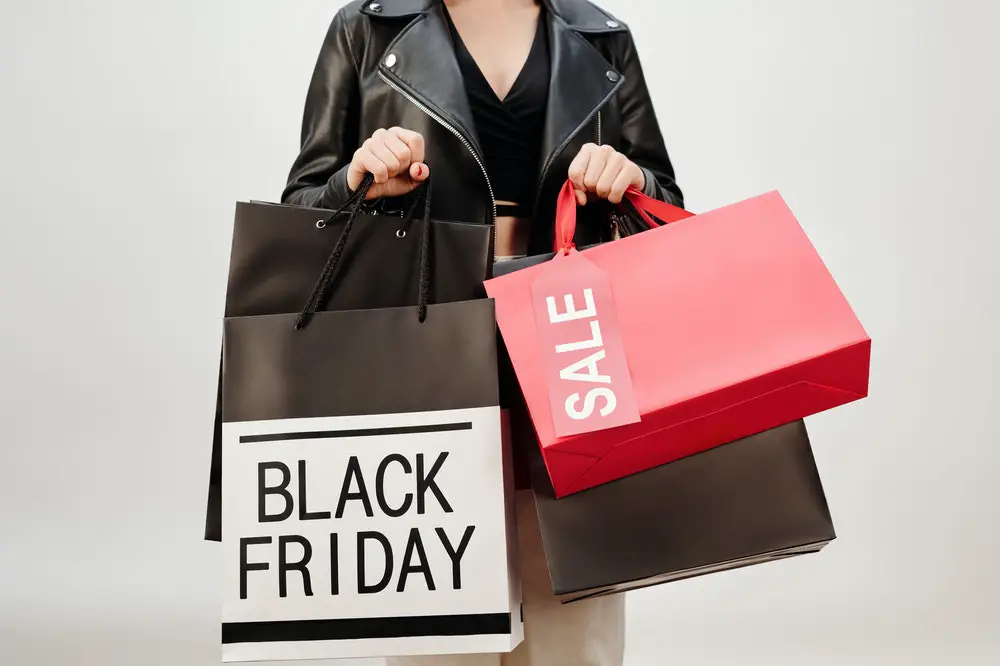 ---
1. When does Black Friday begin each year?
A. The first Friday in November
B. The Friday after Thanksgiving Day
C. The Friday before in November
---
2. In 2019, what was the approximate total retail spending in the United Kingdom during Black Friday?
A. 700 million pounds
B. 2.3 billion pounds
C. 8.6 billion pounds
---
3. Black Friday is often the busiest day of the year for which profession?
A. Plumbers
B. Truck drivers
C. Doctors
---
4. A simple math question to prepare for the next Black Friday: If an £80 TV has been reduced by 40 per cent, how much should you have to pay for it now?
A. £32
B. £48
C. £56
---
5. What is the name of the shopping event that falls on the Monday right after Black Friday?
A. White Monday
B. Crazy Monday
C. Cyber Monday
---
6. Taking place on November 11 each year, this is considered to be the version of Black Friday in China and also the biggest shopping holiday in the world. What is it?
A. Singles' Day
B. Couple's Day
C. Family's Day
---
7. The term "Black Friday" was associated with which event when it was first used in 1869?
A. A pandemic
B. A market crash
C. A war
---
8. The term Black Friday applied to the day after Thanksgiving as we know today was first used widely during the 1960s to refer to what?
A. The beginning of the holiday season
B. A chaotic day when unruly and massive crowds coming for football and shopping
C. A series of mass shootings after Black Friday
---
9. Who first used the term Black Friday to refer to the day after Thanksgiving?
A. Retailers
B. Journalists
C. Police
---
10. The term Black Friday as we know it today originated from which U.S. city during the 1960s?
A. Philadelphia
B. Chicago
C. New York City
---
11. Unlike other products with a lot of discounts, which of the following should you avoid purchasing on Black Friday?
A. Toys
B. Christmas decorations
C. Bedding
---
12. Which of the following events in the United Kingdom is also a shopping holiday that is similar to Black Friday?
A. Christmas Eve
B. Boxing Day
C. British National Day
---
13. Which two sellers are often the biggest retailers in the United States on Black Friday?
A. Macy's and Target
B. Walmart and Amazon
C. Costco and Apple
---
14. Which of the following products may have the best deals with huge discounts on Black Friday?
A. Electronics
B. Clothes
C. Toys
---
15. When did many retailers first open the stores at midnight for shopping on Black Friday?
A. 2000
B. 2005
C. 2011
---
16. It is estimated that which age groups are the biggest spenders on Black Friday?
A. Baby Boomers
B. Millennials
C. Gen Z
---
17. In Mexico, Black Friday is called "El Buen Fin". What does it mean?
A. The good Friday
B. The good weekend
C. The good day
---
18. In 1924, which retailer in the US became the first store to promote post-Thanksgiving shopping?
A. Macy's
B. J. C. Penney
C. Walmart
---
19. During the 1960s, what did some retailers try to rename Black Friday due to the negative connotations?
A. Best Friday
B. Big Friday
C. Good Friday
---
20. Another possible explanation for the term Black Friday is that most retailers or sellers may be "in the black" on this holiday. What does it literally mean?
A. They are profitable
B. They are busy
C. They run out of stock
---
21. Which of the following is not a typical feature that most people often associate with Black Friday?
A. Large crowds in shopping centres
B. Traffic jams in major cities
C. Stores run out of stocks
---
22. The Macy's Thanksgiving Day Parade, which is considered to be the predecessor of Black Friday, was inspired by the Santa Clause parade in which country?
A. Finland
B. Canada
C. Iceland
---
23. In 2011, which retailer broke the tradition on Black Friday when it opened the store on Thanksgiving evening?
A. Walmart
B. Costco
C. The Kroger Co.
---
24. Which term refers to a physical store or shop, in contrast with an online store?
A. A stone store
B. A concrete store
C. A brick and mortar store
---
25. In 2015, the e-commerce giant Amazon was the first company to offer Prime Day, which is seen as Black Friday in which month?
A. February
B. May
C. July
---
What do you think about these Black Friday quiz questions and answers? We hope you are now ready for the biggest sale of the year and choose the best items for you and your family, friends. For more challenges on the same topic, check out the following trivia Thanksgiving quiz.