Characterised by a significant and coherent sense of drama, theatre is not a form of art for everyone. But with perfect combinations of dance, music, song, speech, and gesture, it deserves an important place in our culture. Try the following 35 trivia theatre quiz questions and answers to see how much you know about it.
Theatre Quiz Questions And Answers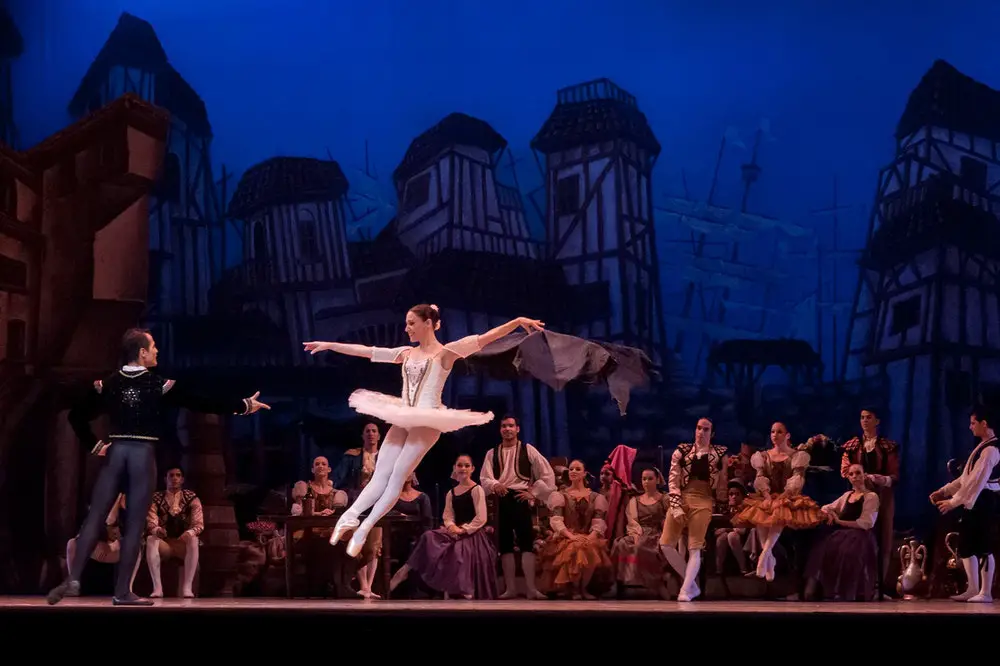 ---
1. Western theatre originated from which city?
A. Roma
B. Athens
C. Florence
---
2. Which theatre in London was built in 1599 and mostly associated with William Shakespeare?
A. The Globe Theatre
B. The Earth Theatre
C. The Sky Theatre
---
3. The word "theatre" is derived from the Greek word "theaomai". What does it mean?
A. To perform
B. To enjoy
C. To see
---
4. Which of the following is not a form of theatre?
A. Tragedy
B. Comedy
C. Adventure
---
5. According to theatrical superstition, it might be unlucky to say "good luck" to somebody who is going to perform on stage. Which phrase can be used instead?
A. Break an arm
B. Break a toe
C. Break a leg
---
6. Which road in New York City is widely used as a metonym for the American theatrical industry?
A. Wall Street
B. Broadway
C. Avenue of the Americas
---
7. What do we call days during the week when theatres are closed?
A. Black days
B. Off days
C. Dark days
---
8. Which of the following is not a division of a play?
A. A set
B. A scene
C. An act
---
9. Which murder mystery play by Agatha Christie has been running in West End theatre since 1952, making it the longest-running play in the United Kingdom?
A. Witness for the Prosecution
B. The Mousetrap
C. Appointment with Death
---
10. Which theatres' feature was first used by the Romans?
A. Pit
B. Apron
C. Curtain
---
11. Which shown opened and closed on the same night, making it the shortest run in the history of West End theatre?
A. The Intimate Revenue
B. The Woman in Black
C. The Lion King
---
12. In addition to theatrical performances, the Crucible Theatre in Sheffield also hosts which prestigious sporting event each year?
A. World Snooker Championship
B. World Chess Championship
C. League of Legends World Championship
---
13. Founded in 1883, which famous theatrical club at the University of Cambridge boasts members such as John Cleese, Olivia Colman, and David Baddiel?
A. Starlights
B. Footlights
C. Siver Lightning
---
14. The song Big Spender is featured in which musical?
A. Marry Poppins
B. Hamilton
C. Sweet Charity
---
15. Opened in 1663, which is the oldest theatre in London?
A. Ambassadors Theatre
B. Theatre Royal, Drury Lane
C. Duke of York's Theatre
---
16. During World War II, the Criterion Theatre in London was used for which purpose?
A. A food storage area
B. A hospital for injuries
C. A radio studio
---
17. Curio is a character in which play by William Shakespeare?
A. Twelfth Night
B. A Midsummer Night's Dream
C. Hamlet
---
18. What do we call the out-of-view area on a stage that is on the sides of the acting area?
A. The auditorium
B. The wing
C. The grid
---
19. What does an ad lib mean in drama?
A. A line or moment improvised by an actor or actress
B. An important line or moment that sets the theme of the play
C. A silent moment in between acts
---
20. The opera Madama Butterfly by Giacomo Puccini is set in which Japanese city?
A. Hiroshima
B. Osaka
C. Nagasaki
---
21. The comic play Hay Fever was written by which British playwright?
A. Noël Coward
B. Harold Pinter
C. Sarah Kane
---
22. Which playwright and writer is considered the greatest literary figure of the modern era in Germany?
A. Friedrich Schiller
B. Johann Wolfgang von Goethe
C. Thomas Mann
---
23. Who was the mistress of Bill Sykes in the musical Oliver?
A. Elena
B. Natalie
C. Nancy
---
24. Which novel by the French writer Victor Hugo is one of the longest running musicals in London?
A. Les Miserables
B. The Hunchback of Notre-Dame
C. History of a Crime
---
25. In which form of play are all characters assigned the same stage time and equal-sized roles?
A. Mystery
B. Actor proof
C. Ensemble
---
26. According to Aristotle, who was the first actor ever to appear on stage in a play?
A. Euripedes
B. Thespis
C. Dionysus
---
27. Which of the following features is true about Noh, a traditional form of dance-drama in Japan?
A. It is a form of tragedy
B. All actors and actresses always wear masks
C. Plays are typically performed outdoors
---
28. The Royal Shakespeare Company is based in which English town?
A. Stratford
B. Warwick
C. Birmingham
---
29. What do we call a room in a theatre that serves as a lounge and waiting area for performers before, during, and after a show or performance?
A. Blue room
B. Red room
C. Green room
---
30. Which famous theatre in Ireland is also known as the National Theatre of Ireland?
A. Abbey Theatre
B. Gate Theatre
C. Olympia Theatre
---
31. What was the first Greek tragedy to be performed on stage in England?
A. Medea
B. Antigone
C. Jocasta
---
32. What was the first modern musical performed in New York?
A. El Capitan
B. A Trip to Chinatown
C. The Black Crook
---
33. Tristan Tzara is mainly associated with which modern art movement?
A. Dadaism
B. Expressionism
C. Futurism
---
34. Who is regarded as the first of the Angry Young Men on the British stage?
A. Arthur Miller
B. John Osborne
C. Paul Scofield
---
35. Which of the following was the first permanent theatre built in Paris?
A. Théâtre de l'Hôtel de Bourgogne
B. Théâtre du Marais
C. Théâtre du Vieux-Colombier
---
To be honest, these theatre quiz questions and answers can be quite challenging, especially when you are not a fan of this art's form. But we still hope that you have a lot of fun and learn many interesting facts about it. Check out the following Art trivia quiz, Shakespeare quiz, or this modern literature quiz to know more about the world of art.