Art plays an indispensable part of our lives. From sculpture and painting to theatre and music, auditory and visual artworks are one of the best ways to express our conceptual and imaginative thoughts. No matter where you come from or which language you speak, a catchy song or a beautiful movie can be appreciated for their emotional power or beauty. Check out the following 39 trivia art quiz questions and answers to see how much you know about the aesthetic world.
Art Quiz Questions And Answers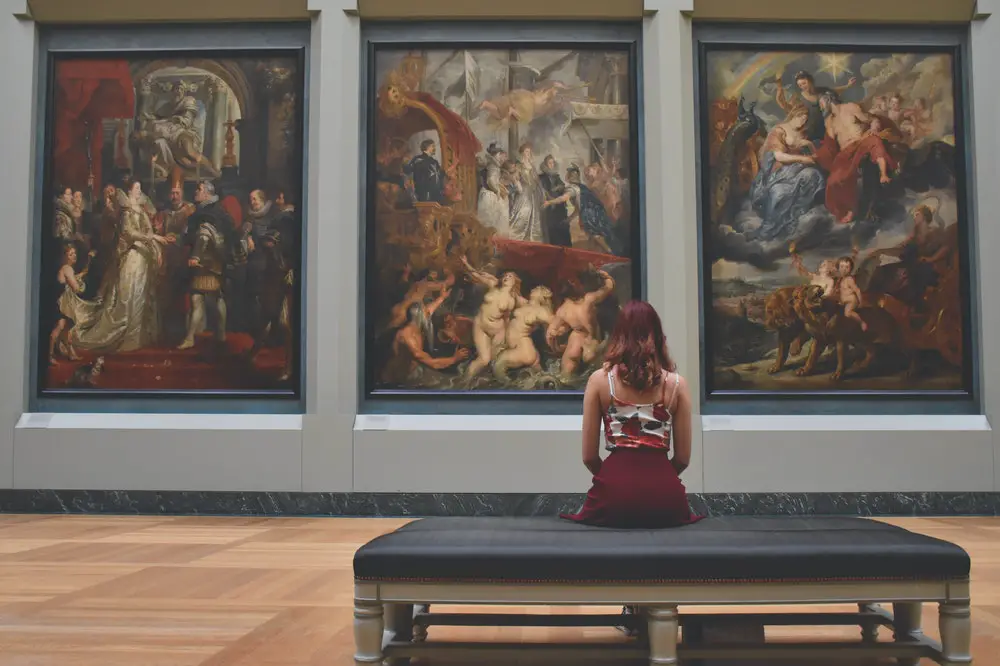 ---
1. Which of the following paints is made from plastic and pigments?
A. Tempera
B. Gesso
C. Acrylic
---
2. During the early periods, photographers used which material to make their images?
A. Glass
B. Paper
C. Stone
---
3. When was the term "Performance Art" first used to describe live artistic events?
A. 1940s
B. 1960s
C. 1980s
---
4. "The Yellow Christ" by Paul Gauguin belongs to which artistic movement?
A. Impressionism
B. Naturalism
C. Cloisonnism
---
5. The Bauhaus school of design was established by which famous architect?
A. I. M. Pei
B. Frank Lloyd Wright
C. Walter Gropius
---
6. Which animal is usually the symbol of peace in art?
A. Dove
B. Pigeon
C. Eagle
---
7. What was the theme of the earliest known paintings?
A. Trees
B. Animals
C. Human beings
---
8. Which of the following artist is best known for his mother's painting?
A. James Whistler
B. Pierre-Auguste Renoir
C. Johannes Vermeer
---
9. The famous painting Mona Lisa by Leonardo da Vinci is currently exhibited in which museum?
A. The British Museum, London
B. Louvre Museum, Paris
C. Bode Museum, Berlin
---
10. The sculpture "The Thinker" was created by which artist?
A. Alberto Giacometti
B. Auguste Rodin
C. Alexander Calder
---
11. The Renaissance, an important art and cultural movement in Europe, began in which country in the 16th century?
A. England
B. France
C. Italy
---
12. Which painter was known for the "Ned Kelly" painting series?
A. Samuel Dolan
B. Sydney Nolan
C. Lambert Dylan
---
13. Which surrealist artist described his work as "hand-painted dream photographs"?
A. Salvador Dali
B. Claude Monet
C. Pablo Picasso
---
14. Which art movement is known for the breakdown of organic forms into a series of geometric shapes?
A. Cubism
B. Surrealism
C. Expressionism
---
15. What are the three classical branches of visual art?
A. Film, theatre, and painting
B. Architecture, sculpture, and theatre
C. Sculpture, painting, and architecture
---
16. What is the main difference between applied art and fine art?
A. Applied art serves some practical purposes
B. Fine art is created mainly for beauty or aesthetics
C. Both answers above are correct
---
17. What is the associated meaning of the term "art" in Latin?
A. Craft
B. Beauty
C. Aesthetics
---
18. Which feature differentiates Islamic art from others?
A. It mainly focuses on architecture and calligraphy
B. Nature is the main subject
C. It utilises iconography
---
19. What are the three primary colours in art?
A. Red, green, and blue
B. Red, yellow, and blue
C. White, black, grey
---
20. What is the procedure in which a therapist uses art to help patients improve their mental health?
A. Artistic treatment
B. Aesthetic therapy
C. Art therapy
---
21. The first ceramics were produced by which cultural civilisation?
A. Chinese
B. Japanese
C. Persian
---
22. Which artist is known for his close-up paintings of flowers?
A. Georgia O'Keeffe
B. Sonia Delauney
C. Camille Claudel
---
23. The first painting was found out in which country in 1879?
A. South Africa
B. India
C. Spain
---
24. What is the meaning of the term "collage" in French?
A. Bizarre
B. Messy
C. Paste up
---
25. During his lifetime, how many paintings did Vincent Van Goh sell in total?
A. One
B. Ten
C. Twenty
---
26. Andre Breton, Rene Magritte, and Salvador Dali were three artists associated with which art movement in the 20th century?
A. Impressionism
B. Modernism
C. Surrealism
---
27. Graffiti is originated from an Italian word. What does it mean?
A. Scratched
B. Wall painting
C. Spray paint
---
28. In the painting "American Gothic" by Grant Wood, the man is holding which gardening tool?
A. A trowel
B. A pitchfork
C. A saw
---
29. Tate is a network of 4 art museums in the United Kingdom. Two of them are located in London, one is in Cornwall, and the other one is in which city?
A. Liverpool
B. Southampton
C. Blackpool
---
30. Which prize is awarded annually to British visual artists and widely considered the highest honour in the British art world?
A. Commonwealth Prize
B. Turner Prize
C. Pritzker Prize
---
31. The painting "The Son of Man" by Rene Magritte depicts a man covered by which fruit on his face?
A. Apple
B. Lemon
C. Strawberry
---
32. Barbara Hepworth is a famous artist in which branch?
A. Sculpture
B. Painting
C. Photography
---
33. The English painter George Stubbs is best known for which subjects?
A. Oak trees
B. Racehorses
C. Churches
---
34. At which age did Rembrandt open the first art studio?
A. 19 years old
B. 27 years old
C. 35 years old
---
35. The Italian Titian usually used pieces to display which form of building?
A. Houses
B. Churches
C. Castles
---
36. Edvard Munch, who is known for the Scream, is a painter from which country?
A. Denmark
B. Sweden
C. Norway
---
37. Which painter is the author of "Girl with a Pearl Earring"?
A. Johannes Vermeer
B. Grant Wood
C. Robert Bereny
---
38. The sculpture David of Michelangelo is displayed in a museum in which city?
A. Rome
B. Florence
C. Milan
---
39. Which of the following is a famous painting by Sandro Botticelli?
A. The birth of Venus
B. The birth of Zeus
C. The birth of Apollo
---
The world of art is enormous. It is almost impossible to learn and enjoy every form during our lifetime. We hope these quiz questions and answers can give you many interesting and helpful facts. Check out the following famous landmarks quiz, this poetry quiz, or this A to Z quiz to learn more.