Movies. They're the best! They're used as a type of entertainment, a medium for storytelling by combining rapidly switching still images and recorded audio. Basically, you can see stuff and there are sounds. Pretty simple, really. Let's see how much you really know about the film industry by taking these trivia Movies Quiz Questions and Answers that will make you say, "whoa!"
Movies Quiz Questions and Answers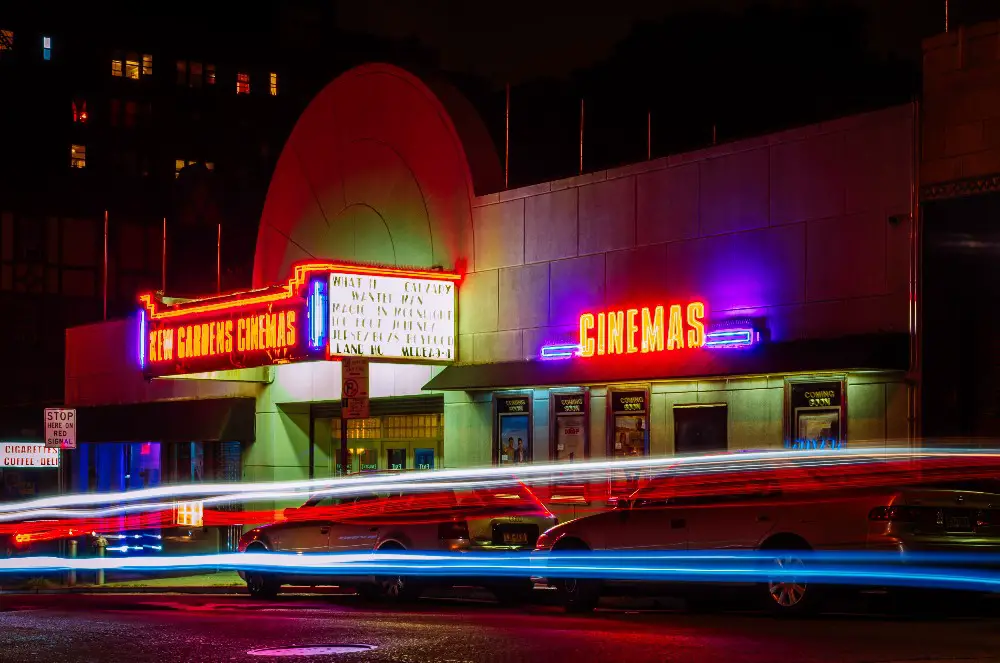 1. What is the title of the film believed to be the oldest in existence?
A. "Roundhay Garden Scene"
B. "The Jazz Singer"
C. "Come Along, Do!"
---
2. What invention made it possible to introduce noise in otherwise soundless films?
A. Musical instruments
B. Digital cameras
C. Electronic sound recording
---
3. The reason that film previews are called "trailers" is because…
A. they were originally shown after the film they accompany
B. they are produced after the film they preview
C. they are released a few months before the film
---
4. The first animated hand-drawn film that was made was called _____ and was released in _____
A. "Fantasmagorie" / 1908
B. "Snow White and the Seven Dwarfs" / 1937
C. "The Sinking of the Lusitania" / 1918
---
5. Whose star on the Hollywood Walk of Fame was the first to be officially completed?
A. Stanley Kramer
B. Joanne Woodward
C. Ernest Torrence
---
6. From 1995-2002, Pierce Brosnan was contractually forbidden from _____ in any non-James Bond movie
A. wearing a full tuxedo
B. being a main character
C. killing a maximum of 50 characters
---
7. Which of these was one of the films that was presented an Academy Award during the first Awards ceremony?
A. "Sunrise: A Song of Two Humans"
B. "Master and Commander: The Far Side of the World"
C. "Sweeney Todd: The Demon Barber of Fleet Street"
---
8. The first actor/actress to win an Oscar / Academy Award is…
A. Frank Lloyd
B. George Bancroft
C. Charlie Chaplin
---
9. The film actor with the highest net worth is…
A. Jerry Seinfeld
B. Adam Sandler
C. Mel Gibson
---
10. Who is the first person to ever portray James Bond in a film?
A. Pierce Brosnan
B. Sean Connery
C. George Lazenby
---
11. Which two people were the youngest to have their own stars in the Hollywood Walk of Fame?
A. Mary-Kate and Ashley Olsen
B. Britney Spears and Scarlett Johansson
C. Emma Watson and Emma Stone
---
12. The Michael Myers face mask in the movie "Halloween" is actually a revamped  _____ mask
A. Castor Troy
B. Captain Kirk
C. Austin Powers
---
13. Who is the only person to have stars in all five categories on the Hollywood Walk of Fame
A. Nicolas Cage
B. Gene Autry
C. Sean Connery
---
14. What is the first film to show a flushing toilet?
A. "Psycho"
B. "It Takes Two"
C. "The Adventures of Tom Sawyer"
---
15. How many times is the word "mafia" actually said in "The Godfather?"
A. Zero
B. Eighteen
C. One Hundred and Forty-Four
---
16. Which of these is the country in which the most films are produced?
A. India
B. USA
C. China
---
17. What is the best US state for filmmaking?
A. Kentucky
B. California
C. Oklahoma
---
18. Currently, the highest-grossing film director is…
A. Michael Bay
B. James Cameron
C. Steven Spielberg
---
19. Which of these is not a film that has a 0% rating on Rotten Tomatoes?
A. Jaws: The Revenge
B. Gone in 60 Seconds
C. Max Steel
---
20. What is the longest film ever?
A. "Logistics"
B. "Modern Times Forever"
C. "Beijing 2003"
---
21. Adjusted for inflation, what is the highest-grossing film of all time?
A. "Avatar"
B. "Titanic"
C. "Gone with the Wind"
---
22. Who is the oldest live working Hollywood film actor/actress?
A. Charlie Chaplin
B. Julie Gibson
C. Norman Lloyd
---
23. Who is the youngest actor/actress to win an Academy Award?
A. Tatum O'Neal
B. Macaulay Culkin
C. Shirley Temple
---
24. Which actor has won at least one Academy Award?
A. Tom Cruise
B. Hugh Jackman
C. Nicolas Cage
---
25. Which of these actors has died in the most films?
A. Sean Bean
B.John Hurt
C. Christopher Lee
---
26. Which movie has the highest death-count on-screen?
A. "Lord of the Rings: Return of the King (Extended Version)"
B. "Troy (Extended Version)"
C. "300"
---
27. The highest paid movie role is __________,
A. Captain Jack Sparrow in "Pirates of the Caribbean: On Stranger Tides"
B. Agent J in "Men in Black III"
C. Neo in "The Matrix: Reloaded"
---
28. What was the title of the first 3D film released worldwide?
A. "Forbidden Lover"
B. "The Power of Love"
C. "House of Wax"
---
29. What was the title of the movie that was filmed in the shortest amount of time?
A. "The Little Shop of Horrors"
B. "Russian Ark"
C. "Run Lola Run"
---
30. Which of these is a company that Disney doesn't own?
A. Entertainment and Sports Programming Network
B. American Broadcasting Company
C. Metro Goldwyn Mayer
---
31. Which of these esteemed filmmakers did not go to film school?
A. Steven Spielberg
B. Terry Gilliam
C. George Lucas
---
32. What is the title of the first film to utilize CGI?
A. "Westworld"
B. "Universal Soldier"
C. "Casablanca"
---
33. Which of these is not the title of a real US-based motion picture award?
A. Saturn Award
B. Cinematography Award
C. Young Artist Award
---
34. What is the name of an early film theater projector?
A. Kinetoscope
B. Zoopraxiscope
C. Telescope
---
35. Who was the last Beatles member to receive a star on the Hollywood Walk of Fame?
A. Ringo Starr
B. George Harrison
C. Paul McCartney
---
36. Which character did John Travolta play in the movie "Pulp Fiction"?
A. Vincent Vega
B. Jules Winnfield
C. Butch Coolidge
---
Enjoyed this quiz? What kind of question is that; of course you did! Well, we have even more quizzes for you to enjoy. Come check out our quiz on Bollywood movies, this Dune quiz, or this one on the famous rock band The Beatles.