Everyone can make a glass of cocktail at home. It only requires several basic tools and bartending skills. Whether you love drinking cocktails or want to learn more about this field, check out these 32 trivia bartending quiz questions and answers.
Bartending Quiz Questions And Answers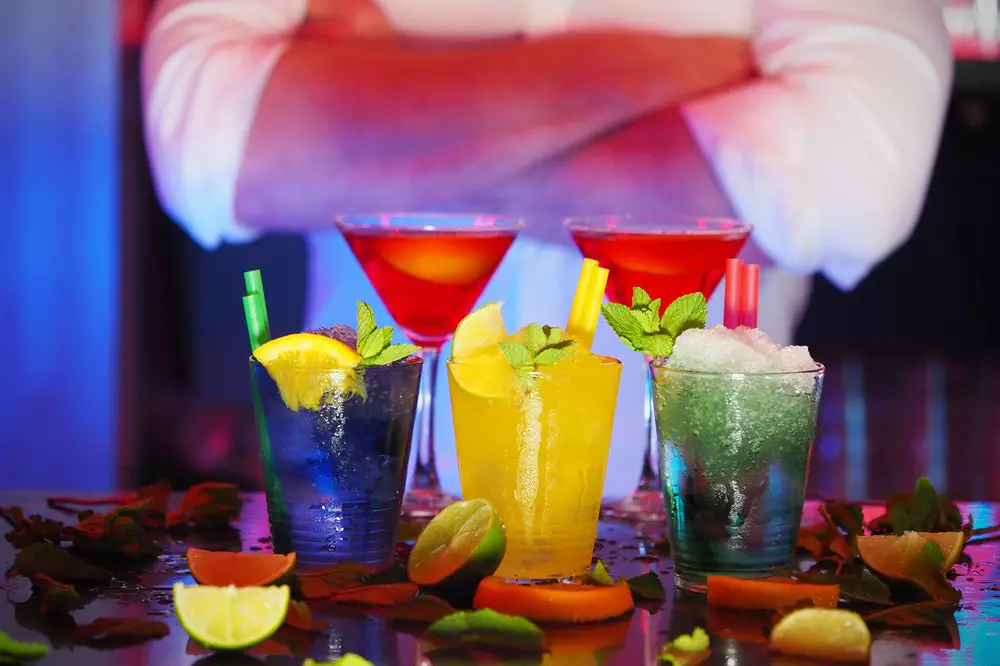 ---
1. Which of the following is a mixed drink that contains alcohol?
A. John Collins
B. Arnold Palmer
C. Shirley Temple
---
2. A cocktail is typically a combination of four main parts: water or diluted ice, bitters, liquor(s), and what?
A. Fruit juice
B. Sweetener
C. Herb
---
3. What are the mixers in bartending?
A. Machines used for mixing drinks
B. People who mix drinks
C. Ingredients added to mixed drinks
---
4. Which of the following is NOT a reason for adding garnish to a drink, which is often a fruit like a slice of orange or a cherry?
A. To add flavour
B. To sweeten the drink
C. To adorn the drink
---
5. For at least how many years must Irish whiskey be wood-aged?
A. 3 years
B. 7 years
C. 10 years
---
6. Which of the following tool is used by a bartender to measure amounts of liquid precisely?
A. A shot
B. A jigger
C. A shaker
---
7. Which fruit juice is mixed with a shot of vodka to make the screwdrivers?
A. Lemon juice
B. Strawberry juice
C. Orange juice
---
8. Which liquor is the main ingredient in the Bloody Mary?
A. Rum
B. Tequila
C. Vodka
---
9. Which word is used to order a drink that is served with mixers or no ice?
A. Neat
B. Up
C. Down
---
10. When someone goes to a bar and asks for a "vodka on the rocks", what does he actually want?
A. Vodka served without fruit juice
B. Vodka served over ice
C. Vodka served with sweeteners
---
11. The Long Island Iced Tea consists of gin, triple sec, light rum, tequila, vodka, and a splash of what on top?
A. Lemon juice
B. Honey
C. Cola
---
12. What is the most typical shape of the cocktail glass, which may make most of us think of a martini?
A. Highball glasses
B. Conical glasses
C. Double-bowl glasses
---
13. Which bartending technique is mostly used when we do not want ice in the finished drink?
A. Shaking
B. Straining
C. Blending
---
14. Which bartending technique should we use for any cocktail recipe with mixers?
A. Shaking
B. Stirring
C. Straining
---
15. Which of the following cocktails should be stirred well to combine the added ingredients?
A. Manhattan
B. New Orleans Fizz
C. Mai Tai
---
16. Which of the following tools is a type of shaker preferred by many professional bartenders?
A. California shakers
B. Chicago shakers
C. Boston shakers
---
17. While there are many distilled spirits available for making cocktails, how many base liquors, meaning they can be the foundation for other liqueurs and mixed drinks, are there?
A. 4
B. 6
C. 10
---
18. Which of the following liquors is distilled from fruits, especially grapes?
A. Vodka
B. Gin
C. Brandy
---
19. Which of the following statements is true about the difference between liqueurs and liquors?
A. All liquors are liqueurs
B. All liqueurs are liquors
C. They are exactly the same
---
20. Which of the following cocktails can be ordered dirty or dry?
A. Old Fashioned
B. Blue Blazer
C. Martini
---
21. Which cocktail includes the following ingredients: simple syrup, lime juice, white rum, and crushed ice?
A. Daiquiri
B. Cosmopolitan
C. Sex on the Beach
---
22. Which ingredient in the vodka-based drink Cosmopolitan gives it the pink colour?
A. Strawberry juice
B. Cherry juice
C. Cranberry juice
---
23. Which famous American actor showed off his bartending skills in the 1988 classic movie "Cocktail"?
A. Tom Cruise
B. Tom Hanks
C. Morgan Freeman
---
24. Which ingredient gives the gin-based cocktail Aviation the signature purple cast?
A. Crème de Violette
B. Crème de Cacao
C. Crème de Menthe
---
25. The Jungle Bird is a popular cocktail that originated from which country in the 1970s?
A. Brazil
B. Indonesia
C. Malaysia
---
26. Which tool can be used by a bartender to crush fruits?
A. Jigger
B. Muddler
C. Mister
---
27. What can you have when you order a bruised Martini?
A. A Martini shaken vigorously
B. A Martini with equal parts gin and dry vermouth
C. A Martini without vermouth
---
28. Which of the following drinks is added more vodka to make the stronger version called the hairy navel?
A. Mossy Navel
B. Buttery Navel
C. Fuzzy Navel
---
29. The Blue Moon is always garnished with which fruit to bring out the beer's flavours?
A. Orange
B. Lime
C. Lemon
---
30. Which kind of soda is used to make the Americano cocktail?
A. Ginger Ale
B. Club
C. Sprite
---
31. The typical taste of the liqueur Kahlua is quite similar to which popular drink?
A. Chocolate
B. Coffee
C. Tea
---
32. Pina colada is a popular mixed drink characterised by the fruity taste from which two fruits?
A. Coconut and pineapple
B. Lemon and orange
C. Grape and banana
---
What do you think about these bartending quiz questions and answers? We hope you have learned some interesting facts about the world of mixing drinks. For more challenges on the same topic, check out the following alcohol quiz.