British cuisine may not have a very good reputation in the culinary world. However, you will be surprised at how diverse it is. Have a try at these 32 trivia British food quiz questions and answers to challenge your gut, palate, and eyes.
British Food Quiz Questions and Answers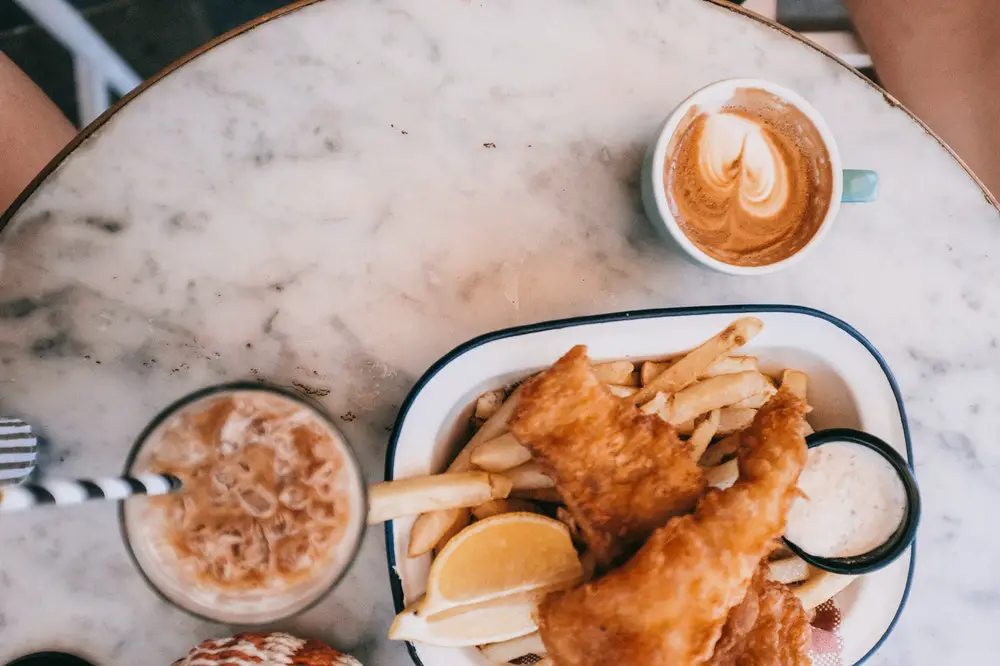 ---
1. In which meal of the day do British people typically have the full English?
A. Breakfast
B. Lunch
C. Dinner
---
2. Which popular food spread is originally made from the United Kingdom from the by-product of beer brewing?
A. Jelly
B. Jam
C. Marmite
---
3. What is Arbroath Smokie, a typical Scottish dish?
A. Smoked salmon
B. Smoked haddock
C. Smoked cod
---
4. How is a pork pie, a traditional type of English meat pie, often served?
A. Hot
B. Warm
C. Cold
---
5. Which iconic landmark is depicted on the bottle of the HP brown sauce?
A. Big Ben
B. Buckingham Palace
C. London Eye
---
6. The typical Worcestershire sauce does not contain which of the following ingredients?
A. Molasses
B. Tomatoes
C. Anchovies
---
7. Popular in Cornwall, which of the following dishes can be stuffed with a variety of fillings, such as onions, potatoes, turnips, and beef?
A. Cornish pudding
B. Cornish pasty
C. Cornish croissant
---
8. The most famous British sauce comes from which region in the United Kingdom?
A. Cumberland
B. Dundee
C. Cleethorpes
---
9. Treacle tart, which is made from the golden syrup in a shortcrust pastry, is the favourite food of which fictional character?
A. James Bond
B. Sherlock Holmes
C. Harry Potter
---
10. The shepherd's pie contains which of the following meat?
A. Lamb
B. Pork
C. Beef
---
11. When did the cooking show "Masterchef" first run on TV in the United Kingdom?
A. 1990
B. 2000
C. 2010
---
12. What are the two varieties of Stilton cheese?
A. Yellow and black
B. White and blue
C. Green and orange
---
13. Which of the following is the correct name of a Scottish drink?
A. Irn-Brew
B. Irn-Bru
C. Iron-Brew
---
14. Black pudding is a unique type of sausage in Ireland and Great Britain. It is made from which part of beef or pork?
A. Organ
B. Blood
C. Skin
---
15. Which of the following facts is NOT true about Welsh cakes?
A. They are made from eggs, currants, butter, flour, milk, and spices
B. They are often eaten with an accompaniment
C. They can be served either cold or hot
---
16. Where can we purchase the chocolate roll cake called "Colin the Caterpillar"?
A. Waitrose
B. Sainsbury's
C. Marks & Spencer
---
17. When do British people traditionally eat a Christmas dinner?
A. 24th December evening
B. From 24th December evening to 25th December evening
C. 25th December evening
---
18. In British cuisine, which word refers to the layered dessert of cream, fruit, and cake?
A. Angel Food Cake
B. Tater Fest
C. Trifle
---
19. Cawl refers to a traditional broth or soup of which country in the UK?
A. Wales
B. Scotland
C. Northern Ireland
---
20. When do British people traditionally eat a Roast Dinner?
A. On Monday
B. On Sunday
C. On Saturday
---
21. In British cuisine, what does the term "bangers" mean?
A. Sausages
B. Boiled sweets
C. Small oranges
---
22. Which traditional British dish consists of meat wrapped in pastry and pate?
A. Beef Brogue
B. Beef Loafer
C. Beef Wellington
---
23. In the 16th century, the British navigator William Strickland brought which food to England?
A. Banana
B. Turkey
C. Coriander
---
24. Originated from the Indian subcontinent, which dish was described by Robin Cook, the former UK foreign secretary, as "a true British national dish"?
A. Mulligatawny soup
B. Chicken tikka masala
C. Kedgeree
---
25. A Goosnargh cake is a type of biscuit that originated from Lancashire. It is often spiced with which type of seed?
A. Caraway seeds
B. Poppy seeds
C. Sunflower seeds
---
26. Eccles cakes come from which county in the United Kingdom?
A. Durham
B. Lincolnshire
C. Lancashire
---
27. Which are the two main ingredients in Cullen skink, a type of thick Scottish soup?
A. Tomatoes and smoked salmon
B. Potatoes and smoked haddock
C. Broccoli and smoked tuna
---
28. A Whitby Bun is typically flavoured with which fruit?
A. Lemon
B. Orange
C. Strawberry
---
29. Which type of beans is used to make baked beans, a traditional food staple in the UK and an important component of the Full English breakfast?
A. Pinto beans
B. Flageolet beans
C. Haricot beans
---
30. Toad in the Hole is made with Yorkshire pudding and which ingredient?
A. Bacon
B. Sausages
C. Cheese
---
31. Which of the following British dishes is made with onions, potatoes, and lamb?
A. Lancashire hotpot
B. Chitterlings
C. English brown stew
---
32. In British cuisines, what is the other name of a sausage roll, which contains a sausage wrapped in a flaky pastry?
A. Snake in a blanket
B. Pig in a blanket
C. Chicken in a blanket
---
What do you think about these British food quiz questions and answers? We hope you have learned some interesting facts and delicious recipes about British cuisine. For more challenges on the same topic, check out the following cooking quiz or this about tea.